We're a wrap now, but to cover Thursday's massive funerary rites for King Bhumibol, Khaosod English reporters fanned out around the Sanam Luang and elsewhere to bring live coverage from the scene. Teeranai Charuvastra reported from the ceremony area, Chayanit Itthipongmaetee camped out overnight with mourners from out of town at the Thai-Japanese Stadium, Pravit Rojanaphruk and Asaree Thaitrakulpanich livestreamed reports on Facebook and Sasiwan Mokkhasen traveled to locations throughout the capital. Todd Ruiz and Lobsang Dundup Sherpa Subirana were in the newsroom.
Gallery of 360 images from around the Sanam Luang:
---
1am This concludes today's live coverage of King Bhumibol's funeral. Over a year after the world's longest-reigning monarch died, King Rama IX was cremated at about 10:30pm on Thursday at the Sanam Luang following an elaborate ceremony to mark the occasion. Presiding over the historic moment was his son King Vajiralongkorn, whose coronation ceremony can now take place.
We will continue to bring you all the latest news as it unfolds through our website KhasodEnglish.com and our Facebook and Twitter feeds. For now, that's a wrap. Thank you for tuning in.
---
12:45am Sasiwan discusses the confusion among the public about what happened in a livestream from Ratchadamnoen Avenue, where mourners are camped out listening to the performances set to take place until 6am.
---
12:15am Teeranai reports live from the vicinity of the Sanam Luang, where mourners continue to gather even hours after the cremation of King Bhumibol.
---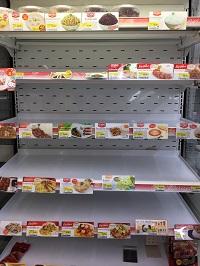 12:10am Chayanit: Though most shelves are half-empty, 7-Eleven stores have begun operating as of midnight.
12:04am Sasiwan: A lady from Samut Prakarn province referred to King Bhumibol as "father" in every sentence she spoke.
Arriving at 2pm in Ratchadamnoen Road with a big old portrait of His Late Majesty in hope of paying her last tribute, Samorn Moonlek admitted she was disappointed.
She only learned the cremation already happened when crowds gathered to look onward to the Sanam Luang where the Royal Crematorium is located.
"I hoped to see it at the Sanam Laung but it was too crowded so I couldn't get inside. So I thought I would see it on the screen," she said. "It's okay, father knew I came here to send him on his departure to heaven."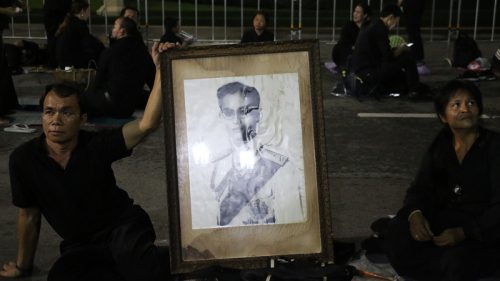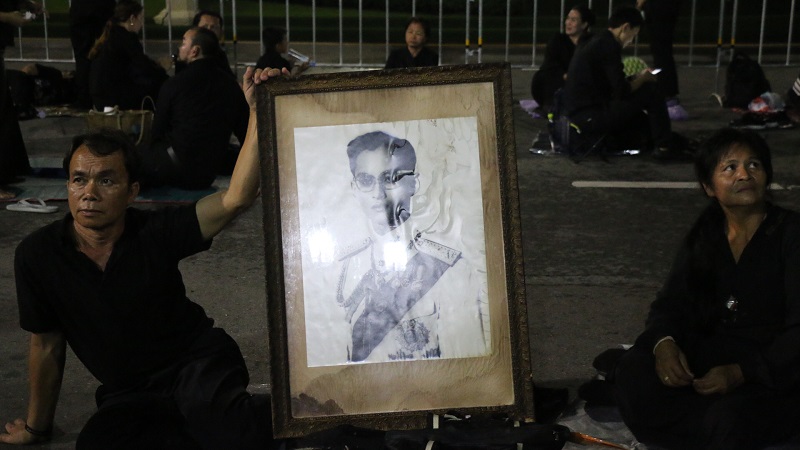 ---
11:50pm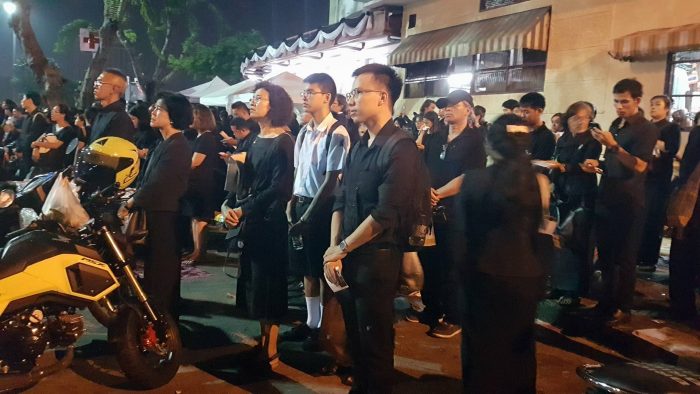 Todd: I'm now at the Sanam Luang on the east side by the Rattanakosin Hotel. All faces are turned toward the crematorium still waiting. Though the cremation happened off-camera, these people say they have been watching this, now the last of the smoke, since it appeared at about 10pm.
---
11:46pm
Sasiwan: Crowds who have been camping on Ratchadamnoen Avenue to watch cremation broadcasted on screens remain reluctant and confused. Up until 11:41pm, there has still been no official announcement over the megaphones.
Some people have started to leave the scene after seeing sandalwood flowers being burned next to the replica crematorium.
"How can they burn the flowers if the cremation hasn't happened yet?" a man said to me.
The reluctant crowd did not show much sorrow or disappointment. There was no sound of people crying and those who left just walked out calmly.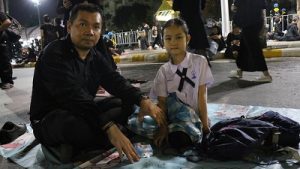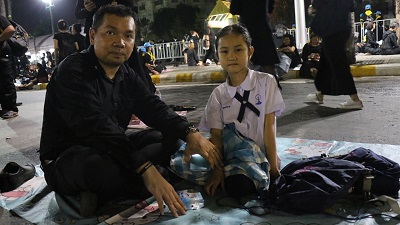 Some said they understood this was palace ritual and could not be broadcast. Some said the reason was to prevent mass grief among the sea of black-clad mourners.
However, some refuse to believe this and remain waiting. Torpong Soonthornvipas said he and his 7-year-old daughter would wait until the morning.
"I don't know what they all say, but the actual cremation has to happen per tradition," he said. "It's okay if it isn't broadcast. It's my duty as a Thai to attend it anyway."
---
11:34pm
Teeranai: Government spokesman Lt. Gen. Sansern Kaewkamnerd announced the broadcast of the ceremony is over. No announcement has been made to the public who are facing the crematorium and still waiting.
---
11:26pm
Teeranai: Smoke now emerges from Meru Mas. The concert meanwhile goes on as the public awaits news regarding the cremation. There has been no announcement for now.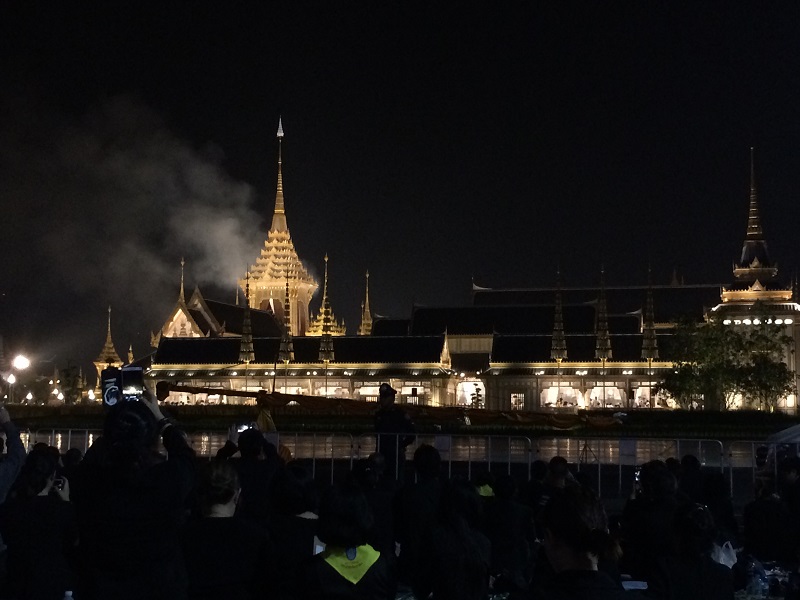 ---
11:25pm
Teeranai: A palace statement released to the media confirmed King Vajiralongkorn presided over the cremation of his late father at about 10:30pm.
---
11:21pm
Sasiwan: Kanokwan Rattanaphoom said she was not disappointed despite being visibly upset. The 25-year-old broke into tears after learning from a reporter that the cremation already happened without having been broadcasted.
"I came from Satun province, arriving in Bangkok last night," she said wiping her tears away. "I slept here in the road last night in the hopes of seeing it."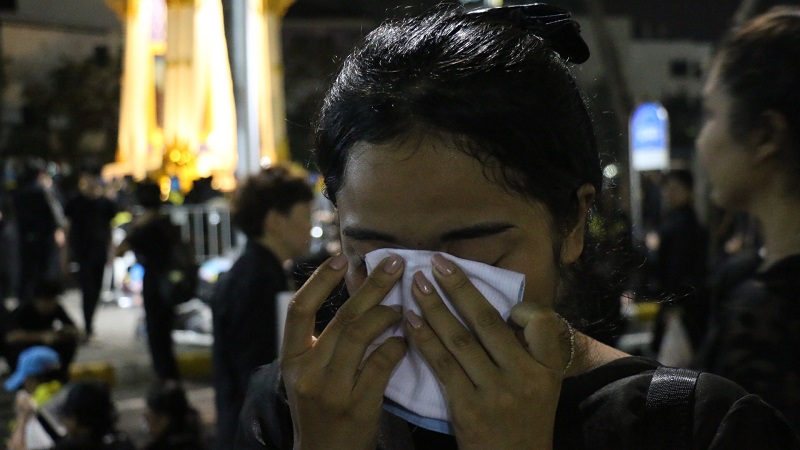 ---
11:10pm 'I don't know.'
Teeranai: When asked why there was no live broadcast, the same official [from the previous update], who wore an ID of His Majesty's household staff, just smiled and said, "I don't know."
Another palace official confirmed the cremation happened the moment Khon started to play. He had no explanation for why the momentous ritual that millions had been awaiting to see was not televised.
By 11:09pm mourners started leaving in droves, but many stayed to see performances at the three stages at the Sanam Luang. Some of those leaving were crying.
---
11:09pm Some Still Waiting
Sasiwan: A royal fire was lit at the replica crematorium on Ratchadamnoen Avenue to burn sandalwood flowers. Next to it, the screen still broadcasts performances, but much of the public is still unaware the cremation took place an hour ago.
---
11:00pm
Teeranai: Two palace officials and two police officers told me in separate conversations that the cremation of King Bhumibol took place at 10pm, without a live broadcast.
There was no smoke, as the body was cremated through an electric powered crematorium, one of the four officials said.
---
10:39pm
Teeranai: Some reporters leave the media center and rush to the Sanam Luang as rumors emerge that the cremation will not be televised.
---
10:26pm
Chayanit: The television stream now returns as it shows a Khon performance at the Sanam Luang.
---
10:22pm
Sasiwan: Mourners clad in black continue to sit at Ratchadamnoen Avenue as they await the commencement of the cremations ceremony.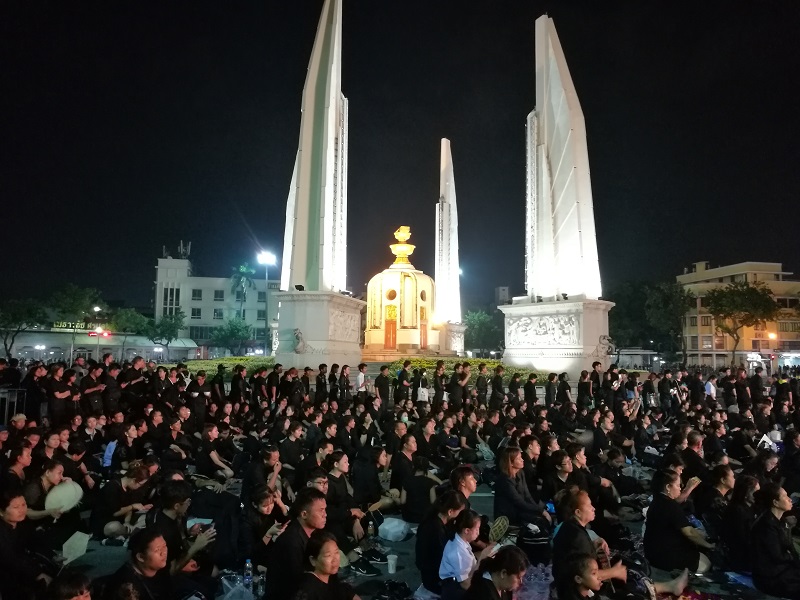 ---
10:12pm
Chayanit: The live stream from the Sanam Luang has stopped temporarily, leaving some confused on social media.
---
9:50pm
Asaree: Mourners sit quietly on the moist concrete, watching a televised video about Rama IX in Ratchadamnoen Klang Road and Tanao Road intersection.
---
9:47pm
Pravit: The royal motorcade for the cremation has just driven past Ratchadamnoen Avenue on its way to the Sanam Luang.
---
9:35pm
Asaree: Mourners corral through checkpoints, guided by volunteers at Chakrabongse Road on the north side of the Sanam Luang.
---
9:25pm
Asaree: The tourist street Khaosan Road, usually so colorful and boisterous has gone dark for the funeral day.
Daniel and Jill Humphrey from London say they're happy to be in the city for the historic event. It took them two hours to get to Khaosan from the airport.
"We've seen lots of non-Thai people wearing black to show respect, too.
Jill said. "We're proud that Great Britain sent somebody," she said, referring to Prince Andrew, the Duke of York's attendance of the royal funeral.
"There's no bright lights, it's very dark, everyone is wearing black whereas before there'd be a lot of tourists and all the lights would be on, and the stalls would be out," said Daniel, who changed his T-shirt for the occasion.
He says that the contrast is good since he's witnessing a historical event. Their trip is far from being a disappointment, Jill said.
"We're not disappointed. This is what's happening today," Jill said.
---
9:22pm
Sasiwan: The deadline to offer sandalwood flowers has been extended until an unspecified time.
---
9:18pm
Teeranai: Now that the symbolic "mock cremation" is over, people must be asking when the actual cremation of King Bhumibol will take place.
According to an official schedule, the flame was set to light up at 10pm, but given that the faux ceremony only just finished, it is unlikely that the actual cremation will be on time.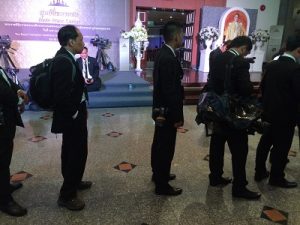 None of the officials I asked could give a definite answer on what time it would take place. Two members of King Vajiralongkorn's bodyguard corps only told me there would be a "delay."
To give the audience back home an indication on how long that delay might be, at about 8:50pm a palace media liaison informed photographers at the media center they had to register and hand over their cameras to be inspected now if they want a spot on the stands to photograph the real cremation." sted "for inspection now if they wanted to be on a stand and photograph the real cremation
The official acknowledged the schedule had been pushed back. This camera inspection routine was supposed to have happened nearly an hour and a half ago, at 7:30pm.
---
9:04pm
Asaree interviews Britons Daniel and Jill Humphrey who had booked their tickets without knowing the Royal Funeral was taking place during the time they would spend in Thailand.
8:56pm
Sasiwan: The traditional masked drama or Khon performance in front of the crematorium has begun. It signifies the ending of the mourning period and manifests the greatness of the king. Other public performances have also commenced at three stages at the Sanam Luang.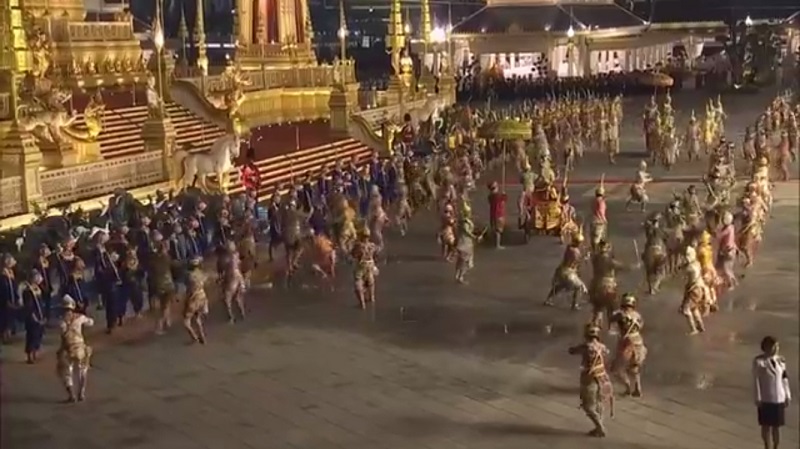 ---
8:50pm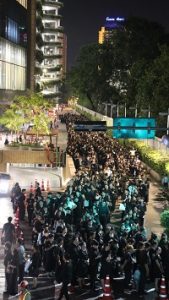 Sasiwan: One and a half hours before the cremation takes place, mourners are no longer allowed to pay their last respects as they line up to enter Wat Pathum Wanaram. The queue stretches along the length of Siam Paragon. Their last chance to offer sandalwood flowers will last until 10pm before the cremation of King Bhumibol begins.
---
8:32pm
Sasiwan: The first performance of the evening will start in a matter of minutes. It will feature a scene from Manohra, a Thai-style ballet composed by King Bhumibol.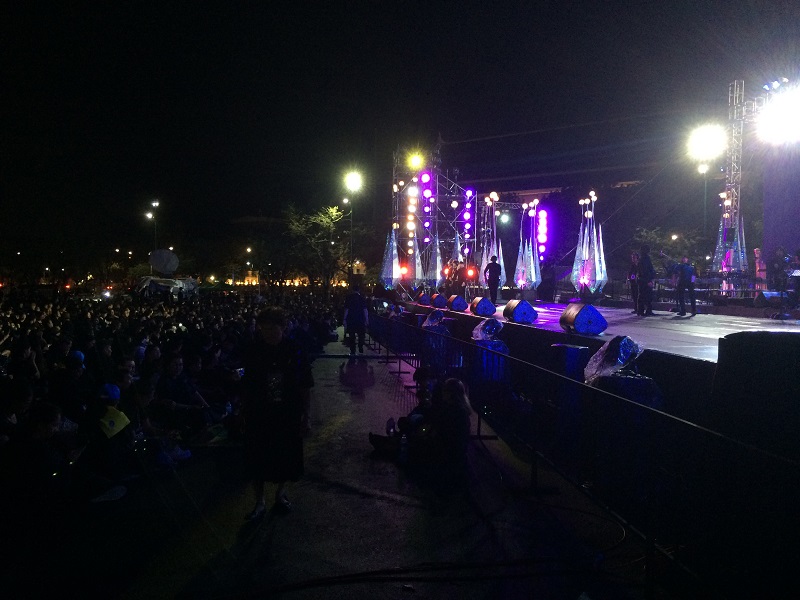 ---
7:49pm
Sasiwan: To facilitate the public's access to the rituals and performances, which are scheduled to take place until 6am on Friday, police will allow more mourners to gather inside the Sanam Luang. The performances will mark the end of the mourning period and will be carried out in three open-air stages.
---
7:35pm
Teeranai: Police say they plan to let more people into the Sanam Luang.
---
7:07pm
Asaree: As the symbolic cremation continues, jeeps filled with yellow-clad royal guards pass long queues of mourners waiting to place sandalwood flowers in Santi Chai Prakarn Park. Police march past on patrol. (Todd: Check 360 gallery above for image)
---
6:50pm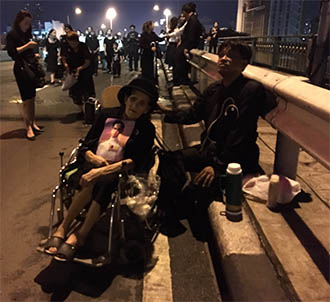 Asaree: As night falls and mourners stream in and out of the Sanam Luang area across the Somdet Phra Pinklao Bridge, Kiatpairote Imsomphot, 41, pours hot water from a thermos for his wheelchair-bound mother, Penpak Kaenpanich, 82, who clutches a portrait of Rama IX.
"Don't you all remember how much the king loved his mother? He always had meals with her," said Kiatpairote, who has been wheeling his mother through the area through the day's heat since early afternoon. The pair appeared to be staying past their planned departure time of 6:30pm. "We'll stay until we're satisfied. This doesn't happen often," Kiatpairote said.
---
6:45pm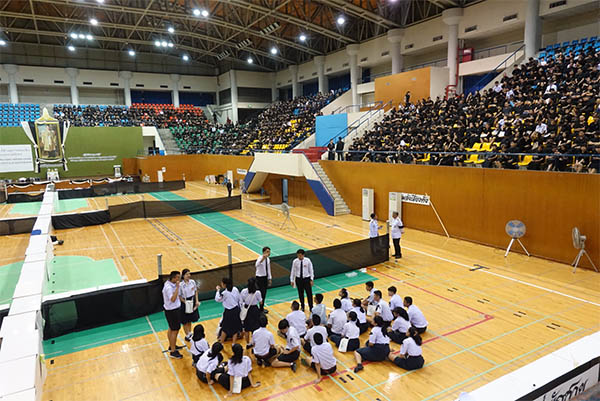 Chayanit: I'm over at the Thai-Japanese Stadium. Mourners fill the bleachers of Stadium 1, the Bangkok Youth Center, as they wait to participate in a flower-leaving ceremony.
---
6:40pm
Todd: It appears the first batch of people are ascending by stair to leave offerings at the urn for the mock cremation. Thai royals will be followed by visiting dignitaries.
The symbolic cremation is happening over an hour later than scheduled. Will this push back the planned 10pm cremation or will it stay on schedule? Seems unlikely it would be delayed given the importance of its timing.
---
6:36pm
Pravit: A fresh fusillade of cannon fire signals the beginning of the faux cremation.
---
6:30pm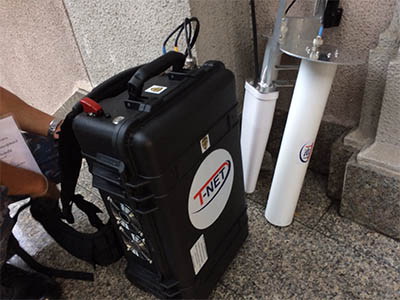 Teeranai: I caught sight of this interesting piece of equipment earlier.
To enforce a drone no-fly zone over the ceremony, the military deployed anti-drone units equipped with jamming devices.
The air force officer who possessed the one I saw was happy to explain how it works – on condition of anonymity. The technology is still regarded as sensitive info, he said.
The jammers work in pairs. One operator carries the bulky equipment, the other scans the horizon with binoculars for drones not operated by the palace.
Each portable device has an effective range of 200 meters to 300 meters. It looks like a Ghostbusters unit: A big box strapped to shoulder and a fork-like "gun." I tried to lift it but couldn't. Larger variations posted on rooftops have a range of up to 1 kilometer, the officer said.
If one is spotted, jammers will radio a palace liaison to confirm it's a hostile. Once confirmation is given, the jammers will point the "gun" at the drone, causing it to lose connection and most likely causing it to fly back to where it took off from.
"Police then can give chase and arrest the pilots," the officer said. He added that no strays had been spotted so far.
"The penalty is too high for anyone to try," his partner, the spotter, put in.
He said the military also has another bigger device that can instantly "kill" any drone and send them plummeting to the ground, but they didn't bring it today because a falling drone could seriously injure mourners.
---
6:25pm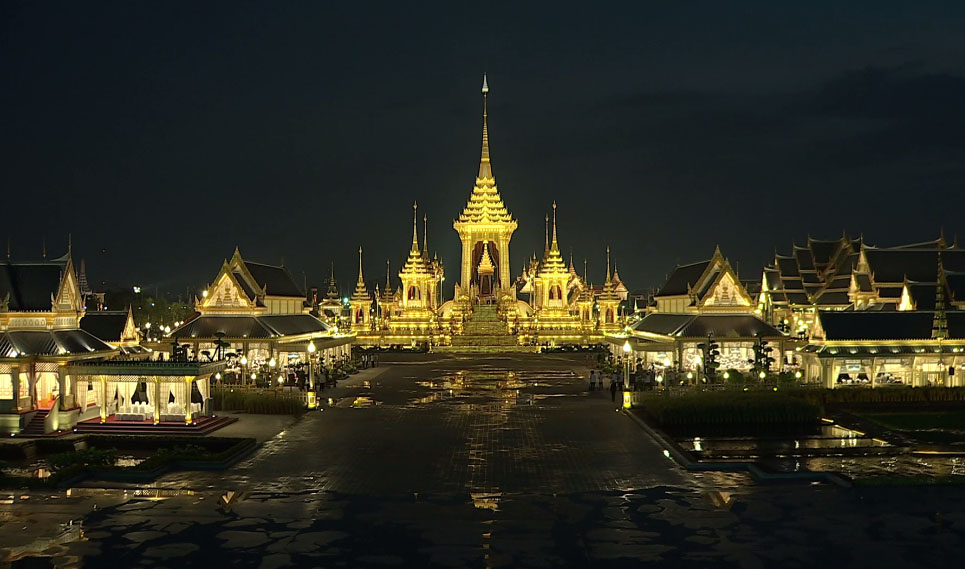 Todd: Dusk is giving way to night and the first images of the crematorium lit up are being broadcast. The camera spent many minutes lingering on a wide establishing shot, and the desired effect – a golden heaven – is stunning indeed.
---
6:10pm
Pravit: Over on the Phra Pin-klao Bridge, no cars pass. But mourners stream both ways on foot, many on their way home.
---
5:46pm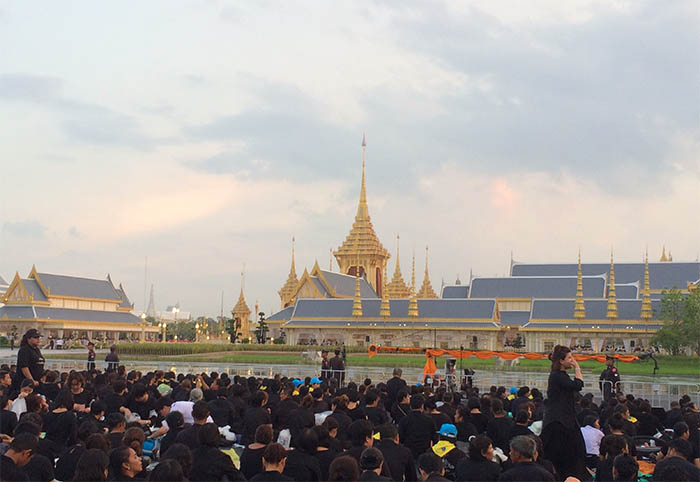 Teeranai: Here's the kind of view mourners outside the crematorium complex have. The Meru Mas glitters just before dusk after the rain. The mock cremation will soon begin.
---
5:18pm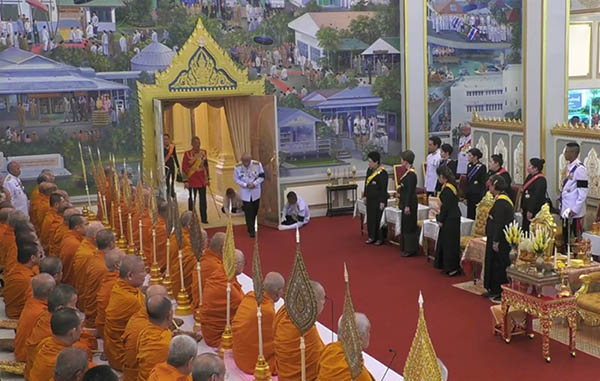 Todd: King Rama X has just returned and walked from his vehicle into the hall.
---
5:10pm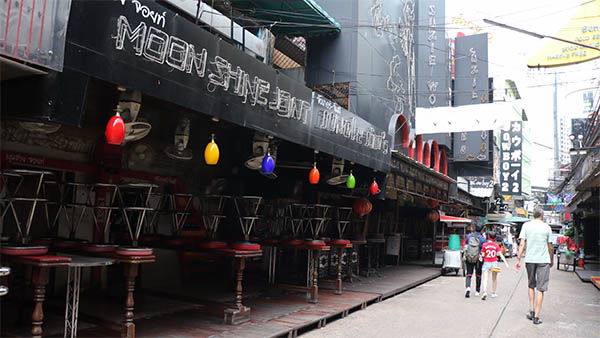 Sasiwan: It was again an unusual night for Bangkok's usually raging nightlife, even on Soi Cowboy. All go-go bars on the narrow street were closed since Wednesday and will remain close until tomorrow by police order.
---
4:54pm
Lobsang: VIP foreign guests, including heads of state and other royals, have taken their seats inside the designated pavilion.
---
4:43pm
Teeranai: A major part of today's event is the music. Not the wailing notes from traditional instruments that can easily slip into white noise, but the jaunty tunes played by the army marching band stationed next to the Meru Mas complex.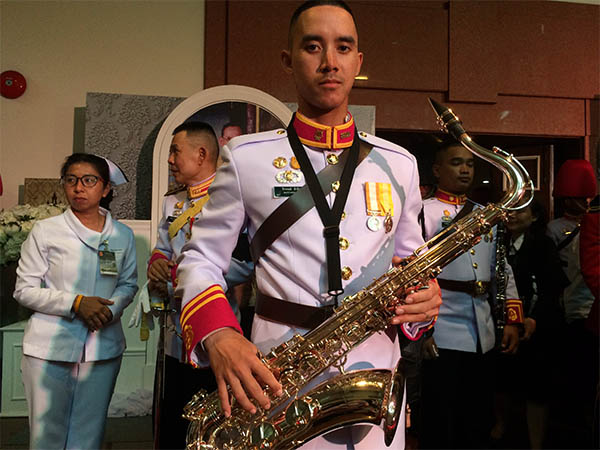 Most of the time they played "March Ratcha Wallop," a royal bodyguard anthem written by King Bhumibol. It's the song heard during the intro to daily royal news and many important events related to the monarchy. Today, the theme lends timing to the goose steps of fully uniformed troops marching in the Sanam Luang.
Whenever the king makes appearance or leaves the stage, the band strikes up the royal anthem, prompting mourners to either stand at attention or grovel in respect, depending on how close they are to the crematorium.
One musician is Sgt. Watcharapong Chumnigul, who's been playing saxophone for the 11th Army Circle for over seven years. He's participated in countless events in those years but all paled to today.
"My family phoned me to show their support," Watcharapong said with a smile as he sat with his bandmates during a break. "I am here to represent my family … it was hot out there, but this is the biggest pride of my life."
The band spent three months rehearsing for Thursday's performance, he added.
---
4:30pm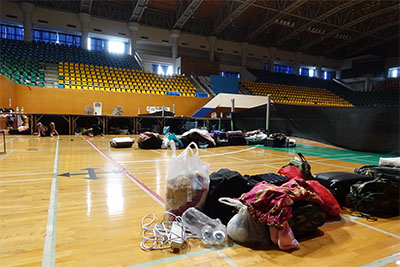 Chayanit: Twenty-four hours ago, I arrived with a backpack to the Bangkok Youth Center, or Thai-Japanese Stadium, to spend the night with people who had traveled from outlying provinces.
I wasn't sure to expect. Would I be napping uncomfortably in my bag on a hard wooden gym floor? Socializing with royalists from far-away provinces? What I experienced in 24 hours at the temporary campsite in Bangkok's Din Daeng area gave me more than one surprise.
At 4:30pm on Wednesday, I was greeted by officials who offered me a camouflage army sleeping bag in exchange for my ID. There were 88 other campers, and it wasn't long after I'd marched onto the basketball court to find a spot to place my bedding.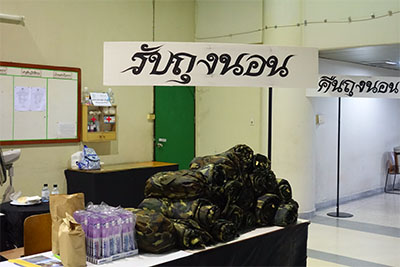 Surrounding me were nearly 30 women from Songkhla who lied down on the floor, mat or sleeping sacks. Some had their eyes shut while some others were chatting quietly. I couldn't understand them very well. They were speaking to each other quickly using unfamiliar southern terms to my central Thai ears.
Wan Tongyoo, 55, said she and other 28 rode a bus on Monday from Songkhla, a southern province of the country, before arriving in Bangkok on Tuesday. They were the first group who checked in at the campsite. Wan just finished cleaning herself from what I'd call "bucket shower," which basically scooping water from a bucket to pour it over one's self. She was talking to me while changing into a comfortable black clothes under her colorful sarong.
"I would do anything to be a part of the ceremony. It's the last time for dad," Wan said.
---
4:10pm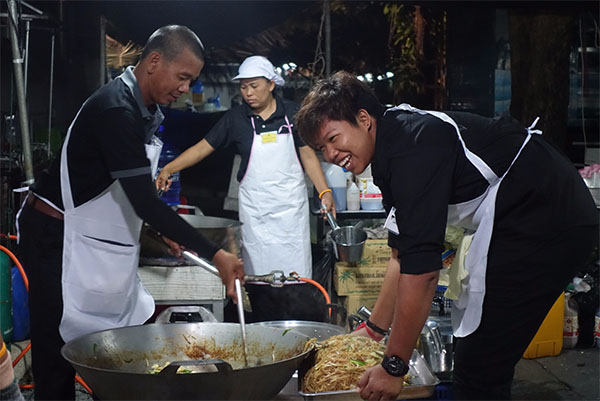 Teeranai: Today's massive ceremony might not have gone this smoothly without the help of the volunteer corps. Hailing from all backgrounds, genders and ages, they came to offer their labor.
These unsung heroes are assigned to a variety of menial tasks, from handing out food and water to picking up garbage and making sure no one stands up when royal motorcades go past. They are easily identified by the yellow scarves and volunteer ID cards they wear.
They went through nearly the same ordeal as the determined mourners who camped out to witness the cremation. They worked under the heat and the rain. Many slept in the open, on the very ground of the Sanam Luang, so they could get up and resume working in the morning. They lined up to use portable toilets alongside the mourners.
There was no reward other than the pride that they help make possible the funeral for their beloved monarch, His Majesty the Late King Bhumibol.
By my own estimate, they probably outnumber police and military officers stationed in the vicinity of the cremation grounds.
Suthasinee Nuankim is a police officer by trade. Officers were told they could volunteer at the Sanam Luang, so Suthasinee and 60 others in her department took up the offer. She has been working at the royal cremation ground since Monday and she pledged to only leave on Sunday, when the ceremony is entirely finished.
"I'm very touched to have the chance to participate in history," Suthasinee said as the sun was beating down on her and thousands of others gathered here.
When I approached her, Suthida Ketthong was sitting in the shade of a table where she handed out bottled water. After insisting on giving me wet wipes for my own sweaty face, Suthida said she hasn't slept. The previous night was spent on handing out goods and collecting trashes.
Suthida, who's self employed, said she arrived two days ago, and she already had what she came for: at one point she was stationed next to the fence separating the crowd from the gilded structure of Meru Mas, where King Bhumibol will be cremated tonight.
"I happened to be where I could see the stairs leading up to the crematorium," Suthida said. "I was so overwhelmed with feeling."
Suthida said she came for the bond she feels with the monarch. She often camped outside Siriraj Hospital when he was admitted there for his illnesses over the years.
"So I'm here to say farewell to him, to show my love for him," she said. "This is the last chance in my life to do it, so I'm giving my best."
Saleswoman Siriporn Klangsuwan was supposed to enjoy her day off today, but instead she came to the Sanam Luang with her friends and younger sister last night to help hand out supplies. She hasn't slept a wink.
"I'm happy to participate in the event," she said, adding that she would only go home after the actual cremation takes place at 10pm.
Surayuth Phummalai is native of Chiang Mai who lives in Bangkok. He saw on TV that the authorities are recruiting volunteers to help, and he immediately decided to go. He's been running errands – providing food and water and other tasks – since Oct. 12.
He said he volunteered largely because he wanted to be close to King Bhumibol for once.
"I told [my mom] it's once in a lifetime experience to be close to His Majesty," Surayuth said. "When I was in Chiang Mai, I didn't visit any royal funeral. The king's mother, the king's sister. I could only watch from TV at home."
---
3:50pm
Asaree: DOWNPOUR! Forecasts said today would see a break from the heavy rain that has belted Thailand for weeks as the rainy season drew to a close. However a big downpour just hit and mourners are scrambling.
---
3:44pm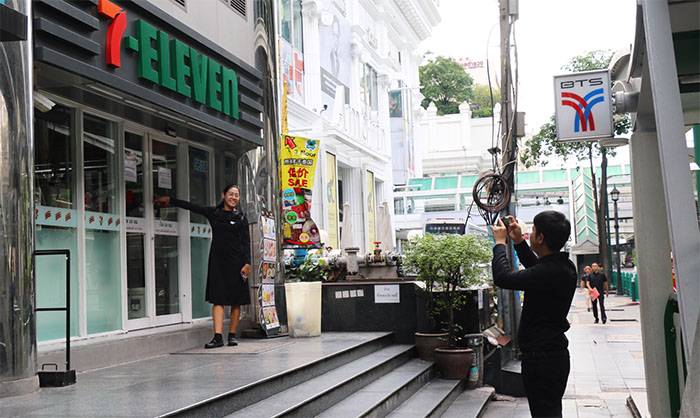 Sasiwan: At 2:30pm, 7-Eleven, Watsons and many other of the convenience stores which are a big part of everyone's lives closed to let their employees pay tribute to King Bhumibol. It was so unusual that some people couldn't help but stop for selfies as the shops that are always open, 24 hours every day, were closed for the first time.
---
3:40pm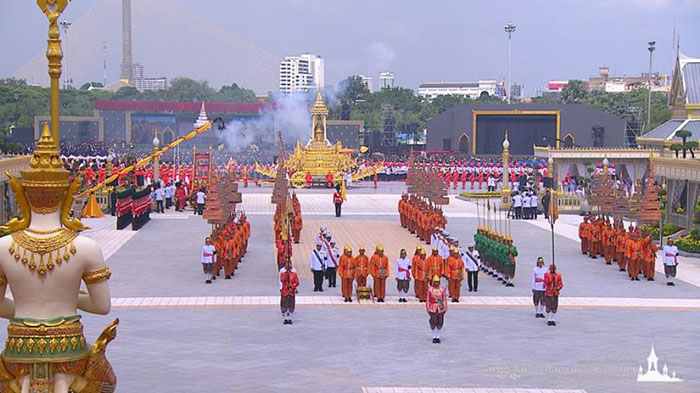 Todd: The royal urn is in place. The elaborate ceremonies which began this morning to transport it from the Grand Palace, where the king's remains had been kept for the past year, are complete. The optics of this event are crucially important for the present military leadership. Given the magnificent spectacle created by meticulously planned camera angles and pre-composed shots, it makes sense they banned the media from filming their own footage. This is an ordered, humble and united Thailand for the world to see.
Elsewhere, offerings are being made at replica crematoriums and memorial sites nationwide. Otherwise the main event will continue when King Rama X returns to the crematorium at 5pm for the "faux" cremation of his late father. This is customarily when people file past through the crematorium to leave offerings, and precedes the real cremation at 10pm.
---
3:35pm
Todd: A lot of people sharing these "instant paintings" of the ceremonials.
Cremation of the King, (Real-time quick painting) โดยเฟซบุ๊ค สมภาร พรมทา pic.twitter.com/3SbY1Nqxe7

— joe black (@joe_black317) October 26, 2017
---
3:30pm
Asaree: A good perspective on the sea of black-clad mourners as Pravit and I saddled up on some motorcycle taxis to relocate.
---
3:25pm
Teeranai: Members of Pa'O tribe from northern Thailand sit in line to offer funerary sandalwood offerings at a replica cremation pyre close to Dusit Palace in Bangkok.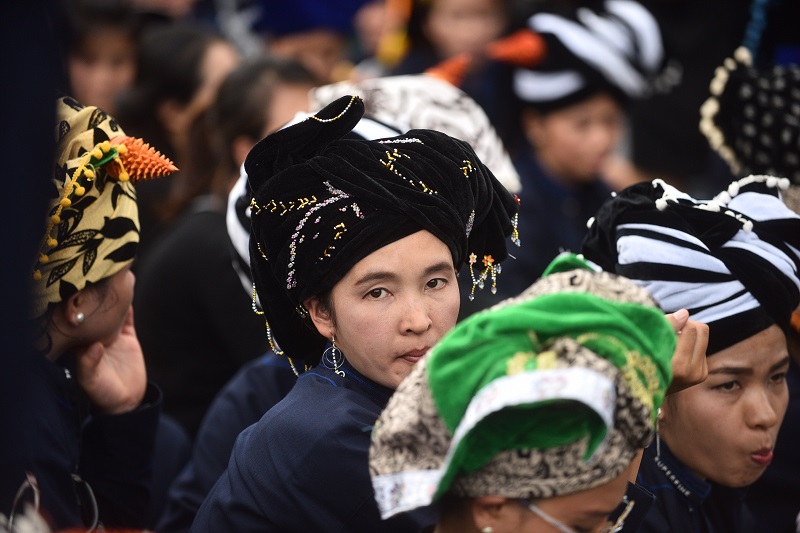 ---
3:15pm
Sasiwan films streets normally bustling with life now at a standstill as traffic has been cut off to accommodate passing motorcades.
---
3:10pm
Pravit interviews volunteers at a sandalwood flower-laying spot near the Sanam Luang.
---
3:03pm
Lobsang: Overwhelmed, mourners cry as funerary proceedings continue to take place at the Sanam Luang.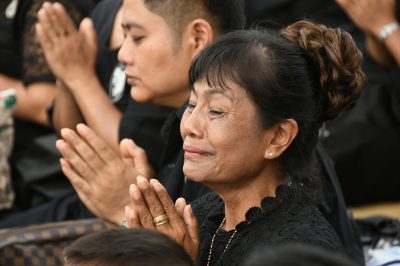 ---
2.56pm
Pravit: I met Watchara Chuaraman, a teacher at Wimol Business Administrative College who was supervising 50 student crowd-control volunteers. They helped maintain order among mourners offering sandalwood flowers at a stage in the Saman Luang. Wimol said they drilled for 5 days before arriving at 7am today. They will remain until everyone gets a chance to lay flowers at the site. Some wearing jeans have been turned away, however.
---
2:50pm
Todd: King Rama X has just departed the Sanam Luang by vehicle. He will retire to rest at the palace and return at 4:30pm.
---
2:35pm
Asaree: Walking around the western side of the Democracy Monument, I see mourners steaming under black clothes and black umbrellas on black-hot pavement covered only by heat-conducting, reflective tarps. The afternoon sun is blinding and unbearable, but people stare unflinching at the large screen televising the cremation procession with little to cool them but their devotion.
Anyone walking too fast or making too much noise is given side-eyes. A child playing too loudly at the McDonald's flanking the monument was given a stern talking-to by a nearby auntie. "It's improper to make this much noise, krup. Stop disturbing others!" she scolded the child.
---
2:32pm
Asaree: As noted below, I spoke to a group of missionary volunteers who conducted themselves exactly like mourning Thais, wearing modest black clothing and speaking reverantly of the late monarch.
"I want to pay respects to the late king because I've been staying here for a year, and I feel like a Thai person right now," said Itumeleng Naha, 26 of Lesotho. "I heard he made so many things for the Thai people, and accepts foreigners as Thai people so I feel like he did great things for me also."
"Now I understand why Thai people love and respect him so much. I haven't seen anything like this in Ukraine before," Andrew Nepyivoda, 22 of Ukraine, said.
---
2:28pm
Sasiwan: Rama I Road in front of Amarin Plaza is now closed as foreign dignitaries are traveling to the Sanam Luang.
---
2:26pm
Todd: The royal urn has been raised by a series of small lifts to its place atop the pyre.
---
2:22pm
Sasiwan: At Siam, I walked past thousands of black-clad mourners waiting in line for hours just to put sandalwood flowers and say their last goodbye to the man they called father. The line to enter Wat Pathum Wanaram runs past the Siam Paragon shopping mall, while the line to leave flowers at CentralWorld runs from the Ratchadamri Road side through Rama I Road and goes to the opposite side of the mall. It is hard to tell how many thousands people have gathered here.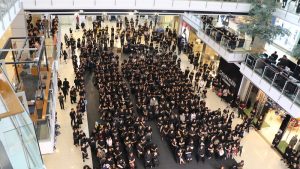 Once inside CentralWorld, I've got goosebumps. All eyes were on the screen where the cremation procession was broadcast live. It appeared that people just came to watch it together. No one was talking to each other. The atmosphere was calm, and even though most of shops stayed opened, no one cares to shop. The cinema was closed but restaurants were doing well.
---
2:18pm
Teeranai: Sure, there are checkpoints and a dress code being enforced, but the strict rules not entirely so. There are at least three women with dyed hair (a no-no), people are freely taking photos (but they can be heard reminding each not to take smiling selfies). They can walk away from their mats to get food and water and cross the road to use toilets at Thammasat. Police only close the roads when the are processions are on the move.
Media restrictions also less draconian than expected. We were told reporters would be cordoned off at the media center. But I and several others managed to enter the Sanam Luang by showing government-issued press cards. We were told only photographers would be allowed in the Sanam Luang area, but I was able to mill about in this staging area. We were discouraged from interviewing mourners but no one interfered when we did so.
---
2:16pm
Pravit: At the Democracy Monument, mourners are seated and watching the telecast on a large screen.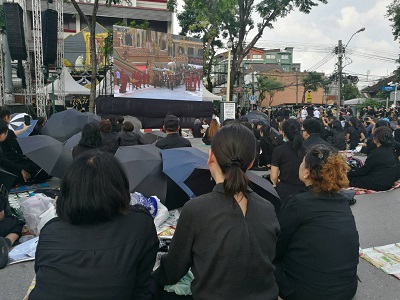 ---
2:05pm
Lobsang: Foreign dignitaries have begun to arrive at the Sanam Luang to pay their respects. A total of 42 are expected to attend the ceremony.
เช้าวันที่26 ต.ค. สมเด็จพระราชินีมาทิลด์แห่งเบลเยียม สมเด็จพระราชินีซิลเวียแห่งสวีเดน และเจ้าชายโฮกุน มกุฎราชกุมารแห่งนอร์เวย์ เสด็จฯถึงไทย pic.twitter.com/lOrJ7oUFb2

— Khaosod Online (@KhaosodOnline) October 26, 2017
---
1:57pm
Teeranai: One of the most recognizable elements of royal cremation has played its part and made its exit: the royal carriage. In fact, some people rushed out to the Sanam Luang fence to catch last glimpse and take pictures with it. They wont see it in use again until the next monarch dies.
It will reside in the carriage hall – where a wall there will have to rebuilt because tradition requires it to be torn down each time the carriage is needed. The tradition underlines a hope that a permanent gate is not necessary because a monarch's death is rare.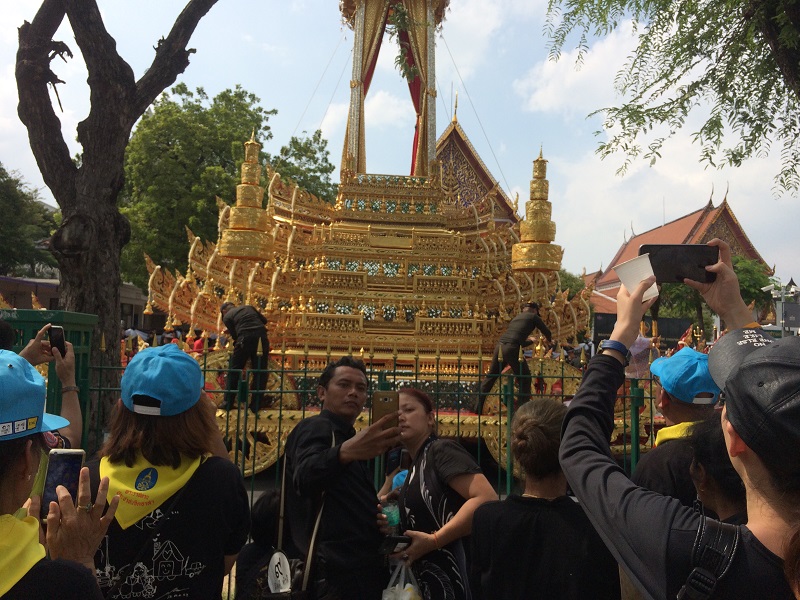 ---
1:45pm
Lobsang: Mourners from around the globe have gathered at the Sanam Luang to pay respects to the late king, Asaree interviews missionary volunteers from seven different countries who describe Rama IX as a "hero of the Thai people."
---
1:34pm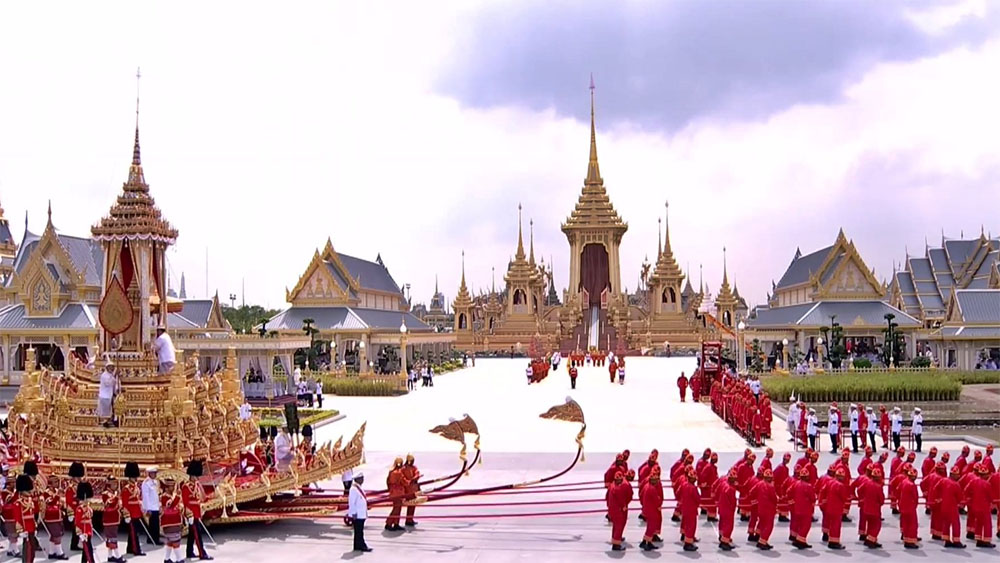 Teeranai: The procession has reached the pyre, and the kot, or royal urn, is now being taken counter-clockwise around the pyre. A marching band is playing and prayers can be heard chanting. Despite the heat, many people are not shielding themselves from the sun with fans. They instead choose to wai, and keep their faces fixed on the kot while it is being moved.
Barely anyone speaks here. It's so quiet despite the sheer mass of people assembled. The silence is only broken by shouts of "Two lines! Two lines ka!" from the entrance and exit, and, again, the ear-piercing cannon fire.
ประมวลพระฉายาลักษณ์ "ในหลวง" และพระบรมวงศานุวงศ์ เสด็จฯ ตามพระบรมโกศ https://t.co/xNoGQDeIcP#สู่ฟ้าเสวยสวรรค์#ข่าวสด

— Khaosod Online (@KhaosodOnline) October 26, 2017
---
1:26pm
Asaree: I filmed some 360 footage from under Bangkok's Great Swing, near where a replica crematorium has been erected.
---
1:23pm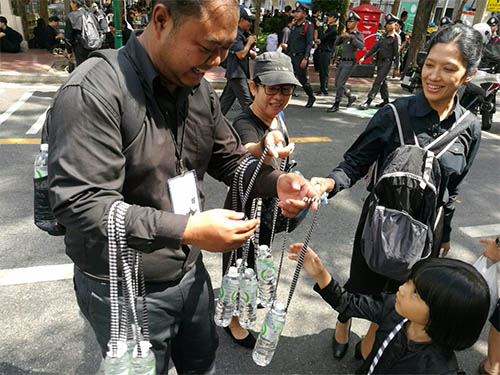 Pravit: I'm now on Din Sor Road near the Democracy Monument and though the crowd is not huge, many volunteers are busy handing out free drinks, food and medicinal balms.
The heat is picking up, but the general feeling is one of calm.
Volleys from ceremonial canon can be heard in the distance, about 600 meters from here.
---
1:15pm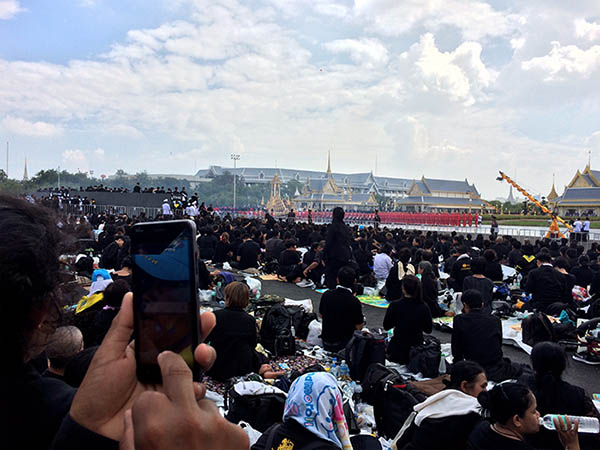 Teeranai: Here's the audience view of the procession. Right now, I'm as close to the king as a commoner can get. I just saw a parade trooper in traditional red brought out. I cannot stress enough the power of the heat and reports of cannon fire. I think those will be two things people remember clearly, apart from what's unfolding in front of them.
---
1:01pm
Teeranai: I'm over by the ceremony area. Fainting appears to be a common affliction for the people in the afternoon heat where many mourners have been sleeping rough the past two days and nights.
"Someone fainted in front of Lottery Office. Send help," came the voice from radio carried by rescue workers posted in front of Thammasat University.
Pongpan Panthuchat, a rescue worker with Ruam Katanyu Foundation, said it's the most common problem he has to deal with so far today.
"I helped about 15 people since my shift started," said Pongpan, who's been working since 5am.
When someone faints, a team is sent in with a folded wheelchair. The patient is brought out to rest at first aid stations, like the one at Thammasat University. Other predicaments include diarrhea and wounds from tripping over, he added.
Pongpan said 2,000 Ruam Katanyu workers are deployed in the Sanam Luang vicinity today. He urged those not accompanied by family or friends and people with medical conditions not to come to Sanam Luang.
---
12:58pm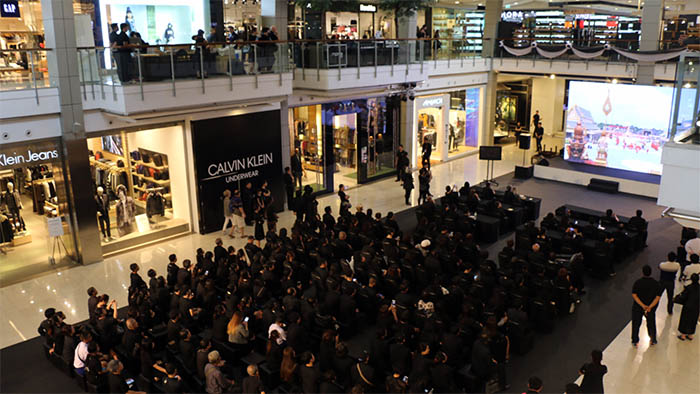 Sasiwan: I'm passing through CentralWorld, where mourners clad in black have gathered to watch a live broadcast of the cremation ceremony.
---
12:55pm
Chayanit: As the reporter who has fastidiously kept track of what will be closed for the funeral, I think it's worth pointing out that all 7-Elevens will close one hour from now.
---
12:42pm
Teeranai: A police officer in charge of security in northern portion of Sanam Luang said everything is going smoothly so far.
"There has been no report of any incident," Col. Adisak Sunthrarak said as he was watching over a crowd of mourners. "Overall, everything is in good order."
He said a rigorous search for weapons has been imposed in all checkpoints.
Asked whether police will be exhausted by their all-day duty, Adisak said they are trained to be on alert at all times.
---
12:34pm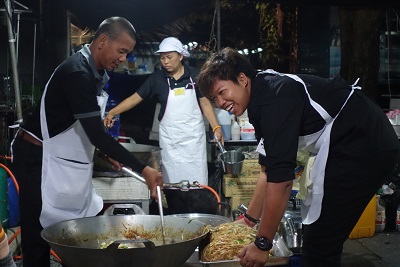 Chayanit: Wirat Kianduangchan, 42, traveled from Nakhon Ratchasima's Wang Nam Keaw district and arrived Thursday to camp at the Bangkok Youth Center. Wirat, manager of Baan Rai Plai Tawan Almshouse back home, led more than 30 people to cook meals for mourners in Bangkok.
The menu includes pad see ew and, of course, pad mhee Korat, a typical Nakhon Ratchasima dish.
---
12:25pm
Sasiwan: Among hundreds of people lining up to enter Wat Pathum Wanaram to offer sandalwood flowers to King Bhumibol were two Americans who landed in Thailand last night. Sam Sears said he just bought black trousers this morning before joining the queue.
"I think I've only seen one man wearing a pink shirt, everybody else were pretty much wearing black," he said as he gave his first impression of the city. "It's kind of impressive because in America if President [Donald] Trump died, I think you wouldn't see people wearing black."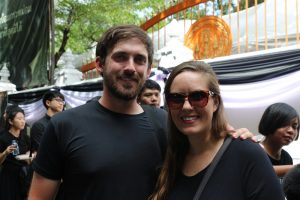 Finding their Thailand vacation turned out to be an important occasion for the country, the two from California decided to skip tourist attractions and follow the large crowd to do what local resident were doing.
"This is kind of a once-in-a-lifetime experience so we want to see it from Thailand's citizens' point of view," said Mary Beth Coleman. "In my lifetime I don't think I have ever seen the entire country remember one person in such a unified way."
After half an hour in the line, they admit to not knowing what is to be expected inside the temple but say that was part of their travel plan.
"It's very interesting to see how people react to things and to understand the custom and culture and I think that's why we like to travel," said Coleman. "Not to see the basic touristy things, but to understand people really really well."
---
12:05pm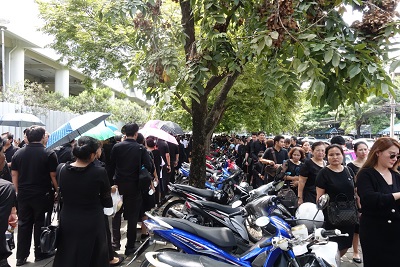 Chayanit: The nearly 8,000 mourners gathered in front of the Bangkok Youth Centre are now divided into five lines.
---
11:55am
Teeranai: Marching bands play, their music intertwined with the pitching noise of traditional flute that marks an ancient ritual in progress.
These processions are the highlight thousands brave through storm and blistering heat to see: a tradition dating back centuries relived before their eyes.
Hindu priests hold the royal urn steady, their distinctive white robes and towering headgear visible to the crowd.
11:49am
Teeranai: The colorful procession is now slowly edging toward the Meru Mas. The ornate carriage that carries the symbolic Royal Urn is drawn by troops dressed in traditional red garment, while soldiers in full marching regalia shuffle forward between the processions.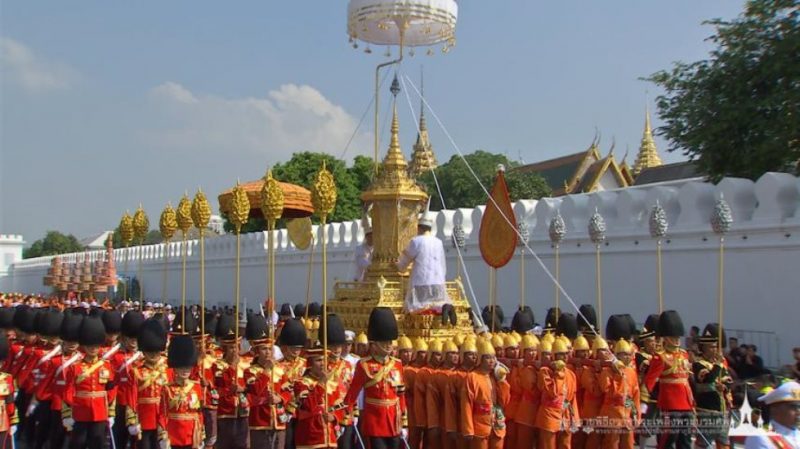 11:37am
Pravit interviews mourners and volunteers who have gathered since yesterday both to pay their respects and help the procession.
11:10am
Lobsang: King Rama X and Prince Dipangkorn Rasmijoti march alongside the royal parade as funerary rites continue to take place.
สมเด็จพระเจ้าอยู่หัว/พระบรมวงค์ศานุวงศ์ ทรงเสด็จพระราชดำเนินตามขบวนพระบรมราชอิศริยยศ#สู่ฟ้าเสวยสวรรค์ #KingRama9 #ข่าวสด pic.twitter.com/ocoXuc6AXu

— Khaosod Online (@KhaosodOnline) October 26, 2017
11:05am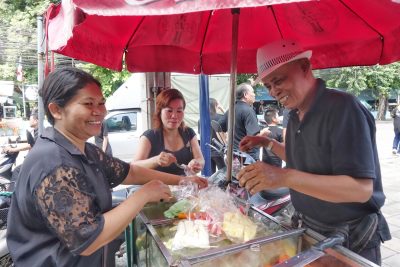 Chayanit: A fruit seller is giving away his fruit for free in front of a Bangkok Youth Center's gate. Watermelon is the most-popular seller, as its high water content can help relieve the heat.
Approached by a man who asked for some yam for his pregnant wife, the fruit vendor acceded immediately.
10:50am
Chayanit: "Where are you going? Free motorbikes here!" motorbike taxi drivers say from their station in front of the Bangkok Youth Centre.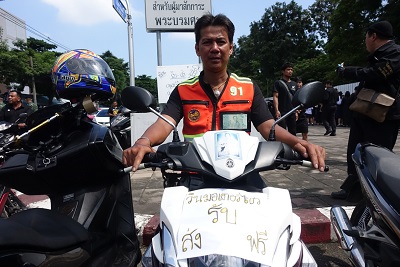 10:38am
Sasiwan: Volunteers hold banners reading "free rides" as they offer free transportation for mourners from Victory Monument to the Sanam Luang and its vicinity.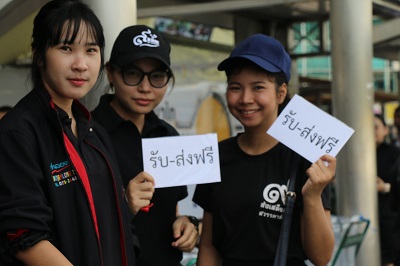 10:34am
Teeranai: The procession transporting the royal urn to the crematorium paused for the playing of the royal anthem.  Junta leader Prayuth Chan-ocha is expected to take his place in the parade.
10:30am
Todd: A reminder on where to find the official streaming pool coverage with English-language narration: Viewing Guide to Thursday's Royal Cremation
10:20am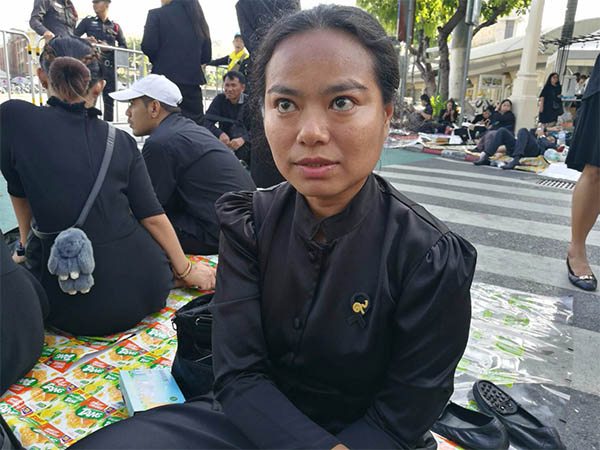 Pravit: Julaluck Nuankratoke's eyes were brimming with tears after hearing the cannon fire salute marking the procession of the royal urn to the crematorium. She sat 600 meters from the scene and could not see anything but hear the repeated sound of cannons firing.
10:10am
Asaree filmed this 360 video clip for a look around the people waiting at the Democracy Monument:
10am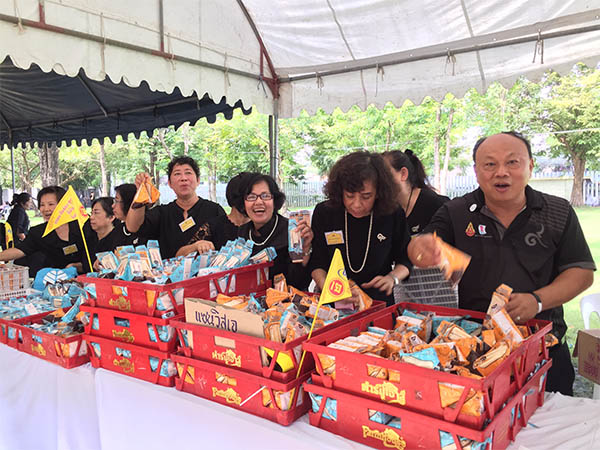 Chayanit: The funeral coincides with the annual Vegetarian Festival. Volunteers were handing out vegan, or jae, sandwiches to mourners and participants.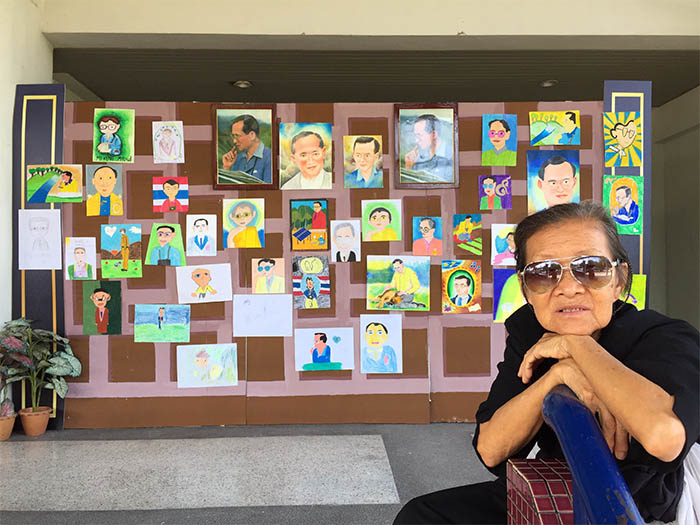 Chayanit: Natee Yingwongwiwat, 74, traveled by train alone Tuesday night from Hat Yai in Songkhla. She arrived in Bangkok at noon on Wednesday and camped out overnight at the Bangkok Youth Center. Today she wants to visit Pak Khlong Talad's Flowers For Dad event, which runs through Friday.
9:45am
Todd: The procession that began for the royal urn is passing outside the Grand Palace on its way to the crematorium at the Sanam Luang.
อัญเชิญพระโกศทองใหญ่ประดิษฐานบนพระยานมาศสามลำคาน 'หมอประดิษฐ์-ประสิทธิ์' ขึ้นประคองพระโกศทองใหญ่#สู่ฟ้าเสวยสวรรค์ #ข่าวสด pic.twitter.com/ItniLNCrRT

— Khaosod Online (@KhaosodOnline) October 26, 2017
9:41am
Todd: A Khaosod photographer filed some photos of this man from the scene.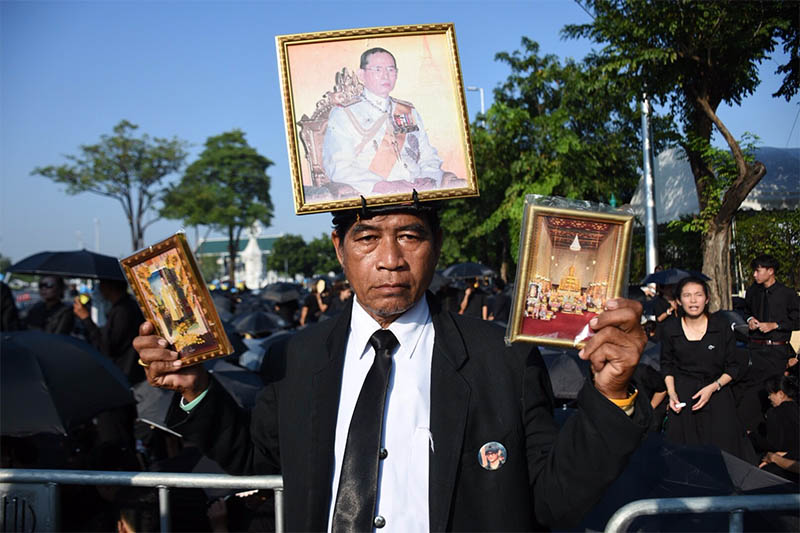 9:33am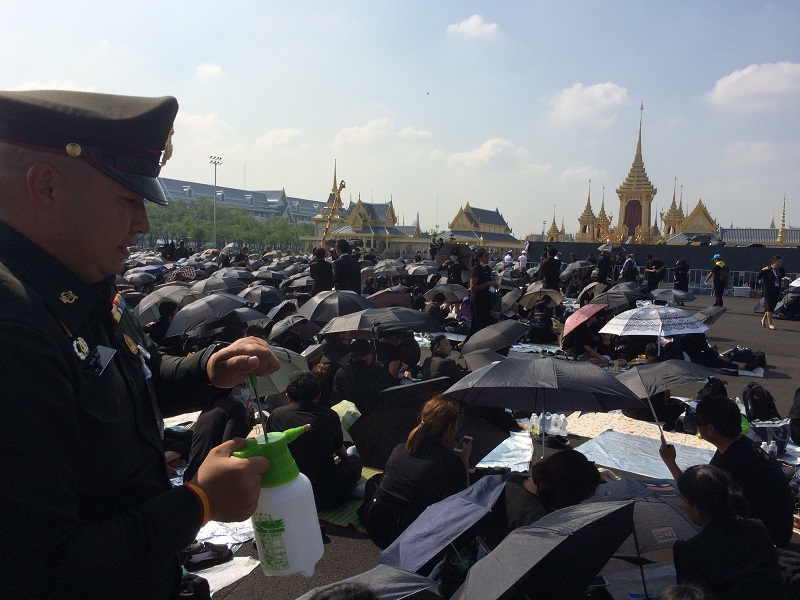 Teeranai: An army officer sprays water on the sea of umbrellas for relief from the heat.
9:30am
Sasiwan: Passengers can receive free BTS Skytrain rides all day either by using their cash cards or pressing any button on the ticket machine.
9:20am
Todd: Teeranai writes about reports the secret ritual of the 'royal body theft' took place last night: Mourners Witness 'Royal Body Theft' Ritual.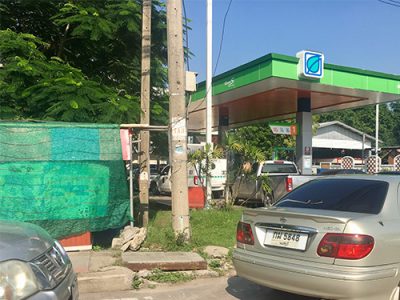 9:05am
Sasiwan: A long line of cars queue to enter a Bangchak gas station as the company has lowered gas prices by 1.5 baht today to facilitate travel to the royal funeral.
9am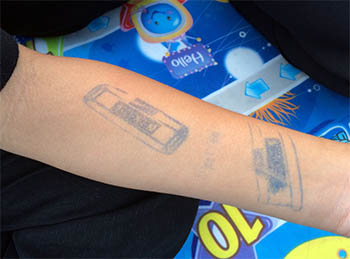 Teeranai: More than 100,000 people are estimated to be here in the vicinity of Sanam Luang. Providing security, food and sanitation to the mass of crowd who would spend days camping out is the biggest logistical challenge for the authorities in years.
As far as I could see, at least, there's a ready supply of food and water. Bakery and bottled water were handed out this morning. Rows of portable toilets are everywhere, but the line is long, as expected. Medics are visibly on standby.
Many mourners come here with their family members and friends, so they take turn leaving their spot to toilet or shower. They get blue stamps on their forearms, like passport entry stamps, so they could be allowed back in through the security checkpoint.
"The ink wears out too quickly. I had to be careful when I shower!" one man joked.
Security is tight. Apart from soldiers and police, there is an army of volunteers distinct in their yellow scarves. As I took a quick break and typed on my phone inside the security cordon, where photographers must be corralled in their stands, one elderly volunteer quickly spotted I had a camera with me and radioed his supervisor.
"He's not supposed to be loitering around. Get him moving!" came the crackling voice on his radio as he shyly approached me and gestured me to leave.
8:50am
Asaree interviews Chalaem Ponpanom, 41 from the Don Mueang area and Julaluck Nuankratoke, 39 from Bangkok's Ratchada area.
8:26am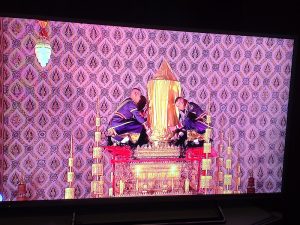 Chayanit: Thousands of mourners, volunteers, soldiers and bureaucrats arrive at the Bangkok Youth Centre for the commencement of the flower-placing ceremony scheduled to start at 9am. Among them was Koranit Buachan, director of the center.
8:12am
Teeranai: The media center next door to Sanam Luang shakes at the vibration of cannons being fired. The gun salute marks the moment the in which the outer decoration of the Royal Urn is being taken apart.
8:07am
Chayanit: Hundreds of people pour inside the Bangkok Youth Centre and place flowers to mourn the late King Bhumibol.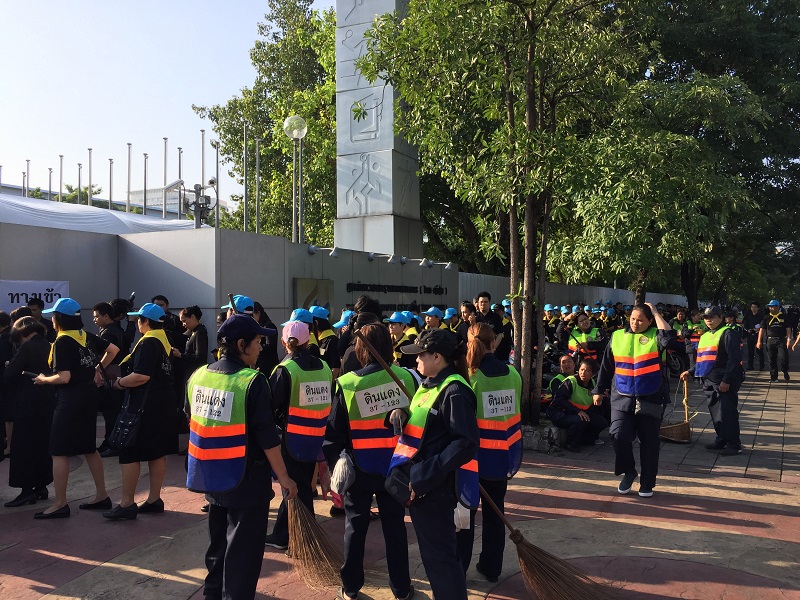 8am

Teeranai: Heavy fog blanketed Bangkok in the early hours of Thursday, Oct. 26, 2017, the day Thais from across the country are gathering about the field of Sanam Luang to bid farewell to His Majesty the Late King Bhumibol.
For many here, most of whom have been camping out for at least two days, the mist holds a special meaning. They will remember the night when King Bhumibol died on Oct. 13, 2016. A heavy fog also descended on the capital that night, adding a gloomy element to the memory.  
At about 6am, by the time I passed security checkpoints and stood at the epicenter of what would be the cremation of King Bhumibol, the fog has dissipated, replaced by a blazing sunrise. The day promised to be clear, a break from torrent of rains that has battered the city for a week.
Mourners clad in black are sitting on their mats here. Before them looms the Meru Mas, the ornate crematorium where King Bhumibol will be laid to rest.
There's a flurry of activities wherever you look. Troops dressed in traditional red outfits marched about the funeral pyre complex. A carriage was drawn to its ready position. Mourners come and go about their spots. Photographers rush to the stands set in the middle of Sanam Luang. Volunteers, distinguished by their yellow scarves, move about to hand out food and collect trashes.
Despite the sense of sorrow associated with the cremation ritual, the atmosphere here is relaxed, joyous even. Families and friends take selfies together. Mourners laughed and teased with police officers who patrol the area.
All of mourners I interviewed said they went through rain and sunshine since they started camping out two days ago (they were only let onto the field of Sanam Luang yesterday morning), but they dismissed it as trivial hassle.
"Our father suffered so much," Chalinee Heawjapok told me, using a common endearing term for King Bhumibol. "What we went through is not a slice of what he suffered."
Prapan Meemangkang still remembers receiving King Bhumibol's visits to the northeast when she was young. Her father is a chicken vendor who travels around, seeking out crowds that gathered whenever the royal visit was taking place.
"We were surprised he came all the way there," Prapan recalled, saying she saw the king in Maha Sarakham, Nakhon Phanom and Khon Kaen. "There was no road … And Isaan was in the thick of Communist [insurgency]. We were asking each other, how could he dare come there?"  
Her fondest memory was the king kneeling down to greet a group of little children, herself included.
 "He was very casual. He was kneeling down, talking to us like you are now," Prapan said.
7:43am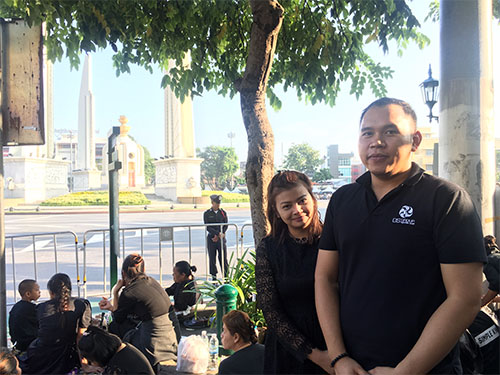 Asaree: Mourners at the Democracy Monument clad in black sit on plastic tarps and factory rolls of packaging material while volunteers give out everything from baked goods and sweet green tea to cotton balls soaked in eucalyptus. The roundabout is fenced off and a subdued carnival-like atmosphere can be felt along the sidewalk where people have been allowed to sit.
Nuttawut Seeampai, 36
Nathaya Somboonrat,30
Both from Bangkok
"I came here since 2am. I probably won't get any closer to Sanam Luang but I'm so happy to be able to participate with everyone and see some procession pass," Nuttawut said.
Describing the atmosphere, Nathaya said "All the Thai people are so narak today."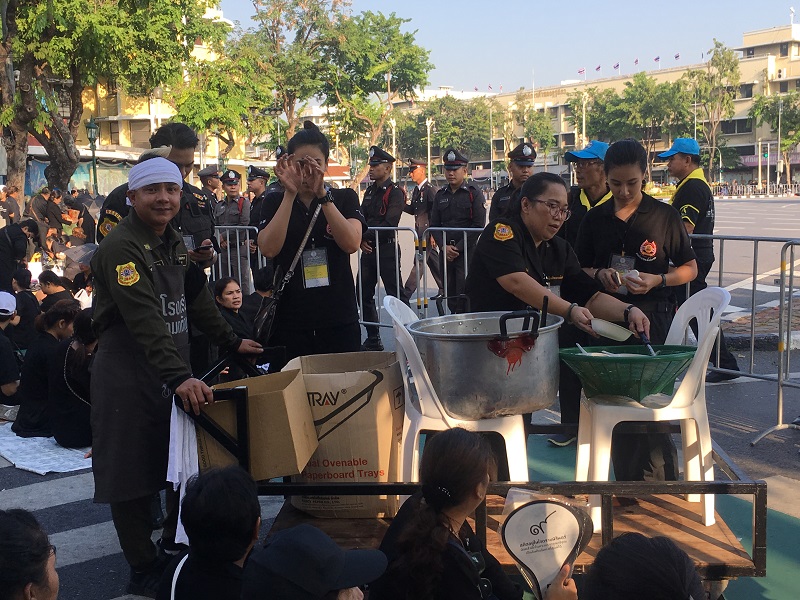 7:25am
Teeranai: His Majesty the King Vajiralongkorn arrives at the Grand Palace, accompanied by his children. His arrival marks the start of the funerary rites today.