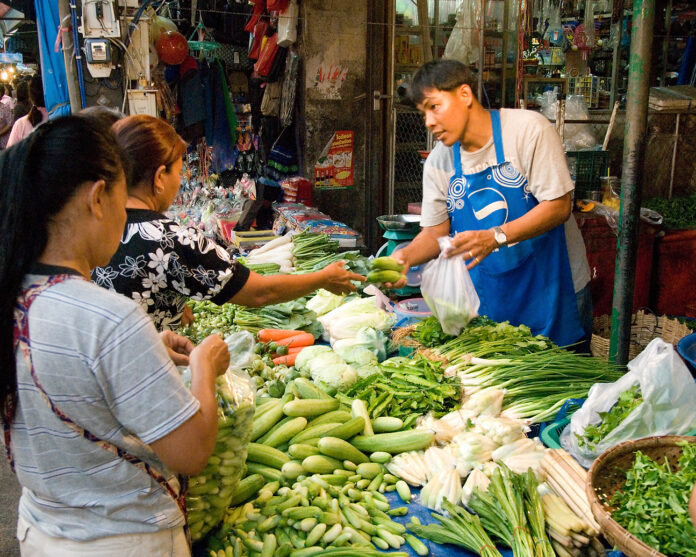 MAHA SARAKHAM — Want kale for your jae fix? It's gonna cost 40 baht extra per kilogram.
As the Vegetarian Festival gets underway Friday, vendors say the surge in demand for vegetables coupled with the year's severe flooding adds up to a sharp rise in prices at the market.
"This year, vegetables have become more expensive since the beginning of October and shot up for the Vegetarian Festival," said Kasemsook Rattanawongsa, a vegetable vendor in the northeastern province of Maha Sarakham. "Farmers have been impacted by flooding, especially those along the Chi River."
Fields have drowned and crops lost due to flooding driven by tropical storms nationwide during the monsoon months, driving up prices for this year's festival, called tesagarn kin jae.
Sajor-caju mushrooms went from 60 baht to 80 baht per kilogram, Chinese celery increased 30 baht to 150 baht per kilogram, and a kilo of Chinese cabbage increased 25 percent to 50 baht. The price of kale was up by a third.
Down in the south, Nadthaporn Kanchanalit – whose family has run a jae eatery for 25 years on Ruamjit Road in the Sadao district of Songkhla – said they've had to raise prices by a quarter to 40 baht because of higher costs.
More vegan than vegetarian, the festival runs today through Oct. 29. The nine-day Taoist festival is celebrated on the ninth lunar month in the Chinese calendar by ethnic Chinese and non-Chinese alike in Southeast Asia, where participants abstain from eating animal products as well as some "emotional" vegetables such as onion and garlic. Look for the yellow-and-red jae flags festooning carts and products with products safe for vegan consumption.
Related stories:
Green Grub: Where to Feast on Vegetarian Fest in Bangkok
Why Was Bangkok Not Warned of Flooding?
As North Floods, Major Dam at 100% Capacity
Tropical Storm Inundates Thailand, Kills 2 So Far (Photos, Videos)