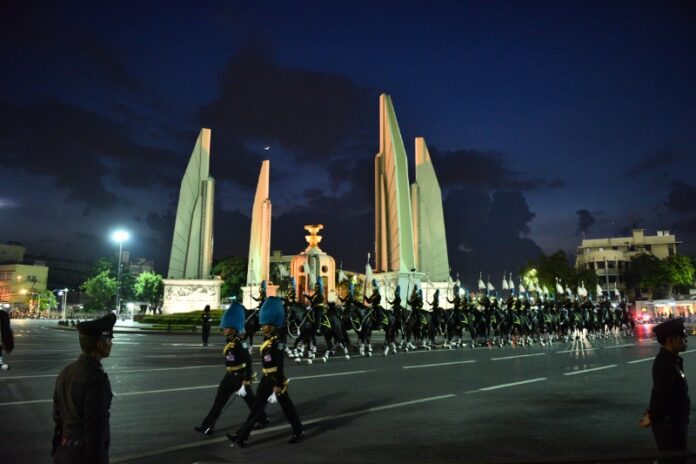 BANGKOK — A man once imprisoned for defaming the monarchy said Tuesday morning that almost a dozen soldiers came to his home and threatened to have him taken away, four days after he said he would do something provocative the day of King Bhumibol's cremation.
Ekachai Hongkangwan said just before 9:30am that 11 soldiers had asked him to choose between spending a few days at what they described as a resort in Kanchanaburi province or a military base at an unspecified location after he wrote online that he would don red and do something "unexpected" Thursday, the day King Bhumibol will be cremated.
As of 9:40am on Tuesday, Ekachai could not be reached by phone.
An outpouring of anger over the weekend came after 42-year-old Ekachai – who spent nearly three years in prison for selling CDs with a foreign news report – wrote Friday about his intentions in a Facebook post.
Virtually all Thais, particularly anyone in public and especially near sites designated to honor the late king, such as the crematorium in the Sanam Luang , are expected to wear black Thursday as a sign of mourning and respect.
Reached for comment on Monday, Ekachai said it was not about disrespecting the king but exercising his rights.
"It's like those who don't feel like it have the right to not wear black. Why should everyone have to wear black? I for one don't want to," he said
Ekachai said he would go ahead with his plan, despite being urged by friends, human rights activists and police not to do so.
"One told me that if I have to wear red, just stay at home," Ekachai said he was told by a human rights activist he asked not be identified.
"They asked me not to go ahead with the plan. But I don't even know what I would do [beside] wear a red shirt," said Ekachai on the phone.
On Saturday, police visited Ekachai at a shop where he works in the Chatuchak Weekend Market and urged him to abandon his plan.
"He said, 'I plead that you don't do anything,'" Ekachai said, identifying the officer only as Prasit.
By Sunday, after conservative news outfit T-News ran a story about his provocation, Ekachai was fired and disavowed by his employer, political activist Piyarat Chongthep.
Piyarat wrote online that he'd have "nothing to do with Ekachai Hongkangwan."
Threats and attacks on Ekachai swelled online, and by Monday Piyarat had deactivated his Facebook account.
Following the T-News article linking Ekachai to Redshirt leader Thida Tavornsaet Tojirakarn, Thida on Sunday issued a statement disavowing any link to Ekachai, who she said was briefly employed by Redshirt umbrella group United Front for Democracy against Dictatorship. She urged T-News to stop linking Ekachai to her.
Over the weekend, angry netizens doxed Ekachai.
Photos and the address of his home on Lat Phrao Road, as well as his mobile phone number were being circulated on Facebook along with abusive language and direct threats of violence.
"Fuck your mom. You won't die well, you beast from hell," Facebook user Sornsak Nilnoi wrote in a comment to the T-News article, which Ekachai had posted on his wall. "Ekachai Hongkangwan, why are you hiding in your mother's vagina!!! You sissy. Want to meet up with me??"
"On the 26th, this asshole red water-buffalo will copulate with his own mother for show," Apichat Bootraks wrote, using slander often employed against members of the Redshirt movement.
Nuttaa Mahattana, a well-known activist who opposes the lese majeste law was among few to offer moral support. She said in an interview she was concerned about possible physical violence by ultra-royalists against Ekachai and pointed out that in the immediate aftermath of the death of King Bhumibol last October, there were several cases of harassment and assault of people perceived to not be adequately expressing mourning.
Nutta speculated that security officers might take him away for two to three days to "keep him safe."
Ekachai was convicted of lese majeste in 2013 for selling copies of an Australian Broadcasting Corp. news program about the Thai royal family deemed to be defamatory.
He served two years and eight months in prison before being released November 2015. He said that his time in prison shaped who he is today.
"It probably plays a factor into turning me into who I am today. Before that I wasn't interested in politics," Ekachai said.
Update: This story has been updated Oct. 24 to reflect that Ekachai's call that soldiers had visited his home.
Related stories:
Activist Arrested Trying to Mark Anniversary of Democratic Revolt
Ex-Convict Crowdfunds Help for Lese Majeste Prisoners
Chonburi Man Beaten by Mob Over Royal Defamation
Woman Forced Off Bangkok Bus, Slapped for Allegedly Insulting Late King
Calls For Calm Over 'Witch Hunt' Concerns After HM King's Death