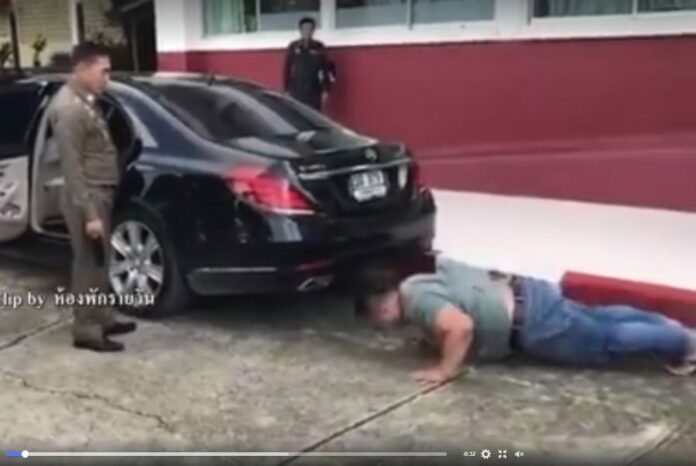 ANG THONG — A police officer in Ang Thong province was recently given a lesson on who's the boss.
In a video that went viral Sunday, national police chief Chakthip Chaijinda orders Cpt. Kittisak Chansri to do push-ups after he reportedly failed to spot the top commander who was making an unannounced visit to his station.
"Be on alert! Your commander was taking a look at you, and you were still typing," Chakthip says to Kittisak, who was out of uniform Friday when the video was filmed.
"I'm short-sighted, sir!" Kittisak, who reportedly weighs 140 kilograms, replies before the laughter of his superiors looking on.
The video drew comments criticizing Kittisak for appearing slack at his workplace, and Chakthip for being petty to his subordinates. But Pa Mok Police Station chief Suriya Yoopat said the two men were merely being playful.
"He was only teasing his subordinate," Col. Suriya said, adding that Chakthip and Kittisak went to the same academy. "I and the police commissioner have known each other a long time. … He likes to tease around."
Suriya said the police general conducted a surprise inspection of his station Friday to see whether the force is coordinating with local authorities in ongoing flood relief efforts. Chakthip spotted Kittisak in a meeting room, but the officer kept typing on his phone and didn't salute his commander, Suriya said.
As he was leaving the police station, Chakthip asked for "that fatty" and punished him in jest, according to Suriya.
"Everyone was laughing, as you can see in the video," the colonel said.
But many online didn't get the joke. Some comments questioned how overweight Kittisak could be considered fit for duty if he couldn't even see his own commander.
"To make quality police officers, there should be a competency test every three years," user Adisorn Saneeyeng wrote in a comment. "If they fail, they're given another chance in three months. If they still fail, they would be asked to leave with compensation to find new job."
Others accused Chakthip of being harsh. One comment said Chakthip broke police regulations by parking his car at a spot reserved for people with disabilities.
"Why didn't they order the police commissioner to do push-ups too?" Santas Argsakorn wrote.
Suriya, the station chief, said Kittisak passed annual health checks and his weight did not interfere with his duties.
"It's how he is! He likes to eat a lot. He eats two dishes for lunch everyday! But his performance of duty is never affected," the colonel said. "But [after Friday's incident] I also told him, you gotta start running now."
It's the second controversy to afflict police this week, at the time the force has been ordered to tighten things up in the run-up to the royal cremation of King Bhumibol on Thursday.
On Friday night, two Bangkok police officers who were supposed to man a roadblock for a royal funeral rehearsal were caught skipping out on their post. The pair were later found drinking in a bar and refused to return to duty, according to an internal police memo released to the media.
The two officers, sergeants Sorapong Kradang-nga and Teerapong Kunnawan, are now under disciplinary review, Bangkok police commander Chanthep Sesawech said Monday.