BANGKOK — When an influx of rumors started to hit everyone's phones on the afternoon of Oct. 12 last year, I was at a cafe in the Ratchathewi area attending a forum on the Computer Crime Act.
Informed that the biggest news in Thailand's modern history could happen at any moment, we agreed the best way to cover it was to get as close as we could to where things would happen. I left the talk and quickly grabbed a taxi to Siriraj Hospital, where His Majesty the Late King Bhumibol was convalescing. There, I met my colleague Pravit Rojanaphruk.
We arrived at about 3:40pm. Unlike the anxiety reflected on the stock market, the atmosphere was surprisingly calm despite hundreds of well-wishers already gathering to pray. Knowing as little as others outside the hospital, many of them refused to follow updates on social media.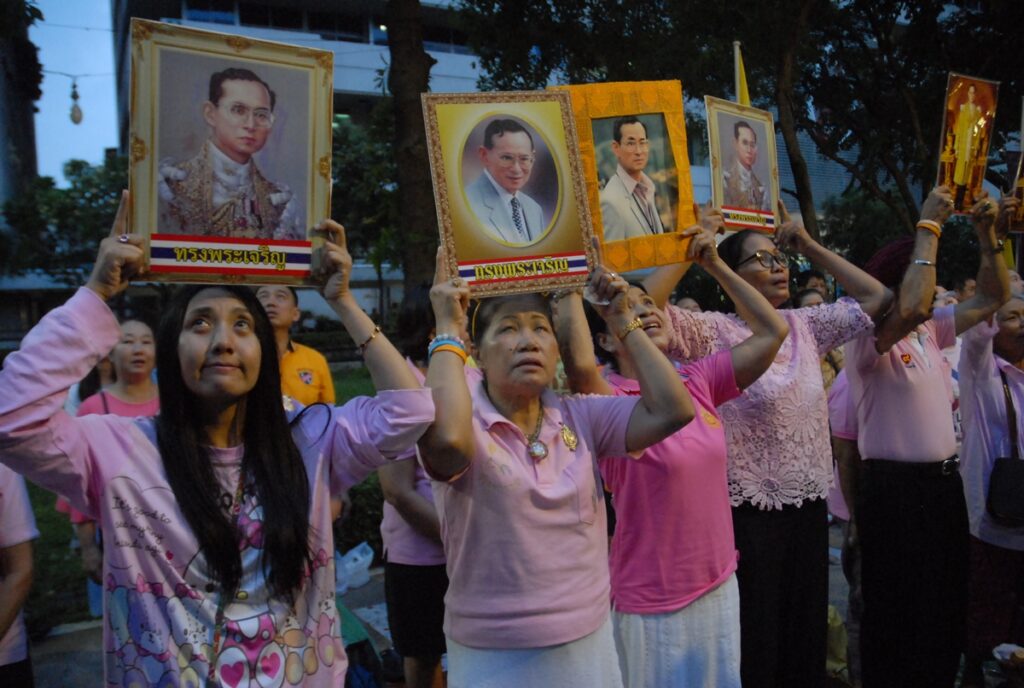 It was when a royal motorcade arrived just after 5pm bringing then-Crown Prince Vajiralongkorn to join his royal siblings that piqued the despair and growing sense of certainty. At the same time, the number of well-wishers surged as many arrived straight from the workplace. Somebody made photocopies of the prayers being recited to distribute, others held portraits of the king tightly in their arms.
When I went back home that night, I was told to expect an emergency call in the middle of the night.
On Oct. 13, I went back to Siriraj early in the morning with my colleague Chayanit Itthipongmaetee. Several hundred people were praying in a park by a statue of the king's father. They had all turned to face the building where 88-year-old Bhumibol had spent much of the past seven years.
Looking up to his 16th floor room, many remained hopeful and disbelieved the rumors. Though when asked about the worst case scenario, many shared the same anxieties for a future without a figure many saw as a unifying force for the country.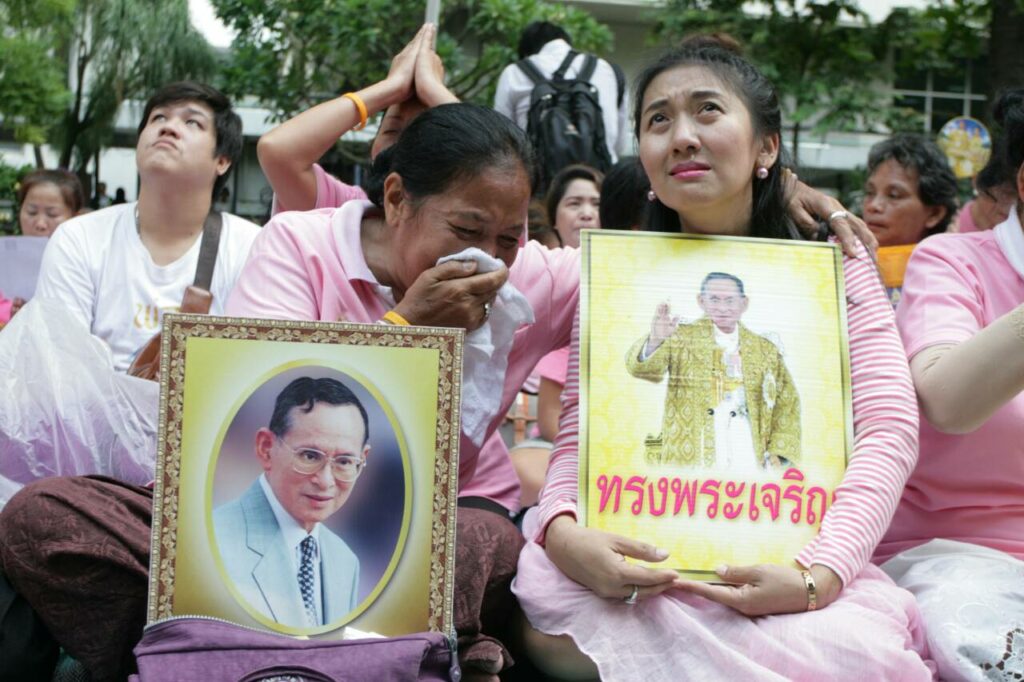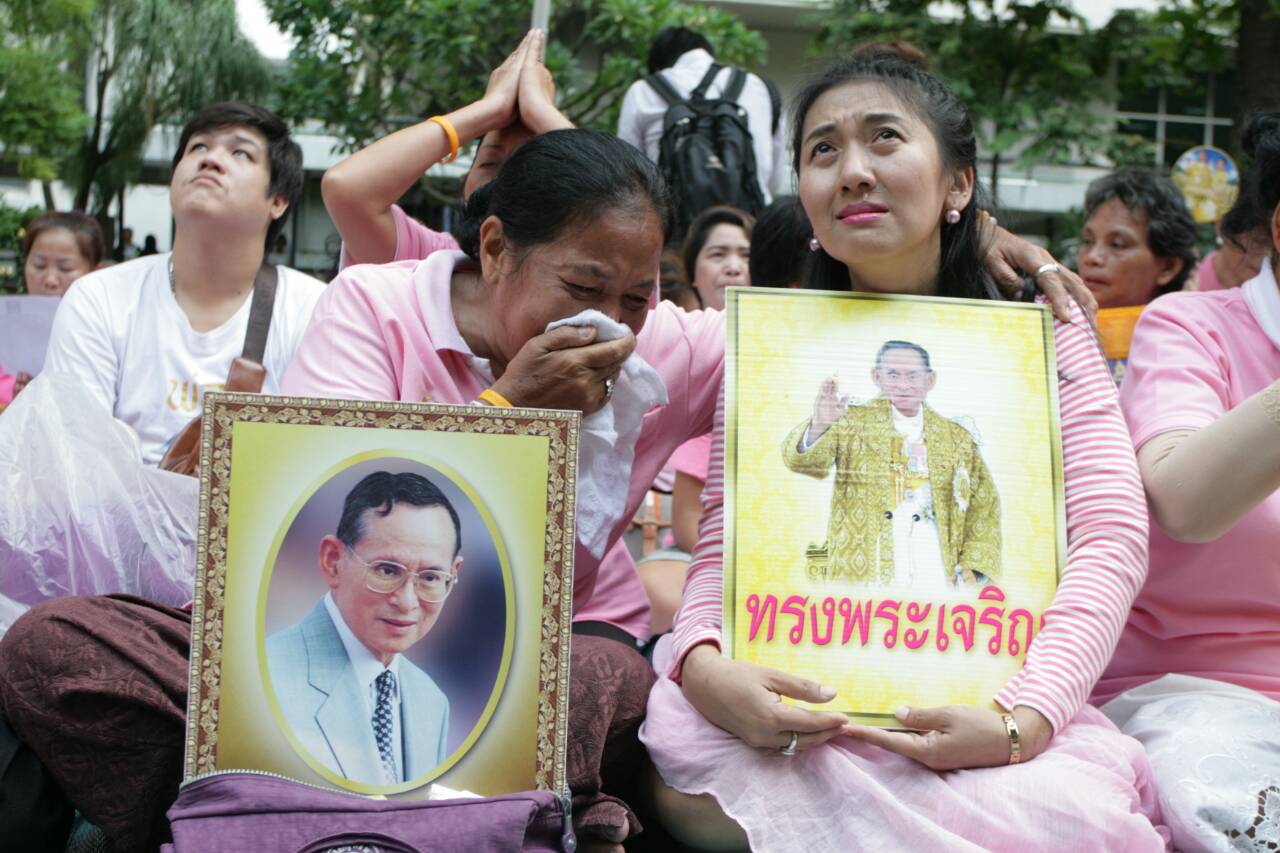 Read: Outpouring of Prayer, Anxiety About Future at Siriraj Hospital (Photos)
We were notified to stay on standby at about 3:30pm. The little garden became packed with well-wishers who gathered to chant, and it felt as if the whole nation could not continue to concentrate on their work. The more royal motorcades arrived, the more people knew the news would be bad.
My colleague and I continued to talk to people, capturing the real-time sentiment at the place that was the center of the event and fed back text, photos and videos to the office while also hosting several Facebook livestreams.
As it got late, thousands arrived. At about 5pm, the people there kept repeating the royal anthem and shouting "Long Live the King." I remember it was a weird feeling to still be surrounded by an atmosphere of hope when my colleague Teeranai Charuvastra called me to confirm the news.
The word had been given through channels to the media to prepare, but not report anything until an official announcement was made.
That announcement came via national television at 6:45pm. But those gathered at the hospital would not receive it for some time because there were no television screens, and mobile signals were jammed by thousands of people in a small area trying to use their devices at the same time.
Some started to be told the sad news by friend outside the hospital, but it was not easy for them to be convinced that, this time, it was not a rumor.
It was at about 6:57pm when the wave of crying gradually rolled across the crowd as more people were able to confirm for themselves that the news was indeed true. And it was probably the only time in my life I heard loud crying in every direction I turned. It was so intense that even a person who had never heard of King Bhumibol in their life would also have cried.
I remember seeing a woman shouting, "It isn't true. He is still with us," as she cried and writhed in agony on the ground. Elderly ladies, big men and little girls alike all had tears running down their faces. A few fainted and had to be hospitalized.
As part of the job, I had to approach people and capture their feeling for real-time coverage. Many were so devastated that even to finish a sentence was impossible. I remember comforting an elderly woman I interviewed by holding her hand. She cried so much she could hardly breathe.
Hours after the news broke and the entire world was informed, several hundred people insisted on remaining to pray at the hospital.
"I believe in miracles," many told me.
"I will sit right here until he walks down," another woman told me.
Until I left the hospital at about 9:30pm, there were still some people left waiting for the man they called father to come back to life.
But the miracle never came. As I walked out on foot from the hospital, the closed road was packed by thousands of people who had just came from home in clad in black. Though they were no longer allowed into the hospital, they sat on the road to be as close as they could to their king for the last time.
Related stories:
Mourners Gather at Siriraj Hospital to Remember King Bhumibol