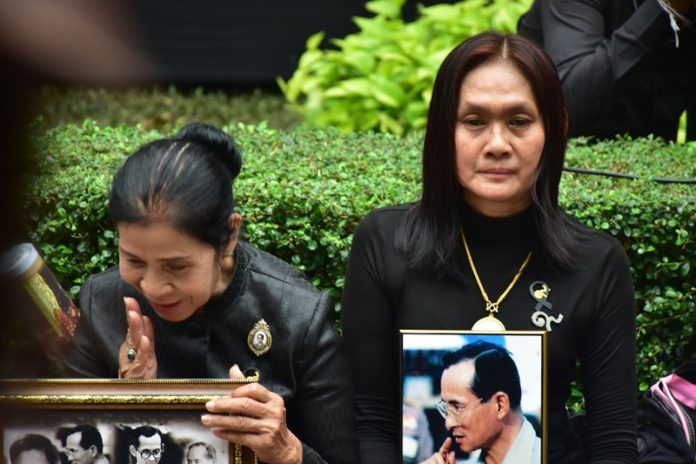 BANGKOK — A few thousand mourners gathered Friday at Siriraj Hospital to mourn the first anniversary of the death of King Bhumibol.
At the country's oldest hospital, people traveled from Bangkok and other provinces to make merit and give alms to 199 monks. Prasit Watanapa, dean of the hospital's Faculty of Medicin, stood with mourners for 89 seconds of silence before placing marigolds around the Statue of Mahidol Adulyadej, King Bhumibol's father.
Activities will run all day through midnight at the hospital. They will include Buddhist sermons, a traditional performance of "The Story of Phra Mahachanok" and an orchestra playing King Bhumibol's compositions.
Prasit will lead 89 Siriraj personnel to sing songs "Tree of the King" and "A Virtuous King." A chanting ceremony for the late King and an offer of blessings to Queen Sirikit will be held from 10pm through midnight at the 100th Year Siriraj Centennial Hall.
The number 89 is considered to be an auspicious number as King Bhumibol, who died at 88, would have been 89 in December 2017.