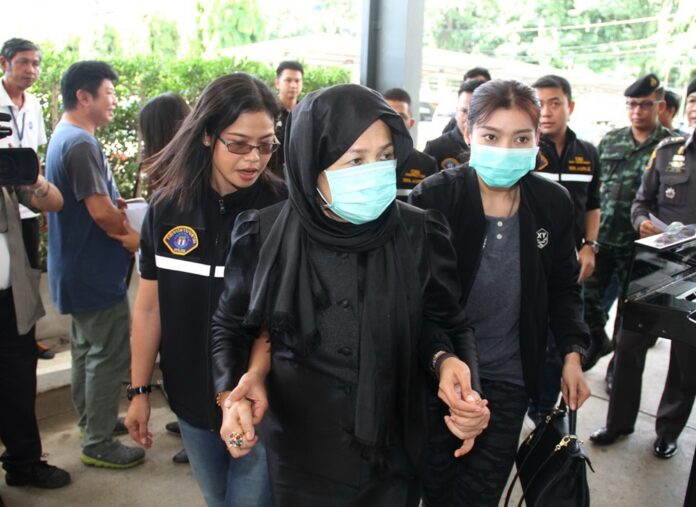 BANGKOK — A royal defamation charge might be filed against a construction company that allegedly defrauded 300 million baht from its victims, the deputy director of the Department of Special Investigation, or DSI, said Thursday.
According to investigators, Hujjee Group solicited investment by claiming to have won major contracts in Myanmar from bogus royal family members of the Mon ethnic group there. Seven people were being held in custody as of Friday afternoon, and the DSI said it was searching for more suspects.
Suriya told reporters Thursday that police had already charged Hujjee Group with cybercrime and fraud, and that the DSI was considering to file an additional charge of insulting the monarchy, a law known as lese majeste.
A DSI officer in charge of the case said Friday investigators had yet to file the offense.
"The evidence is still unclear," Nopporn Bruksawan said by phone.
Nopporn said the suspects made false claims that they secured construction contracts in Myanmar with the help of Mon royal family members and sought out investors to fund the projects.
"They were fooling the contractors," Nopporn said. "Hujjee Group made it all up."
The lese majeste law has been used in the past to prosecute those accused of claiming false ties to the monarchy for personal gains, though those cases were limited to the Thai Royal Family.
The DSI said the company collected up to 300 million baht from more than 100 firms before police and soldiers arrested key members of the group on Oct. 5. There is no listed telephone contact for the firm.
There are several Facebook groups dedicated to exposing alleged frauds by Hujjee Group. According to some accounts, the company executives often donned official-looking uniforms and referenced the non-existing royal family of the Mon people.
The group published press releases on the media as late as June advertising a deal to build more than 240 infrastructure projects in Myanmar, from ports to highways and airports.
Nine arrest warrants were issued, and seven suspects were detained. Those arrested were denied bail, Nopporn said.