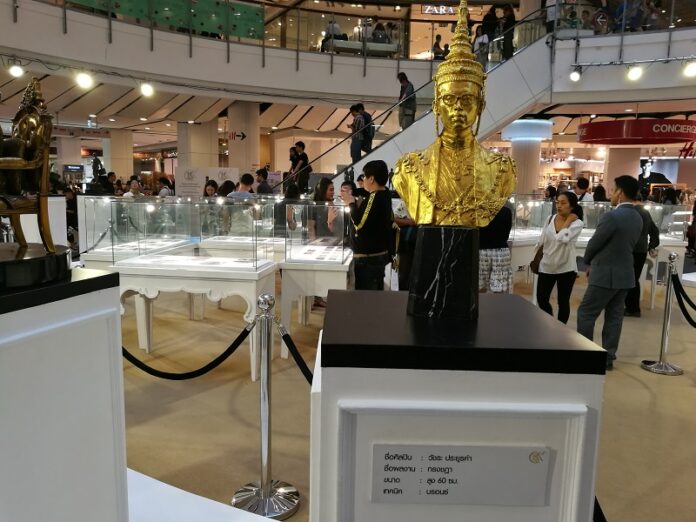 BANGKOK — To say that big shopping malls in Bangkok have managed to space to commemorate the first anniversary of the passing of the late King Rama IX alongside leisurely shopping activities is an understatement.
On Friday, to mark the first anniversary of the death of King Bhumibol Adulyadej, shoppers inside Bangkok's famous malls could find spaces to commemorate, participate, take pictures and honor the late king.
At Gaysorn Village, just fronting its Louis Vuitton shop, the luxury mall offered shoppers a tasteful exhibition on the ground floor. The exhibition highlighted major events of the late King from his birth year to the year of his death last year.
Thai royalists and foreign shoppers alike could learn, for example, that the royal ploughing ceremony was only revived in 1960 or that the late king had what was described as a "tragic truck collisions [sic]" when he was 21 in Europe.
Everything looked normal except for a sign at 1823 Tea Lounge by Ronnefeldt on the first floor, an exclusive and pricey tea salon from Germany, making an announcement to its customers.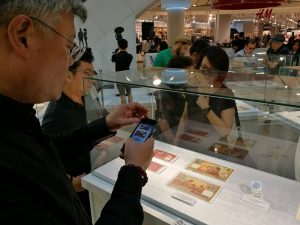 "Dear Valued Customers, 1823 Tea Lounge by Ronnefeldt will not be serving any alcohol on His Majesty the late King Bhumibol Adulyadej Memorial Day… We apologize for any inconvenience we may have caused. Thank you for your understanding."
Although Friday Oct. 13 is not a Buddhist holiday where alcohol sales are banned, various places have taken an initiative not to serve alcohol. This doesn't mean you can't buy alcohol elsewhere. At least the wine and liquor shop at Central World, just a few minutes walk away, was opened for business as usual.
This doesn't mean that CentralWorld, a rival mall and the kingdom's largest mall business has no place for remembering the late king. The opposite is true, in fact.
Shortly after 2pm on its sixth floor, actress Manatsanun Panlertwongskul, or Doughnut, was busy giving away free tickets to the inaugural screening of her documentary film entitled "The Journey" tracing the footstep of the late king's early years in Switzerland.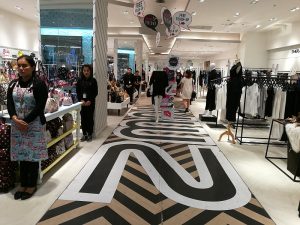 On the ground floor of CentralWorld, a crowd perused bronze busts of the late king made by various leading sculptors. Rare commemorative coins and banknotes were also on display, including what is arguably the most expensive Thai baht banknote by face value at 500,000 baht, which was issued to commemorate the late king's golden wedding anniversary with Her Majesty Queen Sirikit in 2000.
A few yards from the exhibition, there was a stage under the theme "still on my mind" playing live music in honor of the late king for shoppers to sit and listen.
More people took souvenir photos in front of an installation art with two large white elephants and a pole bearing the Thai number nine, a reference to King Rama IX at the entrance of nearby mall Siam Paragon. Some shops stocked black or white colored goods inside their glass display windows.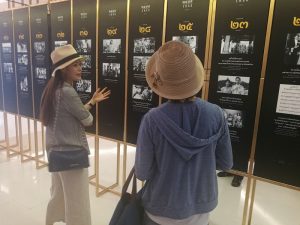 Back at CentralWorld, as the clock ticked closer to 3:52pm, the time of the passing of the late king, announcements were made on the stage for shoppers to congregate on the first floor in front of a giant black and white portrait of the late king to observe 89 seconds of silence. This was because the late king passed away at 88, less than two months before his 89th birthday.