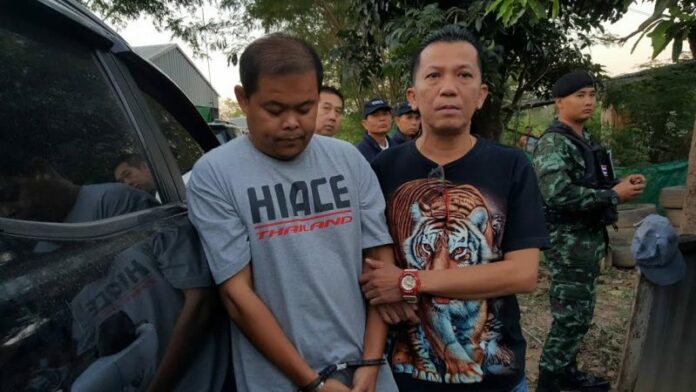 NAKHON PATHOM — In crisp government uniforms, they showed up at weddings bearing lovely gifts. Far from wedding crashers, they claimed to present tea sets and silk on behalf of the royal family. But then they wouldn't leave – at least not empty handed.
On Friday, the seven men and women were behind bars after being arrested and charged with defaming the royal family, fraud, forging documents, wearing government uniforms and posing as government officials to crash weddings and funerals to carry out their profitable scam.
"From this scam, the group managed to get no less than 20 million baht," Col. Phumin Phumpanmuang of the Central Investigation Bureau said Friday. "Their objective was to build a network of people to build their con in the area they operated around Nakhon Pathom and Ratchaburi [provinces]."
Phumin said the gang, arrested Thursday, used to operate by selling land title deeds, but has recently switched to masquerading as palace officials. The police colonel also declined to comment on the lese majeste charges.
A force of 50 police officers raided 12 places of interest in Nakhon Pathom and Bangkok, finding high-ranking government official uniforms and a large number of gifts traditionally given at weddings, such as tea sets and silk, as well as forged government documents.
Police said the leader of the gang, 42-year-old monk Phra Kongsak Kongsuwanno, aka Phra Ajarn Ott, had gone into hiding.
He's accused of giving orders to those now behind bars: Narong Saelao, 36; Hataiporn Saengchat, 29; Boonsong Arunsaeng, 40; Ganapat Grutpisamai, 52; Amnat Arunsaeng, 34; Sak Nateesriayu, 48; and Weerapong Grutpisamai, 35.
According to Weerapong, his uncle Kongsak would order them to dress up as palace officials and attend local weddings and funerals to deliver gifts, claiming that they were from "higher-ups."
Weerapong reportedly confessed to carrying out at least 10 such heists. By his logic, however, he didn't think he was impersonating anyone because his uncle had promised him a high-ranking government job if he crashed enough weddings.
Although Article 112 of the Criminal Code only prohibits defaming His Majesty the King, the Queen, the heir-apparent and regent, it has been used in recent years to also prosecute those who claim false ties to the monarchy.
Related stories:
Alleged Fraudster May Also be Charged With Royal Defamation
Kingsguard Named 'Royal Impostor,' Stripped of Decorations
Army Names 2 'Royal Impostors' Behind Fake Royal Guard
Army Colonel Accused of Insulting Monarchy as 'Royal Impostor'