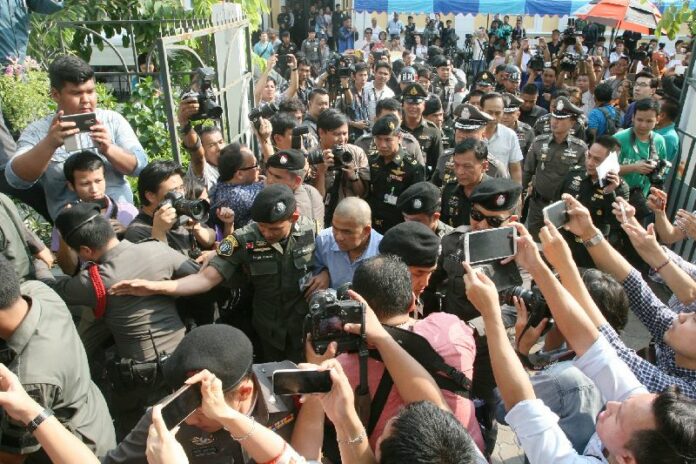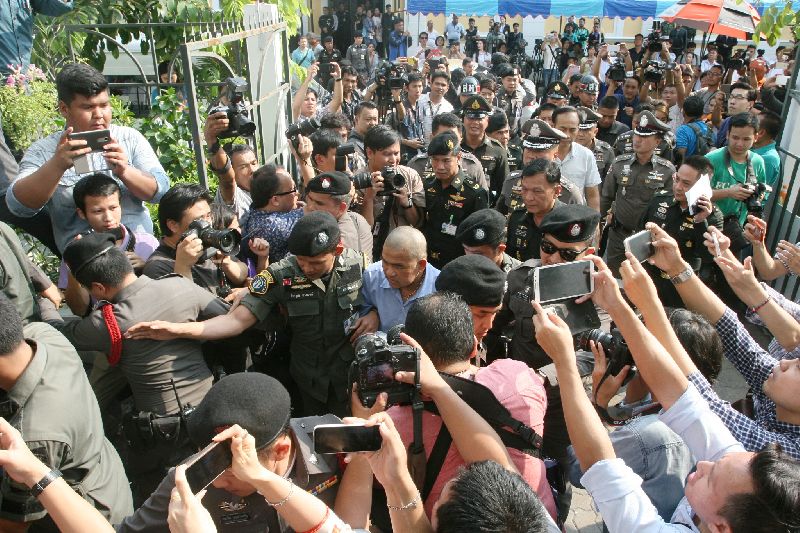 BANGKOK — A well-known astrologer and close aide to Thailand's Crown Prince is among three suspects brought to a martial court today to be charged with insulting the monarchy.
Suriyan Sujaritpalawong and two other men, Jirawong Watanathewasilp and Police Maj. Prakrom Warunprapha, are accused by police of flaunting ties to the monarchy for personal gain. They have been charged under Section 112 of the Thai Penal Code, a law also known as lese majeste, which outlaws any action or remark that damages the reputation of the Royal Family.
Police began the investigation on Friday, and the case came to light Sunday when it was announced by police officials. The identities of the three men were withheld until today, when police presented them in court to ask the military judges to remand them in prison while they face trial. The request is expected to be granted.
Read: Police Announce Investigation of 'Royal Imposters'
The three men arrived in police vehicles at the court this afternoon and were immediately taken into the building, wading through crowds of reporters and flanked by police officers. They did not speak to the press. Since the 2014 coup d'etat, military tribunals have overseen lese majeste cases and other offenses affecting 'national security."
Suriyan's arrest came as some surprise, as he had been a close aide to Crown Prince Vajiralongkorn for at least eight years. Suriyan's surname, Sujaritpalawong, was personally bestowed by Crown Prince Vajiralongkorn in 2008.
He recently organized August's "Bike for Mom" cycling event held to honor Her Majesty the Queen for her birthday. Suriyan, who doubles as a professional astrologer, also occasionally published candid photos showing a human dimension of the Crown Prince and his family on social media.
Late last month, Suriyan said he was involved in planning Bike for Mom's sequel – Bike for Dad – to be held in December.
Jirawong was Suriyan's secretary. Prakrom was a high-ranking police officer at the Technology Crime Suppression Division.
Police provided little information about the allegations against the three men. Although Police Lt. Gen. Sriwarah Rangsipramnakul, who was chosen to head the investigation, said Wednesday all three men had confessed to the charges, a police news released later stated only Suriyan had confessed while the other two denied the allegations.
Sriwarah said police will expedite legal proceedings against the men.
"As for evidence and behavior that implicate their wrongdoing, they are in the case file. I cannot disclose them right now," Sriwarah told reporters.
Asked how long the suspects have been falsely abusing their ties to the monarchy, Sriwarah replied, "It's been some time. More than one or two months."
He did not rule out possibility of more arrests in the coming days.
"Whether there will be more than three or not depends on the evidence. I cannot answer anything about that right now," he said. "If the evidence implicates anyone else, they will be prosecuted in accordance with the law."
Open discussion about the Royal Family is considered taboo in Thailand; legal cases involving the monarchy and lese majeste offenses are often shrouded in secrecy.
Junta chairman and Prime Minister Prayuth Chan-ocha himself urged the media yesterday to refrain from giving "too much coverage" to the ongoing investigation.
"Don't get involved in it too much, this issue about 112. I don't want too much coverage about it," Gen. Prayuth said. "They are contesting the charges. Are they guilty? Did they really flaunt the connection? Look at those things."
He also lashed out at unidentified individuals he said continue to damage the royal family's reputation.
"I don't get what's wrong with these people. What has the monarchy done to them? I don't understand. They like to destroy what we have, destroy the beautiful history of the country, just so it will lead to democracy?" Prayuth said.
Clarification: Although police Lt. Gen. Sriwarah Rangsipramnakul said Wednesday that all three suspects had confessed to the charges, a police news release issued after Sriwarah's news conference indicated only Suriyan had confessed, while two other suspects denied the allegation. This story has been updated to reflect that.