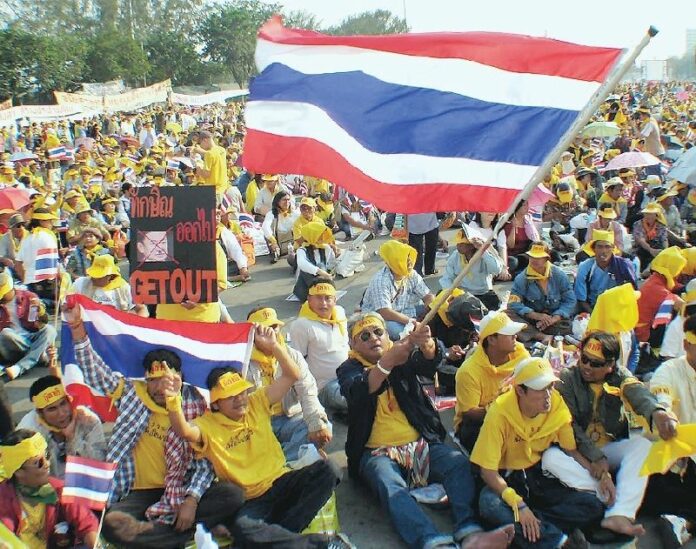 BANGKOK — The Supreme Court today found a Yellowshirt columnist guilty of libel for alleging in 2006 that then-Prime Minister Thaksin Shinawatra supported an anti-monarchy movement.
Pramote Nakhonthap was handed a suspended two-year jail term for a 2006 article he wrote for Manager Daily in which he said Thaksin's government collaborated with unnamed anti-monarchy activists in a bid to turn the Royal Family into "a mere symbolic institution."
"There was never any plot," Noppadol Patama, a Thaksin aide said today in a statement after the verdict. "This is a moral lesson that in politics, regardless of whether we like someone or not, we should only speak the truth to each other. From now on, defaming each other with false information should stop, because society doesn't gain anything."
Noppadol urged all sides to respect the court's ruling. Responding to the verdict this afternoon, Pramote said he accepted the court's verdict but would be undeterred in his writing.
The original case stemmed from a May 2006 article by Pramote titled "The Finland Strategy: A Plot to Change Thailand's Ruling System," referring to a conspiracy theory first circulated among Yellowshirt supporters in 2005 which alleged Thaksin and his Thai Rak Thai Party secretly pledged at a meeting in Finland to overthrow Thailand's monarchy.
Read more: Who are the Yellowshirts?
"Thaksin's strategy and Thaksin's regime have already started; they have already taken shape," Pramote wrote. "If this continues unchallenged, it will be completed, and we will no longer have a monarch and democracy that we desire."
In response to the article, Thaksin filed a libel suit naming Pramote and four other Manager Media Group staff members as defendants. The courts acquitted the four others. In 2009, Pramote was found guilty in the Criminal Court, a decision reaffirmed by the Court of Appeals in 2013. He subsequently appealed to the Supreme Court.
But today the Supreme Court dismissed Pramote's appeal and reaffirmed the lower courts' rulings, which sentenced him to one year in prison. Pramote has served no jail time in the matter and the sentence today was suspended for two years.
Pramote's article was published at the height of protests against Thaksin organized by the Yellowshirts, a coalition of middle-class urbanites, wealthy businesspeople and traditional elites dedicated to removing Thaksin and his influence from Thai politics.
Thaksin, who won elections by wide margins in 2001 and 2005, is viewed by his supporters as a champion of the rural poor. The Yellowshirts see him as a corrupt autocrat who also sought to overthrow the monarchy.
The Royal Family is widely revered, and any remark or action deemed libelous toward the monarchy is both a taboo and criminal offense, punishable by up to 15 years in prison.
When the military seized power from Thaksin in September 2006, it cited lese majeste (insult of the monarchy) as one of alleged crimes committed by his administration.
Thaksin is currently living in self-imposed exile to avoid a 2008 corruption conviction handed down in absentia. However, despite his exile, he continues to wield his political influence via his proxies and political allies, such as sister Yingluck Shinawatra, who served as prime minister from 2011 to 2014.
Yellowshirt Leader Acquitted
The same court today acquitted Yellowshirt leader and Manager Daily founder Sondhi Limthongkul in a separate libel case brought by Thaksin.
That suit stemmed from a 2006 speech given by Sondhi at a Yellowshirt rally accusing Thaksin of buying support from voters and dabbling in "superstition."
Sondhi Limthongkul (left) and his deputy, Sarocha Pornudomsak (right), at a Yellowshirt rally in Bangkok on Feb 4, 2006.
Two lower courts found Sondhi guilty of defaming Thaksin, but today the Supreme Court overturned those rulings and acquitted Sondhi on the grounds that Thaksin was a public figure open to criticism by members of the public.
Sondhi was a co-founder of Yellowshirt umbrella organization the People's Alliance for Democracy, and led protests against Thaksin in 2005. His former media corporation covered the protests extensively.
Sondhi has kept a low profile in recent years.
Related news:
Accusing Thaksin of Republicanism Not A Crime, Court Rules
Thaksin's Lawyer Denounces Lese Majeste Allegation
To reach us about this article or another matter, please contact us by e-mail at: [email protected].
Follow Khaosod English on
and
Twitter
for news, politics and more from Thailand.