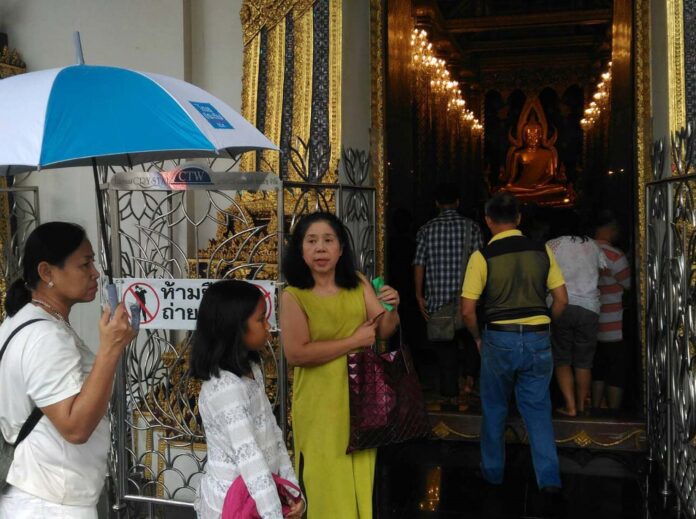 Update: Police announced on Thursday afternoon that they have filed a lese majeste charge against Monta.
BANGKOK — A 56-year-old socialite already accused of sending her maid to jail on a false theft complaint and human trafficking may yet face an additional serious charge: insulting the monarchy.
The announcement Wednesday by police of a possible royal defamation charge against businesswoman Monta Yokrattanakan is the latest in the saga that has garnered plenty of media attention for the past week, marking the fall from grace of a woman who once styled herself as a philanthropist baroness.
According to Thitirat Nongharnphitak, commander of the Central Investigation Bureau, Monta has made false claims to people that she comes from a royal bloodline.
"We are collecting facts and evidence about her," Lt. Gen. Thitirat said by telephone on Thursday. "It is likely that we will file the charge against her."
Thitirat declined to comment further on the investigation, citing the sensitivity of "cases that involve the monarchy." But the police commander was quoted in the Bangkok Post on Wednesday as saying that Monta also falsely claimed that she was bestowed a rank of noblewoman, Khun Ying, by His Majesty the King.
Any action or remark deemed libelous to the Royal Thai Family is punishable by up to 15 years in prison per offense under Section 112 of the Criminal Code, a law also known as lese majeste. The law has been interpreted in the past to cover making false ties to the monarchy.
Prior to the ongoing criminal investigation, Monta was a millionaire who, aside from her wealth, was also well-known for her involvement with numerous charitable projects.
But all that changed on June 30, when one of her former employees went to the press with a complaint that the socialite had landed her in prison on a trumped-up theft charge, simply because she did not take up a job offer in Hong Kong that Monta had been pressing on her.
Since then, police said they received a separate complaint that Monta had engaged in human trafficking, having allegedly sent at least six victims to work abroad against their will, including an underage girl from a hill tribe in northern Thailand. Police also pressed charges against Monta for making a false complaint.
Monta has denied all allegations.
In an attempt to prove her innocence, she made a trip on Wednesday to swear an oath at a famous Buddhist temple in Phitsanulok province, calling for her death if she has committed any of the alleged wrongdoings.
Related stories:
Police Announce Investigation of 'Royal Imposters'
Army Colonel Accused of Insulting Monarchy as 'Royal Impostor'