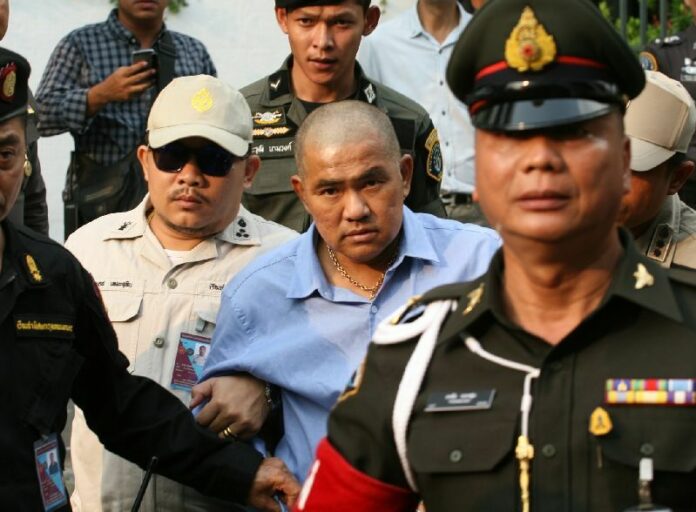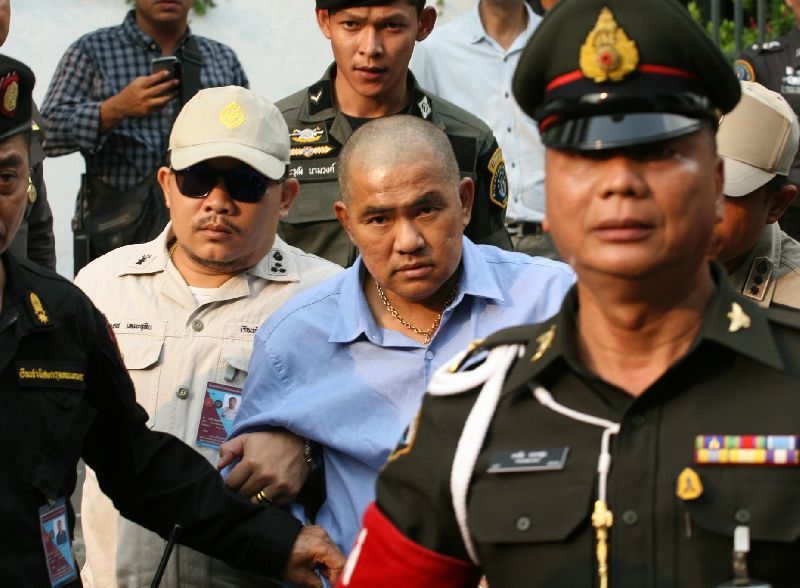 By Teeranai Charuvastra
Staff Reporter
BANGKOK — A well-known astrologer accused of insulting the monarchy has died in custody, the Minister of Justice said today.
Gen. Paiboon Khumchaya said Suriyan "Mor Yong" Sujaritpalawong died of a "blood infection" on Saturday. Paiboon did not say why Suriyan's death was not announced until today. He said an autopsy had already been concluded.
Suriyan had been held in custody since Oct. 16, when police announced a crackdown on what they described as a group of individuals exploiting ties to the monarchy for personal enrichment. Suriyan was serving as a palace aide and was involved in two large government-organized cycling events, August's "Bike for Mom" and the forthcoming "Bike for Dad" set for December.
---
Accused 'Royal Imposter' Too Sick to Appear in Court, Police Say
---
Suriyan was arrested along with two other suspects, his secretary Jirawong Watanathewasilp and former police officer Prakrom Warunprapha. They were placed in a military prison by the martial court on Oct. 21, the last day Suriyan was seen in public.
A promotional photo for Suriyan's fortune-telling service. Photo: Horoworld.com
Suriyan, a celebrity fortune-teller and household name throughout the country, is the second known to have died while in custody.
Two days after the trio were remanded into military custody, Prakrom was found dead inside his room. Officials said he hanged himself.
Like other lese majeste cases and issues involving the monarchy, the ongoing investigation into the three suspects has been conducted in secret. Media agencies have been told by authorities not to report anything other than official statements and authorized disclosures.
Suriyan's health had been a widely discussed topic since he vanished from public view following his arrest. Questions and rumors about his condition spread on social media after prison officials announced Prakrom's suicide on Oct. 24. That same day, officials said, Suriyan requested a transfer to the prison's hospital, citing high blood pressure.
Paiboon said Suriyan had taken ill Thursday but recovered that night.
"Later, on Nov. 7, Mr. Suriyan's sickness came back, so we sent him to the prison hospital again, but late at night on that day, Mr. Suriyan died," Gen. Paiboon told reporters.
A statement from the Department of Corrections said that soldiers saw Suriyan having difficulty breathing about 9pm on Saturday. He was sent to a prison hospital in north Bangkok but was already unconscious upon arrival at about 10:20pm, and doctors couldn't find his pulse.
Paiboon said a joint autopsy was conducted by the Department of Corrections, military, police and doctors from the prison hospital. "He died from blood infection," he said.
The Department of Corrections will soon hold a news conference regarding the transfer of Suriyan's body to his family, Paiboon said.
Clarification: This story has been updated to reflect statements from officials regarding the timing of Suriyan's death. He is said to have died on Saturday night.
Related stories:
Accused 'Royal Imposter' Too Sick to Appear in Court, Police Say
Further Autopsy of Lese Majeste Inmate Unnecessary, Minister Says
'Royal Imposters' Suspect Involved in Past Lese Majeste Crackdowns
Famous Astrologer Among Accused 'Royal Imposters'