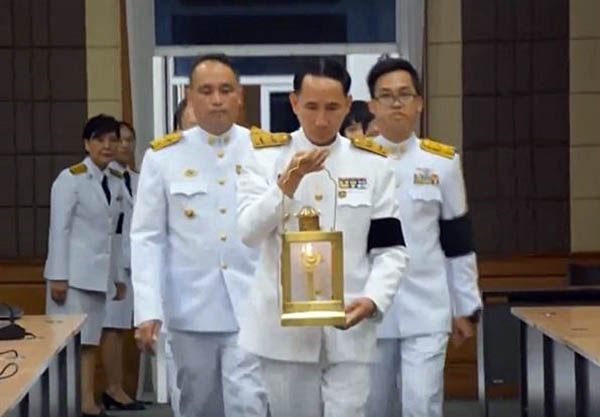 BANGKOK — Flames to be used at imitation royal funeral pyres were delivered Tuesday to all 878 districts nationwide.
The fire, considered sacred because it was personally lit by HM King Vajiralongkorn last week, is part of the cremation rites for King Bhumibol, who died last October at 88. The country has spent much of the past year preparing for the ritual, which would symbolize an end of his reign for many Thais.
While the cremation itself will take place in Bangkok, other provinces will participate by using the flame to burn sandalwood flowers in their districts' various funeral pyres and memorial events, which are replicas of the actual structure in the capital city.
The fire transported by convoy and hand-delivered after first being lit and placed in 77 lamps by King Vajiralongkorn on Thursday at the Grand Palace.
One of these lamps was kept at the palace, to be used at the Sanam Luang cremation grounds for Thursday's cremation ceremony. The rest were distributed to provincial governors.
Pichit deputy governor Pitsanu Senawin said guards were set in a 24-hour shift to make sure the flames don't go out.
"We have spare candles ready at all time," Pitsanu said.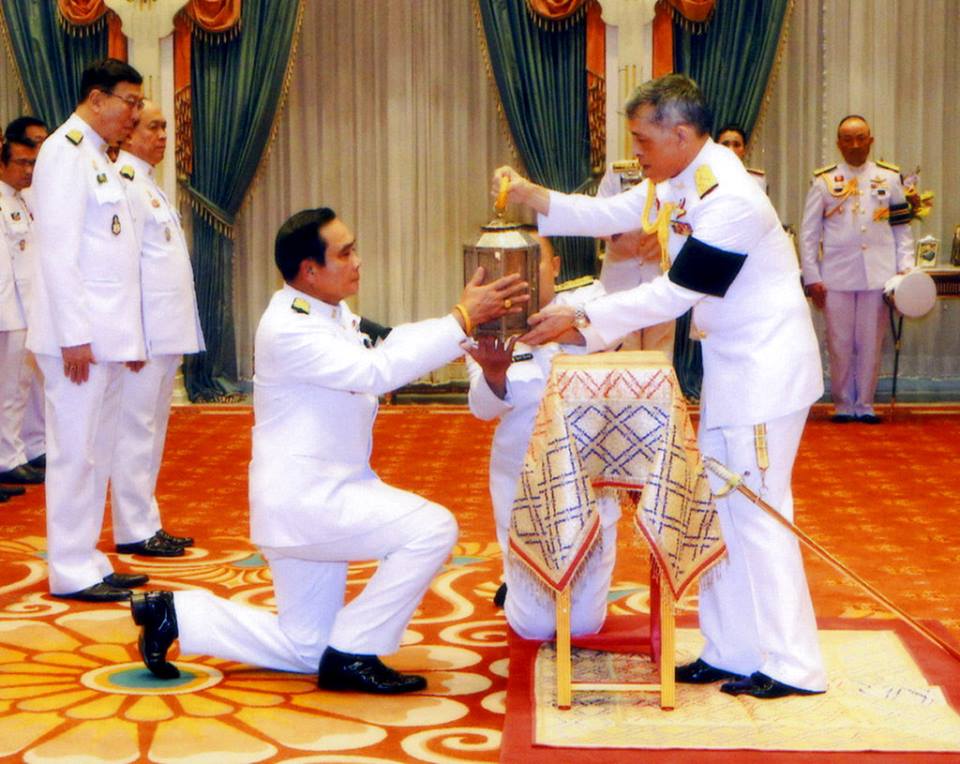 By Monday and Tuesday, the flame at each provincial town hall was extended to more lamps corresponding the number of each district in the province. These lamps were in turn given to district chiefs in a ceremony.
One of those officials is Samkan Orathai from Nakhon Si Thammarat's Lan Saka district. The flame was given to him Tuesday, but he said the lamps are being kept at Nakhon Si Thammarat town hall. Samkan and other district chiefs will pick them up soon for the use on Thursday.
Chatchawan Panya from Chiang Mai's Mae Fang district said he received the flame Monday and it's being kept at the district office, where guards are on standby to replace candles whenever they burned too short.
"We brought it to the district office with a convoy," Chatchawan said. "The lamp is now placed at an altar, with flowers and candles, in front of the portrait of His Majesty the King."
For non-Bangkokians like Samkan and Chatchawan, the flame helps connect them to the historic cremation ceremony that will be take place in the capital.
"No any other country in the world is so engaged in funeral of their monarchs," Samkan said. "Everyone [in my district] are giving their best."
The fire was reportedly being taken overseas for events in other countries.