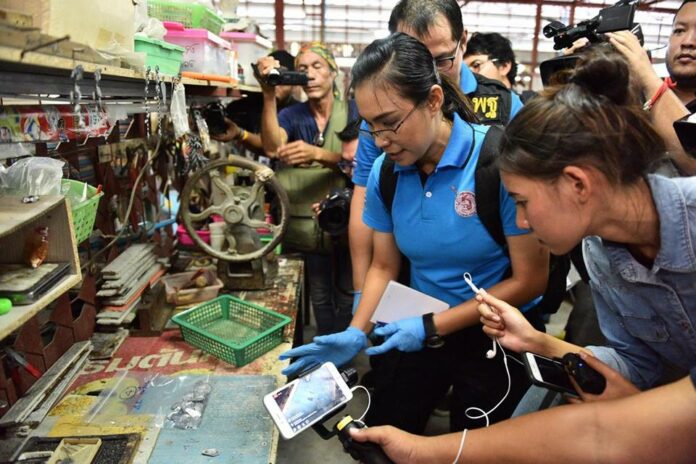 BANGKOK — Police said they raided a factory Friday morning where counterfeit royal funeral badges were being mass-produced.
The raid followed Wednesday's arrest of a shopkeeper who allegedly sold the pins in Bangkok's Tha Prachan amulet district. She's been charged with counterfeiting goods, though police have not ruled out a more serious charge of royal defamation, which carries a maximum penalty of 15 years in jail.
"We have to wait for result of the investigation first," Maj. Nattapol Rattanamongkolsak from the Crime Suppression Division said.
The pins, each about the size of a thumb, feature the royal insignia of late King Bhumibol and commemorate his Oct. 26 cremation ceremony. Police said they received complaints from the prime minister's office that counterfeit badges were being sold, leading to the investigation.
Today's raids at a building in Lat Phrao district. Police said they found full scale operation there: including scores of staff members and molds of the royal pins.
"The search is still ongoing," Nattapol said. "There are so many pins. We haven't finished counting yet."
A man named Palangwat Thanakitchaisat was identified by police as the manager of the factory. He was being questioned this morning by police. Maj. Nattapol said he's "definitely connected" to the shopkeeper arrested Wednesday.
The vendor, Tassanee Horcharankul, was denied bail and remains in police custody. She's being taken to be arraigned today, Nattapol said. She has denied all allegations.
Any sign of disrespect toward the monarchy is harshly punished. Claiming false ties to the palace or forging palace-issued goods has led to serious charges in the past.