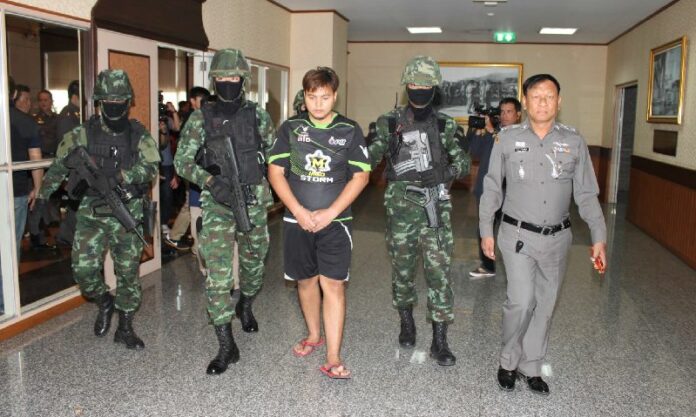 BANGKOK – The Thai military has transferred a Redshirt activist accused of circulating a fake royal document over to police after holding him in an army camp for five days of interrogation.
Krit Bootdeecheen, 25, was escorted by a group of masked, armed soldiers to the Royal Thai Police headquarters at around 10:30 am today to hear his charges of lese majeste (insulting the monarchy) and violating the Computer Crimes Act, which criminalizes publishing false information on a computer system.

Soldiers escort Krit Bootdeecheen, 25, to the Royal Thai Police headquarters on 9 Feb 2015.
Authorities say Krit, a local Redshirt activist in Phetchabun province, was "one of the first" people to post a forged document on social media that purported to be issued by His Majesty the King on the night of 2 February. The statement falsely claimed that King Bhumibol, who is currently residing at Siriraj Hospital in Bangkok, had decided to appoint a Regent to act on his behalf. Within an hour the Thai government declared the statement to be fake.
Defaming the monarchy is punishable by up to 15 years in prison under Thailand's lese majeste law. Krit is now facing trial in military court, where appeals are not permitted.
The military has been holding Krit for interrogation at 11th Infantry Regiment headquarters in Bangkok since he was arrested on 4 February. Soldiers barred a lawyer from visiting Krit at the camp on 5 Febuary, citing the powers granted to the military under martial law.
A martial court has also issued an arrest warrant for the online editor of ASTV Manager, a Thai newspaper that posted the false statement on its website. The document was removed after it was determined to be fake and replaced with an apology on the same night.
Since seizing power last May, the Thai military junta has used martial law to ban all political activities, censor the press, detain more than 300 individuals in military camps without charges, and try dissidents in military courts, where appeals are not possible. The junta has also granted military courts jurisdiction over lese majeste lawsuits and other cases that concern "national security."
For comments, or corrections to this article please contact:[email protected]
You can also find Khaosod English on Twitter and Facebook
http://twitter.com/KhaosodEnglish
http://www.facebook.com/KhaosodEnglish