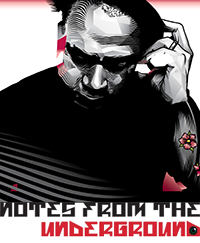 With a career that spans more than a decade Chicago-based producer Chris Shively, or Chrissy, has earned a reputation for being one of electronic music's most versatile producers.
Like many folks, Shively was inspired by the rave scene. In 2005 he started releasing Ragga Jungle tracks under his moniker Murderbot.
Over the years, Shively has dabbled in producing everything from juke to disco.
"I was into Rave and Jungle for pianos and dancehall bass lines once those were gone so was I," Shively said in a podcast interview.
From his early jungle days, Shively ventured off into new territories. Releasing Juke tracks for labels such as Planet Mu and also producing house and disco as Chris E Pants.
"I try not to plan too far in advance – just make whatever I feel like making in the moment!" Shively said.
In 2014, Shively dropped both Murderbot and Chris E Pants to become Chrissy to focus on releasing music through his The Night Owl Diner label, which focuses on house and disco and is co-run by music and business partner Alex Burkat.
Eleven releases deep, the tracks have earned praise from industry bigwigs such as Jimpster and Honey Sound system. He has also started The Night Owl Diner's sister label Cool Ranch.
Today, many folks stateside consider Chrissy to be a part of Chicago's studded dance music alumni. Being that the city is the birthplace of house music, I asked Shively what he thought about the relationship between veterans and more recent artists such as himself.
"There is a lot of interaction between the different generations of house music DJs and producers in Chicago. I've been very lucky to get to know and have the support of some of the older generation, and kind of watch what they do and learn from it."
I asked Chrissy what he's planning on dropping during his set, who said his back catalogue will be a variety of different styles.
"I usually play a lot of different styles, centered on house music. We'll see what happens!"
Next week Chrissy makes his Bangkok debut at "Get a Room," an event series organized by DJ Jaydubb.
Get a Room will start at 10pm on Nov. 24 at Safe Room in Whiteline, located on Soi Silom 8. It is reachable by foot from BTS Chong Nonsi or by taxi from BTS Sala Daeng. Tickets are 300 baht and include a drink.