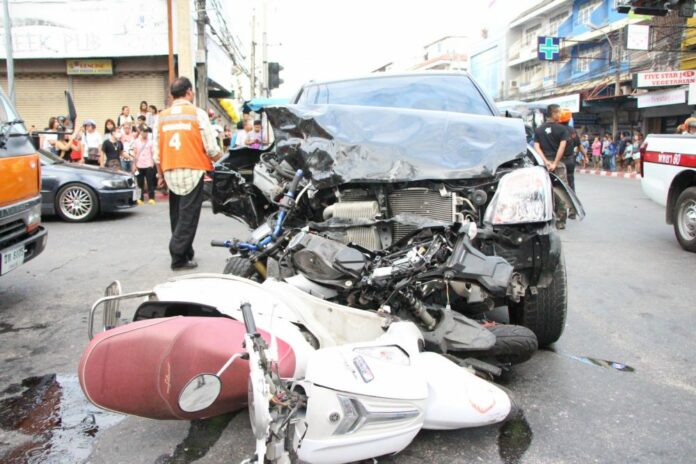 PATTAYA — A man who blamed an epileptic fit for causing a scene of carnage Monday on a Pattaya street that killed two tested positive for drug use, police said Tuesday.
Drugs were reportedly found last night in Akkaradet Udomrat's blood. Though his medical records indicate the 44-year-old man has been diagnosed with epilepsy, he was charged with fatal recklessness while under the influence,  according to Pattaya police.
Read: Epilepsy Blamed for Crash That Kills 2, Injures 15
The test results indicated that Akkaradet was high on a Category 1 drug, a list which includes methamphetamines, heroin and ecstacy, Maj. Pitak Noensang of Pattaya city police said.
Sanit Promwong, director of the Land Transport Department, said officials would permanently revoke Akkaradet's driving license if doctors find he indeed has epilepsy as claimed.
Akkaradet possessed a lifetime driver's license before they were changed to be renewable, Sanit said.
Sanit said his department has discussed with the Medical Council how to raise the requirements for driver's licenses, including using a standard form for medical certifications declaring physical conditions that pose a risk to driving, such as epilepsy and serious infectious diseases. Applicants who are diagnosed with such would be disqualified from obtaining driver's licenses.
Akkaradet on Monday morning crashed his black pickup truck into a large crowd of commuters, running over nearly a dozen motorcyclists on Pattaya Tai Road, killing two people, a dog and sending 15 commuters to hospitals.
Related stories: