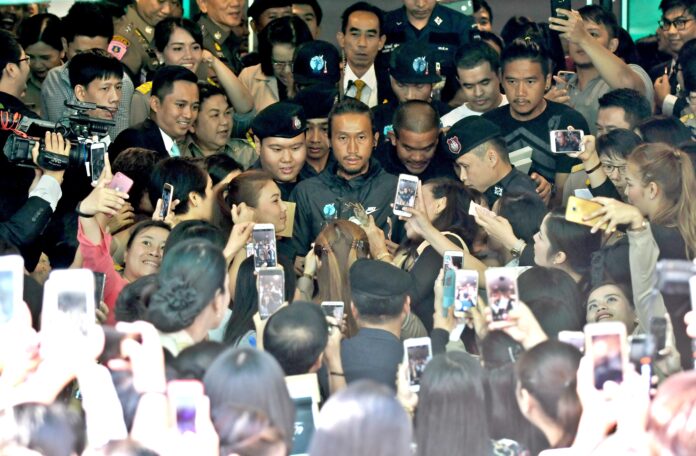 BANGKOK — Thirty-three days after he started out from Yala province, a much-watched rockstar has arrived to the capital city for a series of functions before resuming his journey.
A day after Artiwara "Toon Bodyslam" Kongmalai's cross-country run brought him to Bangkok, he met Monday with the prime minister and members of the press.
At a press event, a visibly exhausted Toon apologized for having little voice left, saying he has spent 10 hours every day greeting people along the route that will eventually take him north to Chiang Rai province to raise millions of baht for public hospitals.
Read: A Hero's Welcome for Toon Bodyslam in Bangkok
Toon appeared deeply sunburned and his wrist held many sai sin blessing bracelets. Along the way, Toon's frequent selfie stops have been blamed for injuries that have caused him to stop twice already.
Plans for him to resume running Tuesday have been postponed a day under doctor's orders. So far, Toon has run over 1,300 kilometers and raised 523 million baht. He's past the halfway point with roughly 1,000 kilometers left to go.
Khaosod English wanted to ask Toon how he might parlay the considerable social capital he has accumulated – and whether he saw any political future – but event sponsor Nike would not allow the question. Except under extraordinary circumstances, Khaosod English does not allow pre-review of questions.
Nike has lent support to the run, and Toon features their logos prominently. The sportswear company has not contributed any money to the cause, according to event organizers.
The largest corporate donor is duty-free giant King Power with 25 million baht. Monday's press event was held at the Pullman Bangkok King Power Hotel.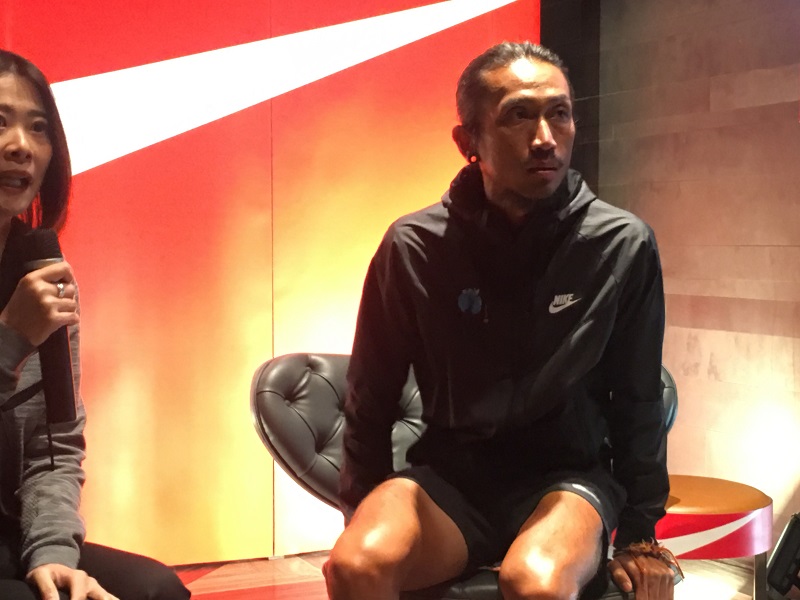 Related stories:
A Hero's Welcome for Toon Bodyslam in Bangkok
Toon's Body Slams Into Bangkok Sunday
Selfie Stops Blamed For Rock Star Runner's Injuries
Despite Raft of Sponsors, Public Gives Most to Charity Run
King to Honor Running Rocker 'Toon' With Gifts
Mo Farah Encourages 'Toon Bodyslam' on Cross-Country Charity Run