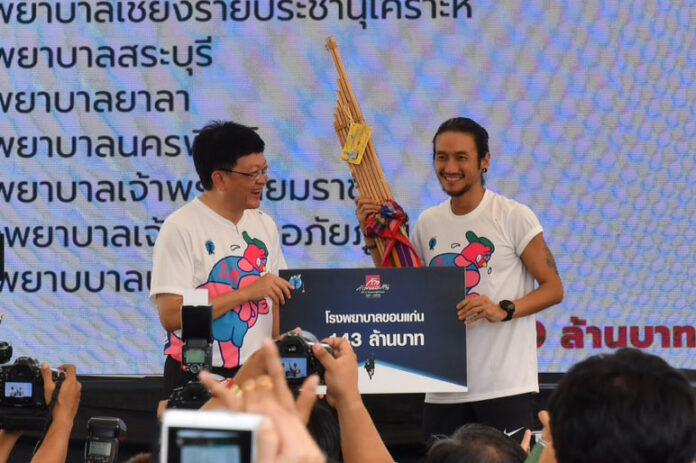 BANGKOK — A rockstar who raised more than 1.3 billion baht by running across the country donated the money to 11 hospitals on Sunday.
Artiwara "Toon Bodyslam" Kongmalai donated funds he received from both public and corporate sponsors to the heads of the cash-strapped public hospitals he set out to support with his 55-day charity run.
"I wanted donations to go toward emergency services at hospitals. I want to support all these hard-working doctors and nurses who help our brothers and sisters, and perhaps me too in the future," Toon said during the event held at Wachirabenchathat Park in Bangkok.
Organized by Toon's campaign Kao Kon La Kao (Step by Step), the event saw the 38-year-old Bodyslam front man hand a giant check to Phramongkutklao Hospital Director Maj. Gen. Nimit Samotharn and other directors.
Phramongkutklao, a public hospital run by the military in Bangkok, received the largest donation of 221 million baht. Khon Kaen Hospital received 143 million baht, Surat Thani Hospital received  136.5 million baht and Ratchaburi Hospital 130 million baht. Chiang Rai Prachanukroh Hospital will now have 110.5 million baht to purchase medical supplies and Saraburi Hospital an extra 104 million baht.
The remaining hospitals: Nakornping Hospital in Chiang Mai, Chao Phraya Abhaibhubate Hospital in Prachinburi, Chaophraya Yommarat Hospital in Suphan Buri, Yala Hospital and Nan Hospital received 91 million baht each.
No mention was made of measures to ensure the funds would be used transparently.
Sunday's event marked the end of an odyssey that saw Toon set out from the southernmost point of the nation in November. He incurred injury and had to stop to recover more than once along the way of reaching his destination 2,215 kilometers in the far north.
In the morning before the event, Toon held a 5-kilometer run which raised an additional 4 million baht from the sale of T-shirts. The funds were destined for the Mai Kaen Hospital in Pattani for the purchase of an X-ray machine.
Kao Kon La Kao will accept donations through May.