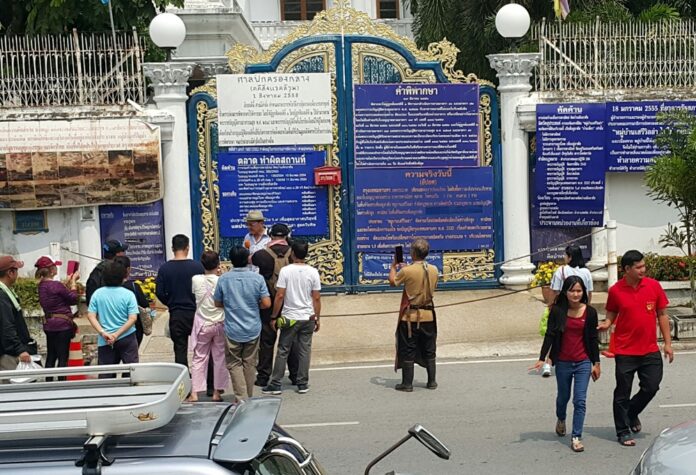 BANGKOK — City Hall has declared a new crackdown that isn't a retread of previous recycled crackdowns on banana vendors, street food or illegal parking. This time the axe is coming down on unregistered markets.
Gov. Aswin Kwanmuang's declaration of war came after residents in eastern Bangkok smashed a shopper's truck last week out of frustration with its customers. The incident became a national sensation, and this morning some vendors were seen taking down their stalls on the eve of Aswin's ultimatum they shut down.
But while everyone now knows about those markets, municipal officials said they are unsure where other such markets are or how many are out there.
Bangkok's top health official, whose department is in charge of inspecting fresh markets, said each district office, or khet, keeps its own records of legal and illegal markets in their jurisdiction. There is no central database.
"We don't have it in our hands. You must ask each khet how many there," Chawin Sirinak said in an interview. "We don't know that. It's up to each khet to do the inspection."
Aswin, who was appointed by the junta to the top job in 2016, told reporters late last week that half of Bangkok's approximately 1,000 markets are illegal. He said the number was an estimate and gave all 50 districts just seven days to determine the exact number.
Even the official in charge of city planning regulations had no clue.
"What the governor said was preliminary information that he was briefed on. It's not 100 percent certain information. They are working on it," City Planning Department Director Sakchai Boonma said.
District office officials said Friday they've already started working to figure out the scope of the problem.
"We have no information yet. We are about to call a meeting for an inspection," Chatuchak District Office director Pokkrong Polamuang said.
Pokkrong said inspections are routinely carried out but declined to elaborate on what that meant.
Thawi Watthana District Office director Samornrat Attanit gave a precise number: There are ten market buildings properly registered in her area, one of which does not have a permit. The building owners are in the process of filing for relevant licenses, Samornrat said.
There are also four or five "daily markets" that pop up on certain days some in streets, but district officials aren't going after them because they don't occupy a permanent structure or draw complaints, she said.
"They are not eligible for any permit that we can give them, but they don't have any building," Samornrat said. "They sell stuff like vegetables and food in residential areas. But they are not a public nuisance."
Axing For Justice
The blow that swung officials into action was landed by a group of women who attacked a pickup truck parked illegally in front of their mansion in Prawet district on Feb. 18.
The video of the vehicular violence initially drew the amusement and ridicule of netizens after it was posted online. But public sentiments quickly sided with the women after it emerged that they were serially victimized by shoppers blocking their driveway to go to five nearby illegal markets.
The markets buildings were erected around the Saengyoktrakarn mansion without any permission and the owners refused to close down even after the family won court cases against them, officials said.
The exterior of their large home is festooned with legal notices of court decisions against the markets. It's since become a sort of curious tourist attraction.
Gov. Aswin pledged to close those markets down by Tuesday. The markets remained open over the weekends, but by Monday morning vendors were seen packing up and leaving the buildings.
Sakchai, the official in charge of city planning, said unregistered commercial buildings are "very common" in Bangkok, with the severity varying in each khet. He recalled a personal experience of going to inspect what was classified a residential zone and running into a full-scale factory operating without permit.
"Every building in Bangkok requires a permit … but after they got the permits, some people turned their buildings into something else," Sakchai said.
The problem is perhaps most severe in the Lat Krabang district, where structures registered as homes have been turned into dorms, hotels and even logistics depots after Suvarnabhumi Airport opened nearby, Sakchai said.
So how can people know that the market they just dropped in for some pak chi is illegal? The city planner said it's near impossible.
"You won't know. There's no way to know, except you find their office, go in there and ask to see a permit," Sakchai said. "For ordinary people, it's very difficult to find out."