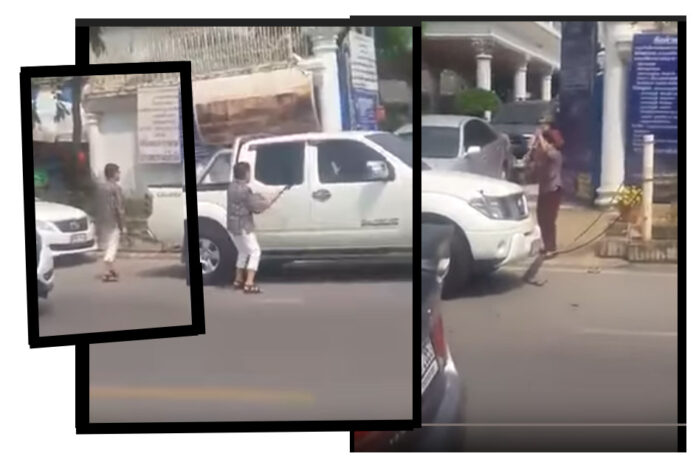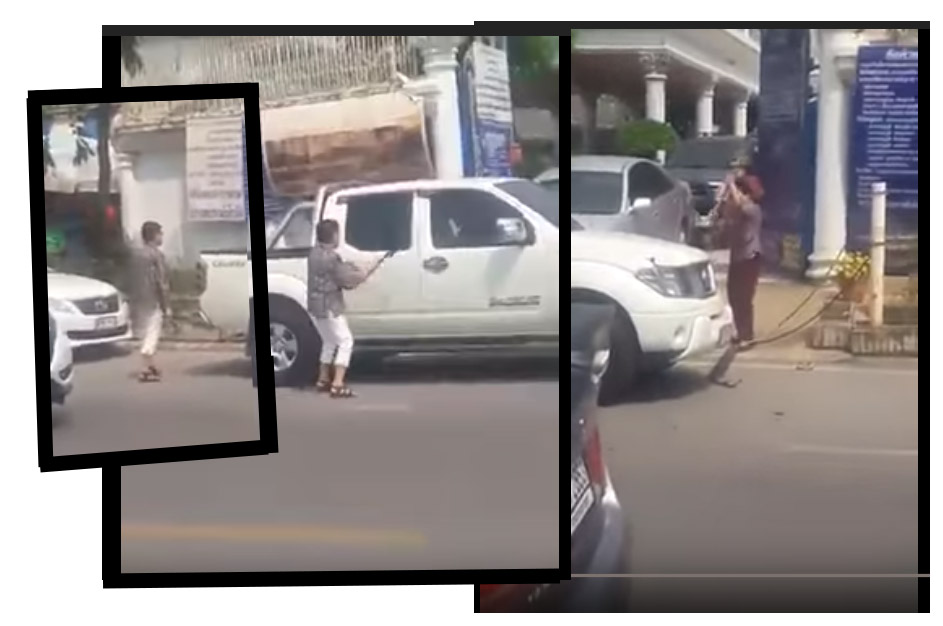 BANGKOK — Sunday was the last straw for the Saengyotrakarns. Once, someone blocking their driveway kept them from getting to the hospital with a broken leg. Then there was the time their neighbor's dad died because they couldn't get him to the hospital in time.
Since they moved into their home in east Bangkok, people have always parked in front, blocking their driveway. So after one of the resident aunties went Lizzie Borden on a white Nissan Navara, smashing its windows Sunday with an axe, they went on the offensive today in the court of public opinion.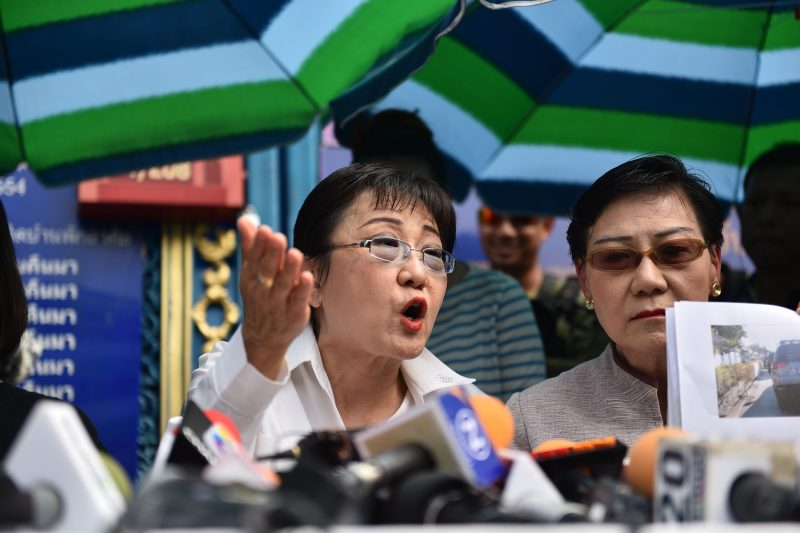 Boonsri Saengyoktrakarn, Rattanachat Saengyoktrakarn and other residents held a press event in front of their home in Bangkok's Prawet district to explain why they went feral on the truck.
"You dump poop and disgusting things in front of our home," Boonsri said. "For 30 years we've suffered!"
Police Col. Alongkorn Sirisongkram said in the past three years, residents at the address in question have filed four police complaints about people parking in front, but this is the first time things took a destructive turn.
Alongkorn said the women sued the owner of the offending vehicle was blamed for their neighbor Theerapat Bureethan's father's death. After they prevailed in a hard-won 2013 court victory, they erected signs in their yard displaying the ruling and other court proceedings as a warning to future scofflaws.
"If you look at what I had to fight in court, you'd be surprised how much I've kept inside," said the axe-wielding woman, who refused to identify herself at this morning's press event outside their home in the Seri Village community.
Yuwanuj Pongcharoen, another family member, this morning described how, five years ago, she broke her leg and haid to wait two hours for a car to move so she could go to the hospital. She called police for help, but they couldn't get in because of the cars blocking the road.
Boonsri and the axe-wielding woman will be summoned by Prawet police and charged with property destruction, a crime punishable by up to 6,000 baht or three years in jail, plus restitution of 50,000 baht. They also face a charge of illegally carrying a weapon, which carries a month jail term or 1,000 baht fine.
"We bought this house and land so we can live out the last part of our lives with our children here. It's next to the Rama IX Park, so we didn't think we would have problems," Boonsri said.
The aunties said people continuously trespass on their property and block its entrance with their vehicles or vendor stalls for a nearby market.
"We want to tell to the media and ask the [junta] to return peace and happiness to us," Rattanachat said.
The women said that markets and vendors should not block homes in the community.
"There's so many rats, and it's filthy. It's only legal to park on one side of the road but they park on both sides, so we can't get in," said another auntie.
Truck owner Rotchanikorn Lertwassana, 37, was fined 500 baht for parking illegally. She said that she thought the residence was deserted because she mistook the posted court rulings for eviction notices.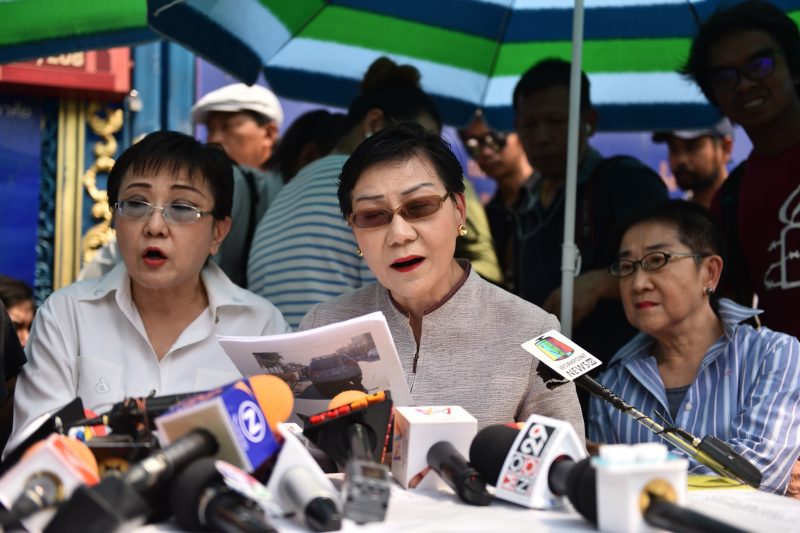 On Sunday, the aunties said they were unable to back out of their driveway due to the truck. After honking for several minutes, Rattanachat and the unnamed women came at it with metal rod and axe, respectively. The attack shattered the vehicle's windows and damaged the bumper and front skirt.
Rotchanikorn returned to her truck after shopping to find her truck under assault. She apologized, but called the police after the women yelled she was stupid for not reading the signs.
Although some saw class dynamics at work and faulted the women's sense of entitlement, the public has largely sided with the Saengyoktrakarns. Many on Tuesday were declaring for Team Auntie with today's top-trending Twitter hashtag, #AuntiesWhackCar.
"People who are berating the aunties fall into three types," user Sittikorn Hemkong wrote. "1. The market vendors 2. People with prejudices against rich people and 3. People who park like that truck driver."
this is the best example to illustrate how bad of the red tape in this country is; the market has been convicted for years but the authority and person in charge failed to follow the court's order to rehabilitate surrounding area. 🙄 #ป้าทุบรถ

— Luke_wat (@whatdefluke) February 19, 2018

Tuesday morning's news conference.
To put yourself in somebody else's shoes เอาใจเขามาใส่ใจเรา#ป้าทุบรถ

— Kru P'Nan Enconcept (@krupnan) February 19, 2018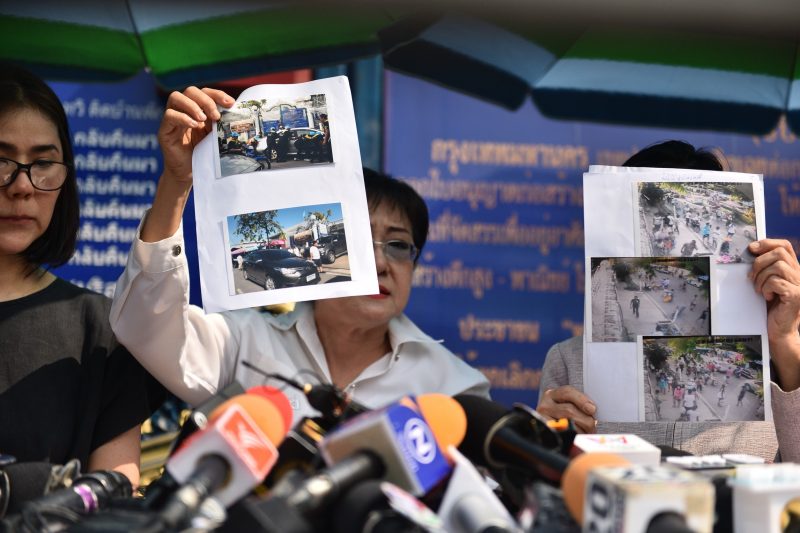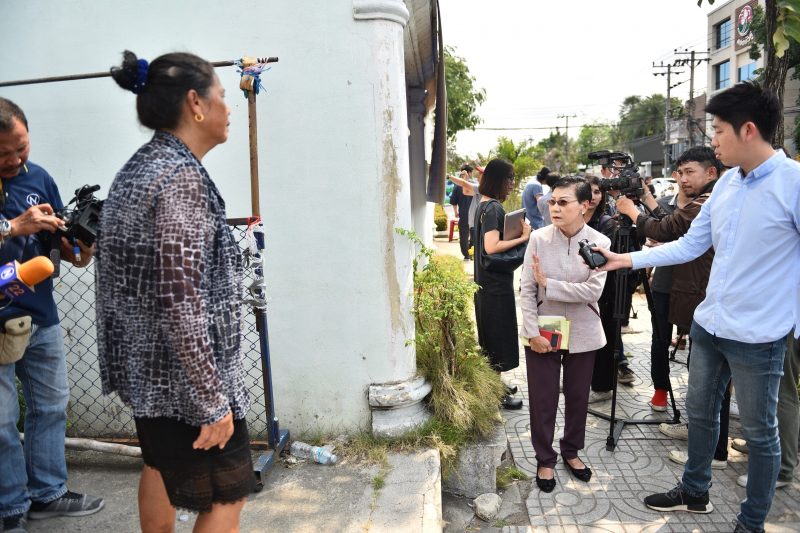 Correction: An earlier version of this article identified that it was the Saengyotrakarn's father who died, while in fact it was their neighbor Theerapat Bureethan's father. We regret the error.