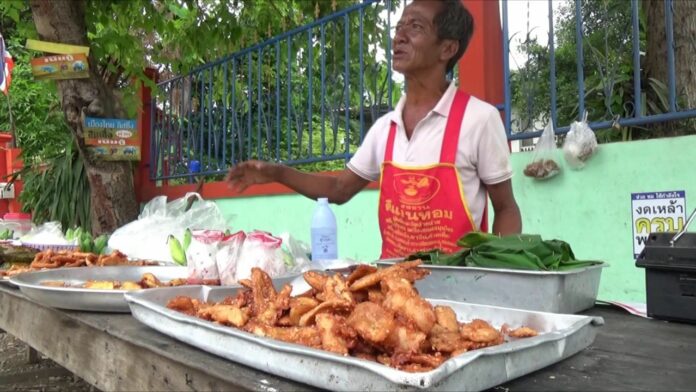 BANGKOK — Fried banana vendors and their customers in the old quarter are in trouble if the city makes good on threats to fine them.
To clean up the historic area of Rattanakosin Island, City Hall on said this week it would fine fried banana and potato vendors. A local police commander insisted Thursday that they always have.
"We've always been fining them. It's not like we're just going to start now," Col. Kampanat Arunsiriroj of Nang Loeng Police said by phone Thursday.
Kampanat, however, said he was not sure whether police would fine customers yet. He also was not sure where banana vendors could go to legally hawk their goods.
"They can go sell where they want, but it has to be a legal spot, like in front of a shop or something," Kampanat said.
Paitoon Kamparat, the city council member who put forth the measure in a council meeting Thursday, said that there were too many fried banana vendors setting up haphazardly along Ratchadamnoen Avenue, Nang Loeng Road, Lan Luang Road, the Phan Fa Lilat Bridge, Maen Si Junction and other roads in the Rattanakosin area.
"The city has to reorganize fried banana and fried potato vendors so they can sell in designated areas. We have to continue supporting this Thai career," Paitoon said.
People caught buying from vendors can be fined up to 2,000 baht, while the vendors face maximum fines of 5,000 baht. Paitoon said he will push for security cameras to be installed to monitor areas where the vendors frequently set up.
"If all of this is done, I'm sure that the problem will be solved," Paitoon said.
Another city council member, Lt. Gen. Chotipol Junyoo said the city had "tried to control this issue in the past, but work was inconsistent and measures were lax." This time, he said, vendors will be identified in a database.
"We can't solve the problem because the vendors and the police know each other," said city council member Akrawat Devahastin Na Ayuthaya. "For example, on Ratchadamnoen Avenue, they give police fried bananas so that police let them sell there and change up the traffic lights to help their business."
Police Gen. Shinnatat Meesuk said that he would relay the new regulations to municipal enforcement officers in the area. "Tessakit officers will collaborate with local police to strictly enforce this law," Shinnatat said.
The law enforcement arm of the Bangkok Metropolitan Administration, tessakit patrol streets and fine violators for minor infractions of city regulations.
Most of the city council agreed with Paitoon's suggestions. Paitoon said that the vendors violate health and safety code.
The banana vendor issue has been a long-simmering problem with police and city officials periodically issuing renewed vows to fine them and their customers.