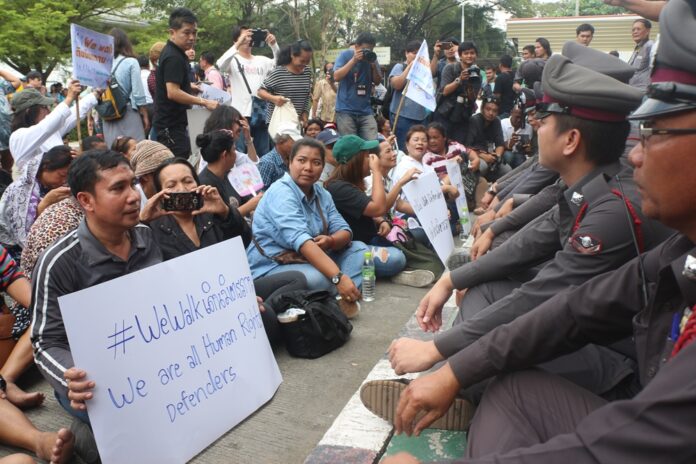 Update: The court on Thursday afternoon rules in favor of the People Go Network. 
BANGKOK — Police on Thursday will challenge in court the right to walk cross country by a group of demonstrators who say the authorities are already flouting a court order permitting them to do so.
The People Go Network, who organized the Bangkok to Khon Kaen march calling for more civil liberties, said Wednesday in a statement that campaigners and their supporters have been harassed and intimidated by police officers shadowing their progress.
Activists and some residents in Sakon Nakhon, Kalasin, Khon Kaen and several other provinces were reportedly questioned by police on whether they would join the march. Undercover officers also trailed key leaders of a local environmental movement, and officers visited the home of one student activist in Nong Bua Lamphu province, the group said.
"The People Go Network sees these behaviors as acts of intimidation, harassment, obstruction to scare the public out of exercising their right to express opinions and assembly as guaranteed by the constitution," the statement said. "These acts violated an injunction granted by the Central Administrative Court."
The march, called Walk for Friends, set out Jan. 20 from Bangkok to Khon Kaen, a distance of 450 kilometers. The group said they aim to highlight demands for free expression, universal healthcare, food security and community rights.
After police briefly blocked their way and allegedly pulled some campaigners in for questioning along the route, the group took the national police force in court. There, organizers won an injunction barring police from interfering with the march.
The Royal Thai Police later filed an appeal against the court order. A decision is due at 2pm today at the Supreme Administrative Court.