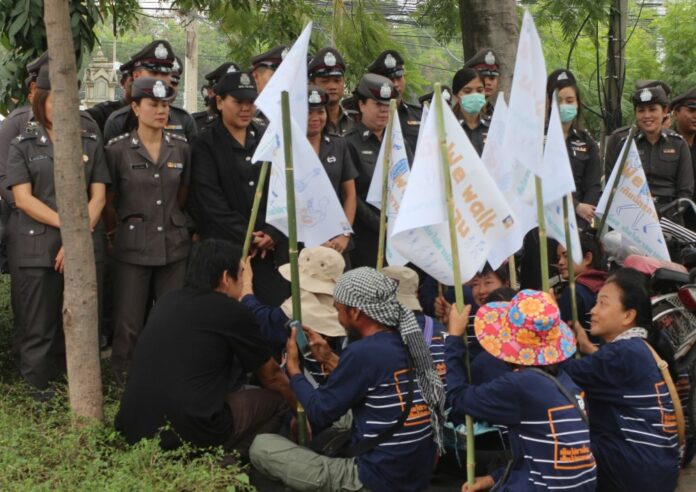 BANGKOK — Activists walking cross country for expanded civil rights said Monday they're suing the national police force for unlawfully obstructing the beginning of their march.
Organizers of "Walk for Friends," a group of about a dozen activists walking from Bangkok to Khon Kaen province, said they will file suit and seek an administrative court injunction barring police from all further "intimidation" against the demonstrators, a lawyer representing the group said. A police spokesman maintained the force has acted within the law.
The lawsuit will name three police commanders in northern metro Bangkok who allegedly ordered officers to block the marchers Saturday.
"We want the Royal Thai Police and those named in the lawsuit to stop restricting our freedom," attorney Phattranit Yaodam said. "Secondly, we want the police command to order their officers in the field to aid the marchers and refrain from any intimidation throughout the route."
The demonstrators, led by a network of activists called People Go, set out Saturday from Bangkok on a march to the northeastern province, a distance of 450 kilometers. The group said they aim to highlight demands for freedom of expression, universal healthcare, food security and community rights.
But on Saturday police in Pathum Thani province intercepted the marchers, citing a junta order that bans political gatherings of more than four people. The marchers responded by continuing the walk in the evening in groups of fours.
As of noon on Monday, the marchers had reached Saraburi province. Phattrani said police had not attempted to stop the walk so far today.
"Police have not directly negotiated with us, but there are undercover police following the demonstrators and taking their photos," the lawyer said.
Police spokesman Krissana Pattanacharoen said police are investigating whether the marchers intend to break the law by other means.
"What is their objective?" Col. Krissana said. "In my opinion, the way they walk and their intent look like they are trying to evade laws on public assembly and the order that bans gathering of five people."
He also said police have adhered to the law.
"Police do not hinder activities as long as they are legal," Krissana said. "I'd like to ask the organizers: This activity they are doing, is it in accordance with the scope of rights permitted by laws?"
Protests and public challenge to the junta's rule remain banned under the regime, three years after the military seized power in 2014.
Previous legal challenges filed against the ban have failed. In October, a civil court ruled that activists were not eligible to receive compensation over a 2015 crackdown on their protest because security officers were acting legally.
Phattranit, the lawyer representing the Bangkok – Khon Kaen marchers, said she hopes today's attempt will yield a different result.
"In that case, it was a lawsuit filed to the civil court for financial compensation, but we are suing in the administrative court," she said.