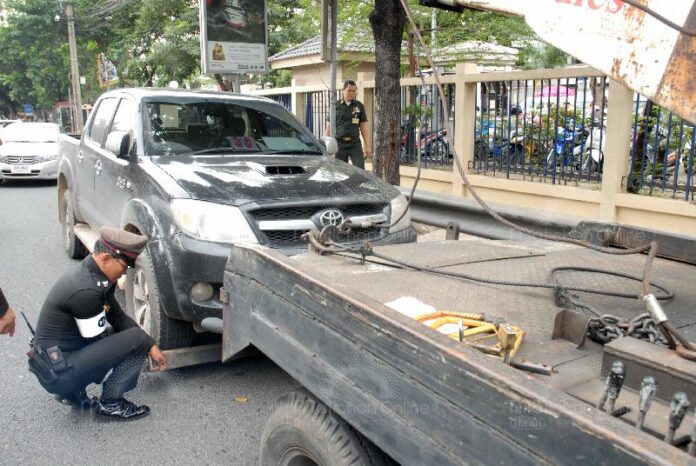 BANGKOK — Bangkok's governor is proposing a tenfold increase in fines and impounding vehicles for using the capital's sidewalks.
Bangkok Gov. Aswin Kwanmuang suggested at a meeting with city law enforcement Monday,increasing the maximum fines for driving or parking on the sidewalk from 500 baht to 5,000 baht, as well as towing vehicles, to curtail the widespread behavior.
Aswin said that he would "take on seriously" the scourge of motorcycles zipping along sidewalks and cars using pedestrian spaces as personal driveways. Aswin, himself a veteran of the police force, was proposing solutions though no action has been taken so far.
In Aswin's vision of compliance through deterrence, any vehicles found on sidewalks without their owners would be towed to the local district office. Owners then would have  to pick up their vehicles and pay the fine within 15 days, or face further legal action.
If improperly parked vehicles' owners were nearby, traffic cops would simply warn them to move.
He's not the first to suggest impounding vehicles. Almost annually, authorities announce various measures and crackdowns to rid the streets of traffic scofflaws, usually to little result.
In 2013, the crackdown to end all crackdowns was announced in which officers across the city would tow and impound illegally parked vehicles along traffic-heavy roads. The program survived a few weeks before being forgotten.
For 2017, Aswin suggested that the city install extra signs on sidewalks warning drivers to stay off. Extra traffic cops should be deployed, especially during rush hours, to heavy traffic areas such as Sukhumvit, Rama IV, Petchburi, Phahon Yothin, Ratchadapisek and Charan Sanitwong roads, he said.
At present, motorcycles driving or parking on sidewalks can be fined 500 baht. Car drivers can be assessed 400 baht to 1,000 baht fines for driving on the sidewalk and 500 baht for parking on it, according to the Thai Traffic Police call center. For both types of vehicles, the maximum penalty is 1,000 baht.
In 2016, police said 13,868 traffic violators were fined nearly 8.6 million baht.