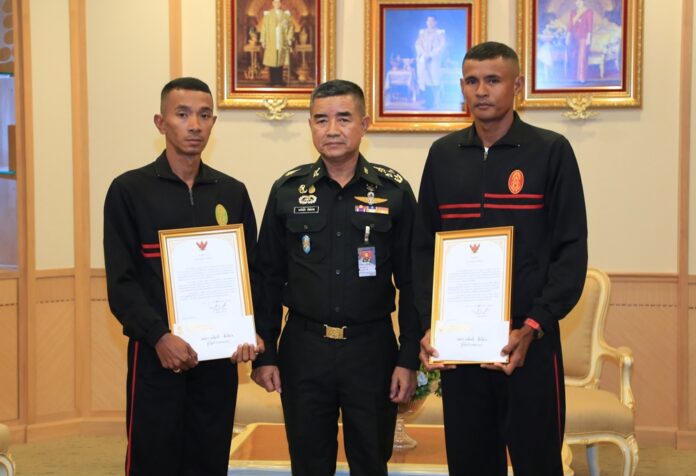 BANGKOK — A pair of soldiers who accompanied rocker Toon Bodyslam on his epic cross-country charity run were honored by the army in a ceremony Thursday.
For serving as bodyguards to Toon, who raised over 1 billion baht for public hospitals, Anulak Kaewchano and Supit Jintharat were given certificates and are eligible for further distinctions. It's the latest effort by the military to latch onto the immense capital Toon has gained from his fundraising quest, which won the hearts of millions.
The certificates, which thanked Master Sgt. Anulak and Sgt. Supit for benefiting the reputation for the armed forces, were given by army chief Chalermchai Sitthisart at army headquarters in the capital.
Read: Toon is Messiah, Heartthrob, Martyr in This Stunning Fan Art
Anulak is a military police officer from the 42nd Army Circle and Supit serves in the special forces with the Fourth Region Army.
"P'Toon always said he's not a hero because he only ran for 55 days," Supit said at the award ceremony, according to reports. "But doctors and nurses have been running before him, and they have to run for the rest of their lives, so they are the real heroes."
Media reports that the pair may be promoted by two ranks were disputed by a senior army officer. The officer, who requested not to be named because he's "tired of being misquoted by the media," said that while the army is deliberating on further rewards, no conclusion has been reached.
The army met with backlash Tuesday when it announced that a military plane would be dispatched to fly Toon and his team back to Bangkok. Many on social media accuse the armed forces of trying to piggyback on the rock star's fame. Toon turned down the offer.
But that didn't seem to leave any bitter taste for army chief Chalermchai, who told reporters he admired Toon's philantropist spirit and said the army would give him "anything" requested.