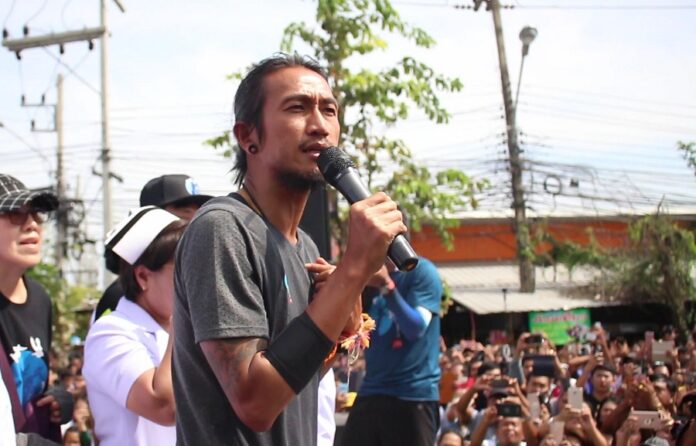 BANGKOK — Rock musician turned philanthropist Toon Bodyslam, who's been running on a quest to raise money for hospitals, is due to arrive in Bangkok on Sunday afternoon.
In the capital, an array of events and a state entourage fit for a hero's welcome await Toon, whose real name is Artiwara Kongmalai. The prime minister is set to meet him tomorrow, and he will be greeted at the western edge of Bangkok by the provincial governor.
As of this morning, the Bodyslam frontman was running in Nakhon Pathom province, receiving donations from the crowds along the highway. In a live video of the run, organizers occasionally ask supporters not to interfere with Artiwara, lest another injury occurs.
"Please don't pull at him," a narrator said. "P' Toon isn't angry when that happens. But please, we're pleading with you, don't do it."
Artiwara is on a mission to run from Thailand's southernmost point to its northernmost reaches to raise money for 11 public hospitals. He has run more than 1,000 kilometers since he set out earlier this month and raised more than 355 million baht, and he's expected to raise millions more in the run through the capital city.
At one point today, a roadside gas station owner donated 1 million baht. Another million baht has been pledged by a group of Mahidol University alumni, the organizers said. Some cars passing by Artiwara honk horns to show support.
Not to miss out on the spectacle, state officials are lining up to receive the rocker. Gov. Aswin Kwanmuang, accompanied by other high-ranking officials, will meet Artiwara at a rest stop in the Thawi Watthana district and hand him donations collected from all 50 districts of Bangkok.
At about 3pm he will start running from the rest stop toward the metropolis. He will arrive in Bangkok's city center via the Thonburi Bridge before heading to the King Power duty free shopping mall – his biggest sponsor – to receive a donation of 25 million baht.
Police will close down some traffic lanes so Artiwara and his team can make their way downtown, said deputy metro commander Jirapat Phumjit. Police also requested that motorists not slow down to take pictures of Artiwara because it may cause accidents.
He won't run tomorrow. Instead, Artiwara will meet junta chairman Prayuth Chan-ocha at Government House. Gen. Prayuth has previously spoken in support of Artiwara's fundraising effort for the country's hospitals.
Artiwara will resume running on Tuesday, which also falls on Thailand's National Day holiday.