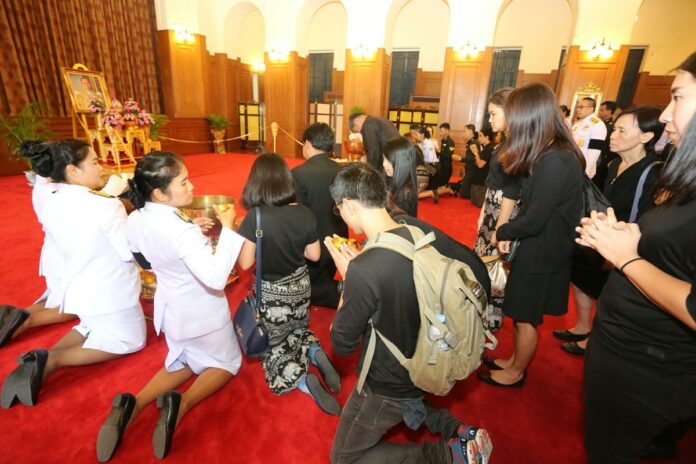 BANGKOK — Funerary rites for His Majesty the late King Bhumibol began Friday afternoon with Crown Prince Vajiralongkorn leading his royal cortege from Siriraj Hospital to the Grand Palace, where he will lie in state for the months to come.
Tens of thousands of mourners were lining along the route that will take King Bhumibol's body from the hospital where he died Thursday to the Grand Palace. The monarch passed away at the age of 88.
The procession will be broadcast live on national television.
According to the schedule released by the Royal Household Bureau, the motorcade carrying King Bhumibol's body will leave Siriraj Hospital at around 4.15pm. It is expected to arrive at the Grand Palace about 15 minutes later.
Crown Prince Vajiralongkorn will preside over a funeral bath ceremony at the Grand Palace at about 5pm. The bath is an elaborate ancient ceremony in which the prince pours perfumed water over parts of King Bhumibol's body, combs his hair and lights incense and candles.
Over the following months, the late king will remain at the Grand Palace where monks will recite prayers for him day and night. The palace has not released a schedule for further funerary rites beyond Friday's ceremonies.
Related stories:
Crown Prince Not Ready to Take Throne Yet, Prayuth Says
Mourners Remain at Siriraj, Some Hope For Miracle (Photos)
Prayuth Calls for Year of Mourning for King
Crown Prince Vajiralongkorn Proclaimed King Rama X
Grief Pours Out Home and Abroad for Death of King Bhumibol
King Bhumibol, Monarch and Father to Millions, 88