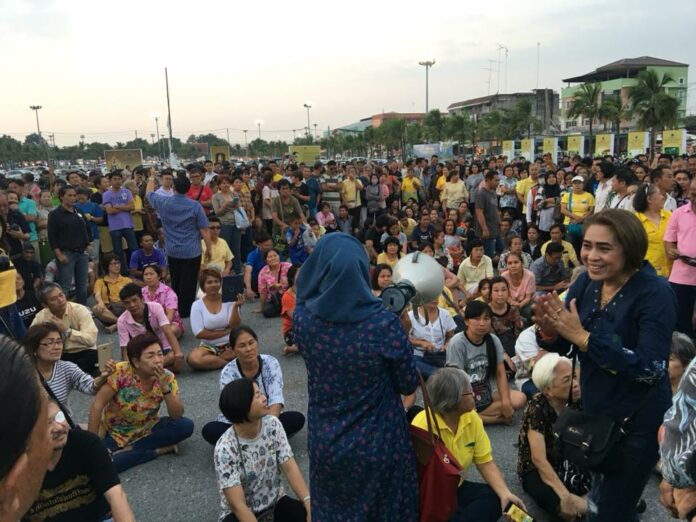 CHONBURI — Six people have been convicted of defaming Chonburi's governor, who is currently suspended for mismanaging the royal funeral memorial. Nearly 60 others remain on trial for the same charge.
The six were convicted of using "false" information to criticize Gov. Pakarathon Tienchai on Facebook back in October, according to one of his aides and the prosecutor. That was after mourners waited in line for up to eight hours to pay their respects to King Bhumibol at a ceremony organized by Pattaya's City Hall.
"They broadcasted their remarks on the internet, which contained false information," deputy Gov. Chaicharn Aiemjaroen said. "If they used correct information, it would have been okay. They can criticize us … we are public figures."
Read: Governors Suspended for Royal Funeral Snafu
All of the six defendants were given a month in prison on Dec. 4, but their sentences were reduced to a month and suspended because they confessed, prosecutor Chingchai Chokesaeng said. They were also ordered to publish apologies to Pakarathon in local newspapers.
A total of 63 people were charged for the libelous comments they made on Facebook about Pakarathon, the prosecutor said.
"The trial will probably conclude in a month or two," Chingchai said.
Pakarathon was suspended from his post in November by the military government after rare protests broke out and continued for days in Chonburi.
The protesters said they were forced to wait up to eight or even 12 hours under intense heat to lay down symbolic funeral flowers at the replica crematorium on Oct. 26, the day King Rama IX was cremated in elaborate rituals in Bangkok. They also accused the governor of bungling previous events dedicated to His Majesty the Late King.
Before he was suspended, Pakarathon filed charges of defamation against the six, according to Chaicharn.
"The prosecutor took up the case and told them to confess, otherwise there would be long trial," Chaicharn said.
Pakarathon was suspended on Nov. 7 along with Nonthaburi Gov. Panu Yamsri, who was under fire for similar reasons. Disciplinary investigations against the two are ongoing.