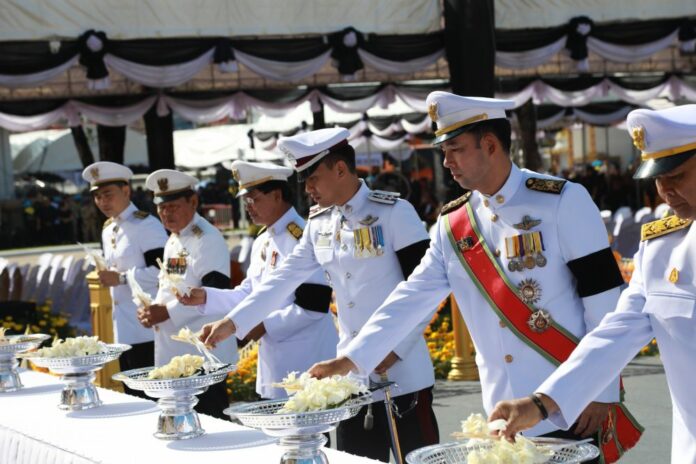 CHONBURI — An aide said Wednesday the governor of Chonburi province won't resign as demanded by protesters angry at his handling of last week's royal funeral ceremony.
Pakarathon Tienchai, who the junta appointed to his post a year ago, is under fire for making mourners wait in line for up to eight hours to pay their respect to King Bhumibol on Thursday, causing some elderly people to faint. Residents are planning a third day of protest today to call for his resignation.
"There is no plan to quit," deputy governor Chaicharn Aiemjaroen said by phone. "He hasn't done anything wrong."
While an elaborate ceremony to mark King Bhumibol's cremation took place in Bangkok, mourners in other provinces including Chonburi paid their respect by laying down funeral sandalwood flowers at replica crematoria across the country.
Complaints of queues as long as eight hours and people fainting in the heat soon flooded social media. An online petition also criticized the decision to let bureaucrats pay respect before the public and questioned whether a reported budget of 20 million baht was properly spent.
"You let the public stand under the sun without any shade," read a petition submitted to Change.org website. "You prohibited the public from taking selfies, but why were the white-clothed bureaucrats taking selfies?"
After the royal cremation was over, more than 300 angry residents staged a protest Friday and Tuesday in front of the City Hall. Chaicharn said he's been informed the protesters are planning to return Wednesday night.
Pakarathon could not be reached for comment Wednesday but acknowledged in media interviews that the delays were caused by mismanagement.
Nevertheless, he maintained that he let civil servants pay their respect first because it's the protocol he received from Bangkok.
Pakarathon met with some of the protesters Tuesday night in an effort to mediate the issue. Speaking to the protesters, the governor said he requested 20 million baht from the government but only got 2 million to organize Thursday's ceremony. He also reiterated his apology for the hours-long wait.
Many present at the protest were not satisfied.
"Get out! Get out!" some of the protesters were heard shouting.
Asked whether the provincial authority would take action against the demonstrators for violating the junta's ban on protests, deputy governor Chaicharn said the decision was up to a local military unit.
"The 14th Army Circle is holding a situation meeting," he said.
Chonburi isn't the only province hit by controversy over alleged mismanagement of the royal funeral. The governor of Nonthaburi, the suburban city just north of Bangkok, was likewise criticized by residents for making mourners wait for hours on Thursday.
Responding to the torrent of complaints, governor Panu Yamsri wrote online that he apologized for the delay and pledged to "do better next time," further inflaming the issue.
Related stories:
Reporter's Notebook: Sleeping in The Stadium With Auntie Natee
Questions, Acceptance Follow Surprise Decision Not to Air Cremation