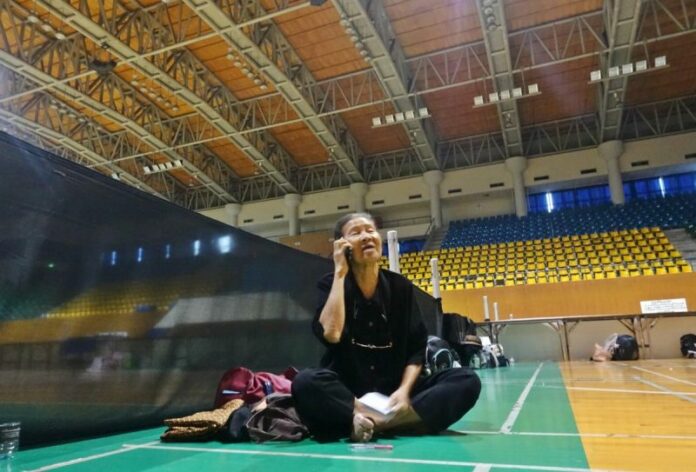 BANGKOK — A grandma in her 70s is solo in the big city without a plan. A man cooks an immense quantity of noodles and gives them away for free. A middle-aged rubber farmer is giving everything up for a once-in-a-lifetime moment. On Wednesday night, they all came together in one place.
I would meet them Wednesday when I arrived myself with a backpack to the Bangkok Youth Center, or Thai-Japanese Stadium, which had lent its space for mourners from outlying provinces to camp.
I wasn't sure to expect. Would I snooze uncomfortably on the hard wooden gymnasium floor? (I didn't). Would I be socializing with devout royalists from far-away provinces? (I was). What I experienced in 24 hours at the temporary campsite in Bangkok's Din Daeng area gave me more than one surprise.
At 4:30pm on Wednesday, I was greeted by officials who offered me a camouflage army sleeping bag in exchange for my ID. There were 88 other campers, and it wasn't long after I'd marched onto the basketball court to find a spot to place my bedding.
Surrounding me were nearly 30 women from Songkhla lying together directly on the floor, a mat or or sleeping bag. Some eyes were shut while some chatted quietly. I couldn't understand them very well. They were speaking too fast in southern terms unfamiliar to my central Thai ears.
Wan Tongyoo, 55, said she and 28 others took a bus Monday from the southern province of Songkhla to Bangkok, what's a 13-plus hour ride under ideal road conditions. They were the first group to check in at the campsite. Wan just finished cleaning herself from what I'd call a "bucket shower" which consisted of scooping water from a bucket over herself. We talked as she changed into comfortable black clothes under her colorful sarong.
"I would do anything to be a part of the ceremony. It's the last time for dad," Wan said, referring to the late King Bhumibol. The rubber farmer said she and her group planned to sleep early so they could visit Sanam Laung before Thursday dawned. As we finished our conversation, she stood up and hung her worn clothes over a traffic barrier being used as a partition.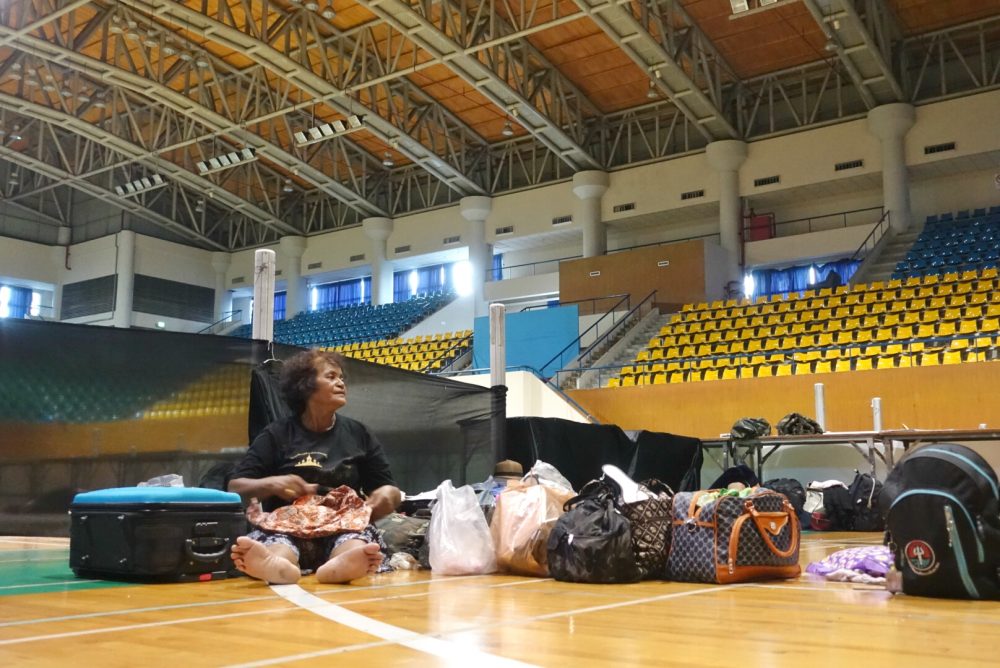 Minutes later an old woman strolled in and sat only two meters away. This would turn out to be Natee Yingwongwiwat. Although the 74-year-old woman came from Songkhla, she wasn't part of Wan's group. To my surprise, Natee explained how she left her Hat Yai home Tuesday evening and traveled by herself via express train. She arrived in the capital 15 hours later. With one red small bag and a 2G mobile phone she had little idea how to use, Natee said she had made no plans for what to do the next day.
"Let's see the situations tomorrow and I'll decide," said Natee, whom I called "auntie."
Natee reluctantly pushed back against my assertion she looked very healthy for 74, but admitted she does often walk and jog. The retired woman said it's not a big deal for her to travel over a dozen hours, nearly 1,000 kilometers, from her home since she had done so many times to join Yellowshirt protests years ago. She said she was a "tough person."
"Why do people have to be surprised that I travel alone? I have been traveling for a long time and many times. I can take care of myself," said Natee.
Natee is an ardent radio listener. Actually she learned about the occasional campsite from the local radio she tunes into daily. She wished she knew English so she could understand more stories of the world, and the late King Bhumibol.
"I have to give credit to the Princess Mother. She was down-to-earth and taught [King Bhumibol] to be down-to-earth like her," Natee said after mentioning some titles of the Thai-language books about the King she has read. "I wish I could learn more about the King, either his good or bad sides. But sadly I cannot understand English and some books about are banned [in Thailand]."
As the evening changed to night, more people poured into the stadium. Some were children as young as 5. Some families chose to settle at the other side of the gym, where some big fans had been set up.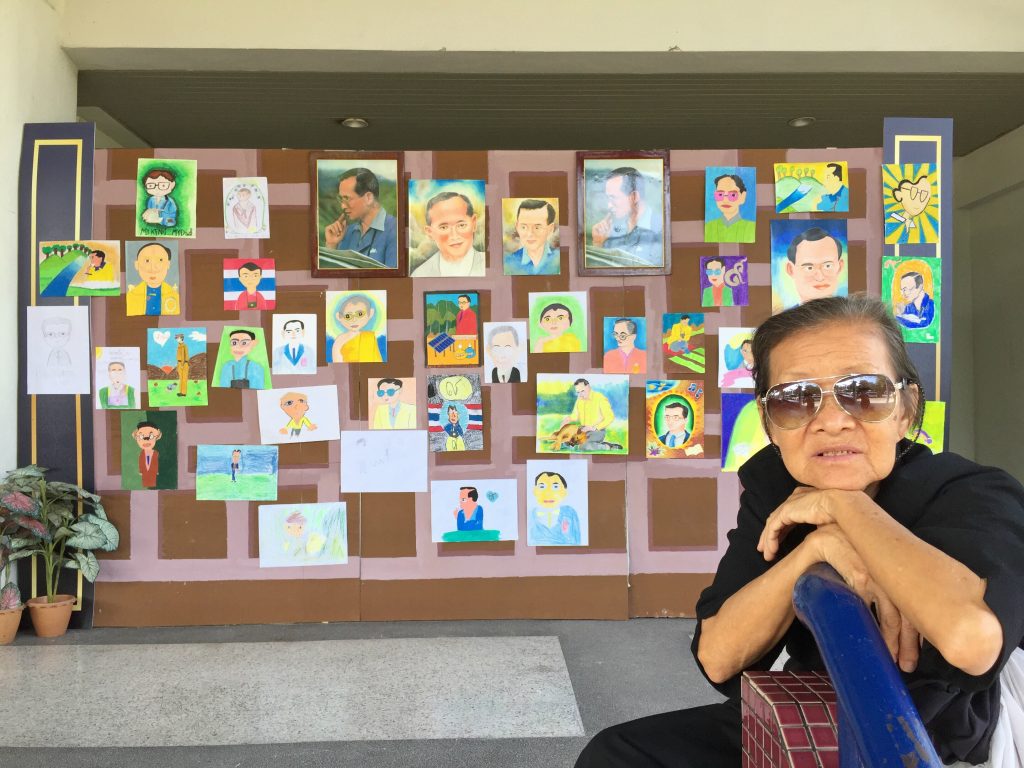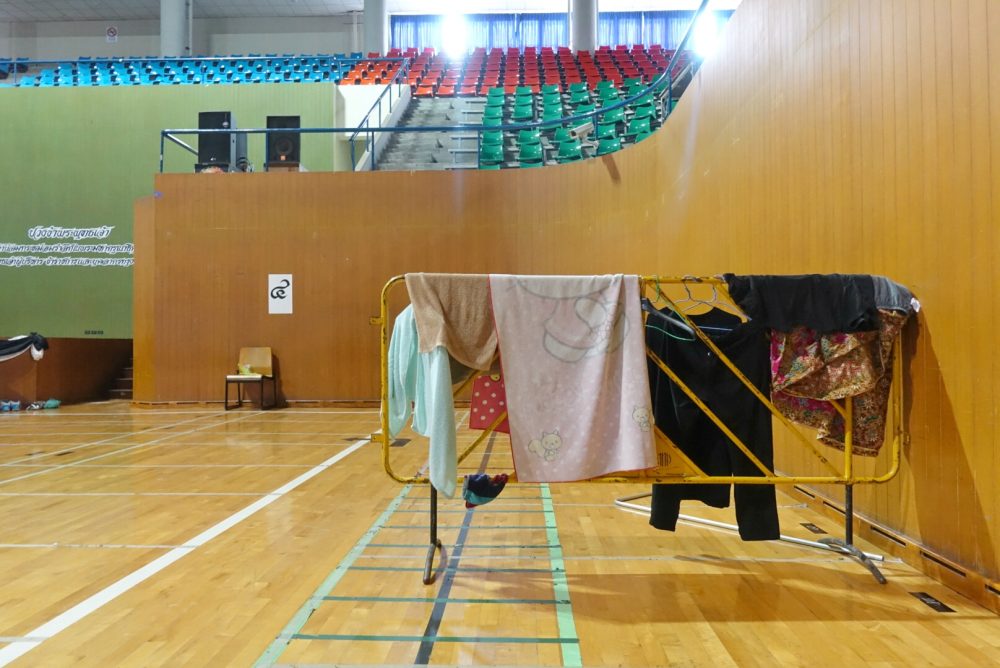 All the fans in the gym were turned off as cool air filled the spacious venue from much-cooler air conditioning units. Wan and most of her group fell asleep at about 8pm, followed by Natee at about 9:30pm. As an urbanite who works "reporter's hours," I didn't snuggle in for some fitful sleep until the time on my phone read 11 o'clock.
Just four hours later, a woman in Wan's group rose and made for the bathroom. Her early morning activities – which involved a flashlight beam, foot falls and sliding zipper sounds – gradually brought everyone awake.
Foreseeing no further sleep, I dressed in my navy blue slacks and black shirt before heading outside the pre-dawn stadium. Before my eyes, mist and fog floated above the grass, among bushes and trees and under the streetlights.
A clamor and clanging pans and utensils could be heard nearby. I turned to the right side of the stadium and saw two groups of people under white caps and aprons. Two men were stationed over large pans of oil, omelettes and wide rice noodles. Nearby, a middle-aged woman gently mixed dark soy sauce into noodles by hand. A plump woman and a skinny woman on the other side were putting the ready-to-eat meals into paper boxes.
Wirat Kianduangchan was joking with his sister and wife while lifting heavy amounts of noodles with steel tongs. He offered me the morning's first box of Phad Se Ew.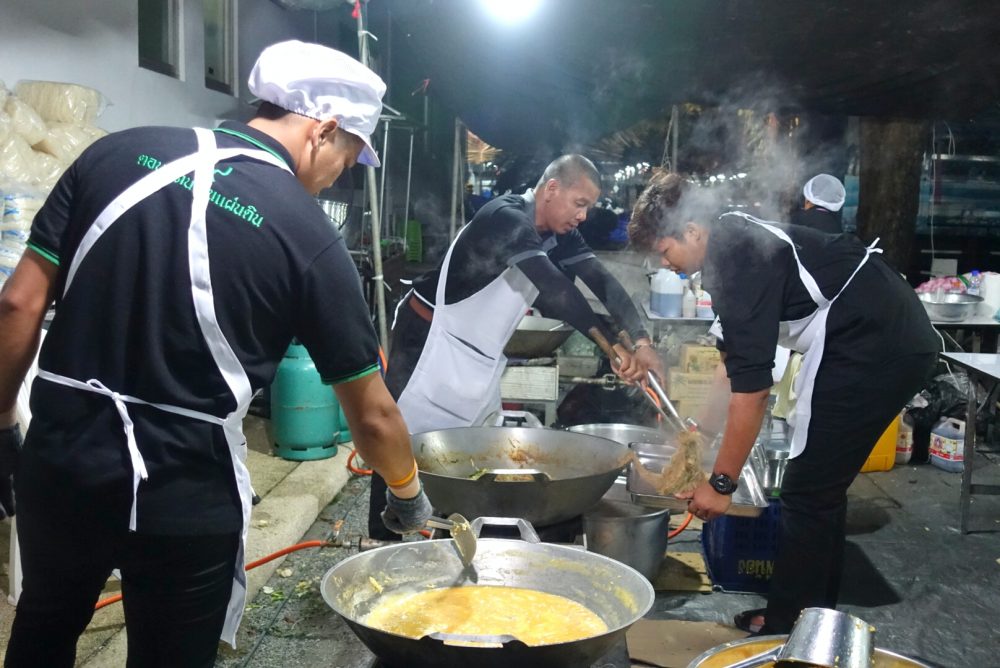 The manager of the Baan Rai Plai Tawan almshouse said his group of 30 volunteers came from Nakhon Ratchasima's Wang Nam Keaw and had stayed at the center since Tuesday. What the group specialized in was Chinese-style stir-fried soy sauce noodles, or phad see ew and phad mhi Korat, which is slightly different from Phad Thai.
Wirat, 42, said at noon that 600 kilograms of noodles had been used in more than 7,000 breakfast and lunch boxes sent to several venues including the Sanam Luang and Sam Liam Din Daeng junction.
Wirat said his group – including his 7-year-old daughter – would stay at the stadium until Friday, the last day they intended to cook stir-fried noodles and give them away to thousands of mourners remaining.
I wouldn't be reunited with Khun Pa Natee until later. It turned out she didn't go to the Pak Khlong Talat flower market or Ratchadamnoen Road as she had earlier announced. She got too confused by the numbers of buses and didn't want to risk fainting during her journeys. As Wan and her group left for Sanam Luang, and Wirat and his crew cooked furiously, auntie Natee and I became camp buddies. Oftentimes I offered to walk to booths to get her water or a bowl of noodles, but she seemed to keep me company and enjoyed asking what it was like working as a reporter.
"You interviewed me, now I interview you," she laughed over our chicken noodle soup.
Natee said she will return to Hat Yai on Thursday, after she sees the crematorium which will open to the public that day. "I want to see the Meru Mas with my own eyes," she said. Where will she stay tomorrow and the five following nights? Natee said she didn't know yet.