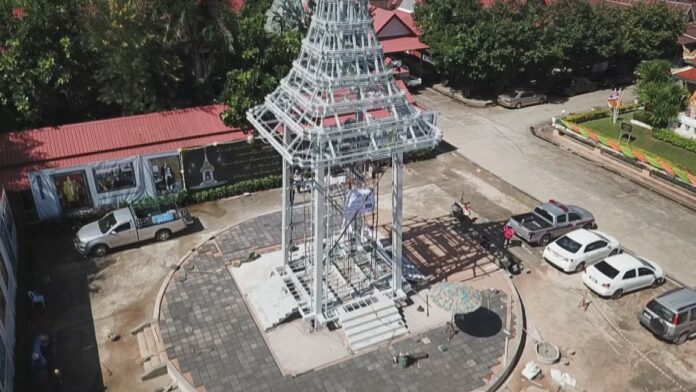 RATCHABURI — Scaled-down versions of the elaborate crematorium being erected in Bangkok for next month's royal funerary rites are going up nationwide for the public to pay their respects.
The provincial governor of Ratchaburi said Monday the one under construction there would soon be completed for local residents to participate in ceremonial rites when the late king is laid to rest.
"Public works authorities are rushing to finish the replica crematorium as fast as they can," Gov. Chaiwat Chuekosum said. "The base must be finished first before the decorations can be added."
The projects in at least seven provinces are funded by local government. Most consist of a single crematorium tower.
Ratchaburi public works department said it will be completed by Oct. 10 with the help of provincial workers and volunteers. Once completed, the structure in front of Wat Mahathat in Ratchaburi city will be open for visitors to leave yellow flowers and wood or paper flowers to be burnt as offerings.
In Lopburi province, monks performed a ritual Saturday to raise a nine-tiered sacred umbrella atop a replica crematorium at Wat Siri Chanthanimit Worawihan. Replica crematoriums were also being built in Chiang Mai, Loei, Phatthalung, Prachuap Khiri Khan and Khon Kaen provinces.
King Bhumibol died Oct. 13 at 88. He will be cremated Oct 26.
Related stories:
Sept. 30 is Last Day to Pay Homage to King Bhumibol
Television to Return to B&W in Run-Up to Royal Funeral
Holiday Set to Observe Royal Cremation of King Bhumibol
What We Can Expect For King Bhumibol's Funeral Rites (Updated)