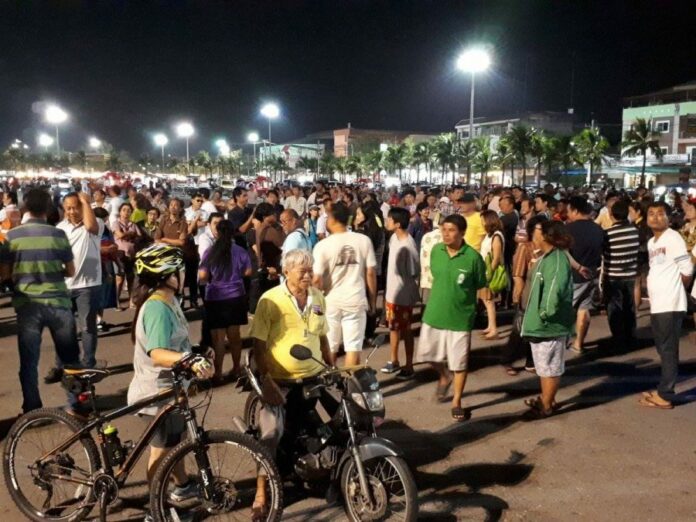 CHONBURI  — A rare protest under military rule broke out for a third day Wednesday in Chonburi province, where angry residents condemned the handling of local ceremonies marking King Bhumibol's cremation.
Scores of people rallied Wednesday in front of the Chonburi City Hall to demand Gov. Pakarathon Tienchai to resign over his alleged mismanagement of the Oct. 26 event, which left mourners waiting up to eight hours to pay their respects to the late king while bureaucrats were allowed to skip the queue.
The governor has so far rejected demands he resign.
While authorities previously did not interfere with protests on Friday and Tuesday, officials told protesters Wednesday night that they were violating a ban on political assembly and could face criminal prosecution.
"If you really have unity and love for each other, please go home," one official tells the crowd in a video, followed by a response of boos by protesters.
One protester said failing to heed their demands would only see the protest swell.
"You're inviting more guests. Tomorrow, you watch, they will fill this entire field," a woman shouted back.
Protesters left at about 8:15pm, after singing the royal anthem. They pledged to be back tonight.
When reached for comment Thursday, deputy Gov. Chaowalit Saeng-Uthai would only say there was no violence. He said he was not allowed to speak about the matter further. Phone calls to Gov. Pakarathon went unanswered.
Another high-ranking official said he's been told the protest would take place again Thursday night, but added that City Hall would likely choose to sit it out instead of cracking down on protesters.
"The governor is waiting for the protest to end on its own," said the official, who requested anonymity because he was not authorized to speak to media.
One week ago, while King Bhumibol was being cremated in elaborate rites in Bangkok,  mourners in Chonburi and other provinces were invited to pay respects by offering sandalwood flowers at replica crematoria across the country.
Complaints of people queueing in Chonburi for as long as eight hours and mourners fainting in the heat soon flooded social media. An online petition criticized the decision to let bureaucrats in before the public and demanded that Pakarathon take responsibility by resigning.
The organizers' decision to decorate the replica funerary pyre with banners of marigold flowers instead of planting real ones also drew mockery online.
The cremation of King Bhumibol, like all other affairs related to the monarchy, is treated with caution and sensitivity. The authorities imposed a variety of rules and bans to ensure the ceremony proceeded smoothly as a showcase of national unity.
Chonburi isn't the only province hit by a fallout over the royal funeral mishaps. On Wednesday, directors of three districts in Bangkok – Wattana, Bang Bon and Prawet – were transferred from their posts reportedly because they failed to burn all of the funeral flowers left in their jurisdictions.
"They did not burn all of the dok mai chan," Bangkok government spokeswoman Treedao Apaiwong said, without elaborating.
Interior affairs minister Anupong Paochinda told reporters Wednesday he had instructed officials to look into the Chonburi protests and find out what happened. He urged the protesters to have understanding and refrain from future gatherings.
"I'd like to ask everyone to understand," Gen. Anupong said. "I'd like to stress that people shouldn't make this issue into a conflict."