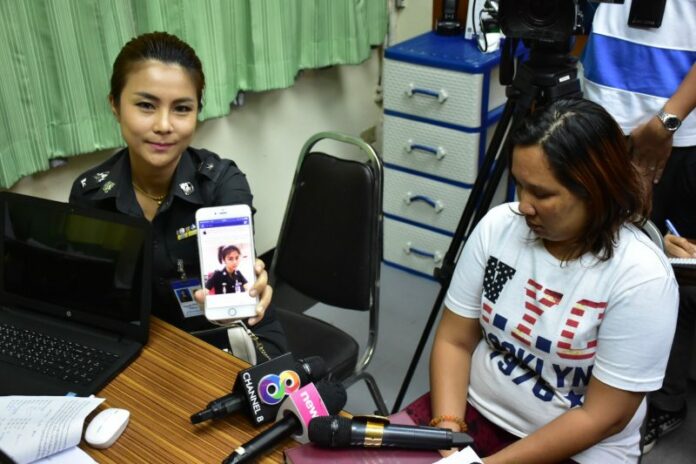 BANGKOK — Not everyone gets a chance to confront their online troll face-to-face, but a policewoman did Thursday morning.
After police arrested housemaid Angkhana Danakam, who allegedly impersonated policewomen Capt. Thanthawan Kodduang and Lt. Col. Raktapa Wongyod on Facebook, Angkhana and Raktapa met Thursday at Bang Khen Police Station under police summons.
"You uploaded Capt. Rose's profile photo and then used the account to berate people," 38-year-old Raktapa said to Angkhana, who reacted by wai-ing in apology.
A year ago in November 2016, Raktapa filed a defamation complaint under the Computer Crime Act with Bang Khen police over a Facebook user account allegedly belonging to Angkhana. After almost a year-long search, police recently arrested Angkhana, 36, in Dan Makham Tia District in Kanchanaburi.
However, Angkhana denied uploading the photos of the women and posting defamatory messages, saying that her four Facebook accounts had been hacked.
The Facebook profile used both Thanthawan and Raktapa's photos as profile pictures.
"A lieutenant of my level is never weak or backs down. I don't even want to be a rival of a so-yesterday kiddo like you, it's cluttering my brain. I sleep with the same person in my bed each day," and "Come on and arrest me, I'm waiting," Angkhana wrote to Raktapa using a profile picture of Thanthawan, as shown in one of the screenshots submitted to police last year.
The investigation is ongoing and police will take her to court for an arraignment Friday.