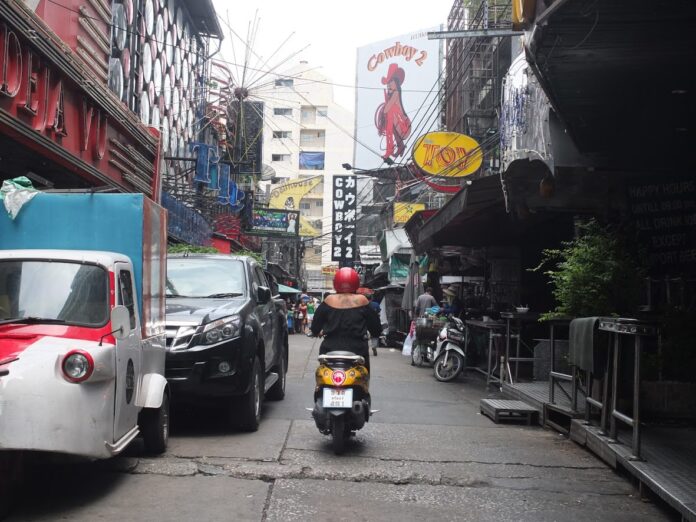 BANGKOK — In Bangkok's red light district Soi Cowboy, 7pm is usually the beginning of a long, neon night of music and enticement. But on Thursday's historical night of Oct. 13, it was the end.
On Friday, Paithoon Khumkhaeng, who works at famous go go bar Suzie Wong, described how the whole garish scene there suddenly became paralyzed with light banter replaced by echoes of crying after the broadcast announcement King Bhumibol had passed away.
"Some really can't take it, they can't even listen to the news," the 49-year-old Friday said as he began crying anew. "The owner said to close our place immediately. No one could continue working."
Read: What's Canceled, Closed and Open in Bangkok During Mourning Period
All places in Soi Cowboy eventually closed by 8pm, an hour after the news shook the country, Paithoon said.
When all the workers, from bartenders to bikini-clad dancers burst into tears, Paithoon said tourists seem to understand, as they also saw the news hit the internet at the same time.
"Though some of them might not really have understood how big it is for us," he said.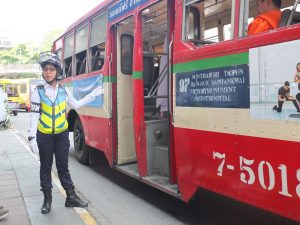 Waking up for the first day in their lives without the king treated as a spiritual leader for 70 years, Bangkok on Friday appeared to be living without its soul. Most people walked quietly in black clothes, and all significant activities were halted. Public transportation such as the BTS Skytrain was silent, the advertising pulled.
The military government announced Friday would be a national holiday. Many people were grieving and finding it difficult to do their jobs.
Patchara Sotnirunchai was one of them. The 40-year-old from the Bangkok Mass Transit Authority on Friday was tasked to stand at the Victory Monument bus station and give information to people about free shuttles to join the royal procession from Siriraj Hospital to the Grand Palace.
As she was directing the buses on the street and shouting information to the public, tears were still running from her eyes.
"I can't control it," she said before continuing to shout and hide her wet eyes behind her glasses.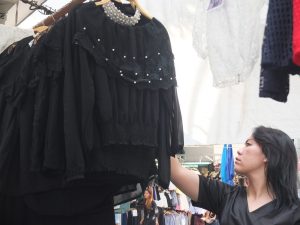 Having no chance to join the thousands of people thronging along the route of the procession, Patchara said she was proud of her contribution to her beloved king, even from far away.
For some industry, the sudden national demand signaled opportunity.
Kamonthanat Kaewbudda has a small line of factories to make shirts she sells from a shop in Victory Monument. With many citizens expected to wear black for a year in mourning, she said she will need a new plan.
"I think I will have to increase the ratio of black shirts from 10 percent to 50, or perhaps 80 to 90 percent," she said while packing hundreds of colored shirts into bags and replaced most with black ones.
Read: King Bhumibol, Monarch and Father to Millions, 88
The 30-year-old said she heard the price of black shirts at the wholesale Bo Bae market has doubled from 60 baht to 120 baht.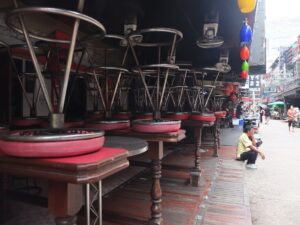 Like many other vendors, Kamonthanat said she did not prepare ahead for the situation, as she never imagined it would really happen.
Yet for the people who toil for their livelihood in the engine of entertainment, the future holds other concerns.
Although some of venues in Soi Cowboy briefly tried to resume business Friday evening without playing music, Suzie Wong remain closed.
Working in Soi Cowboy for many decades, Paithoon said he has witnessed many incidents that forced all the go go bars to close down, including three days closure after the 1995 death of Princess Srinagarindra, King Bhumibol's mother. The longest closure period was five days after the junta seized power in 2014.
Government spokesman Col. Sansern Kaewkamnerd on Thursday asked to postpone all public entertainment for 30 days. For activities organized in private places, he urged people to be careful and considerate.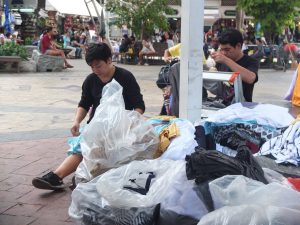 "We still don't know how long we will be closed this time," Paithoon said. "We will wait for the notice from local police."
Despite his acute grief and despair, Paithoon was concerned that should the order for entertainment venues to stay closed continue for a long period, it will be difficult for most workers, who get paid only for days worked and receive no other benefits. Even people who have monthly salaries there, Paithoon said, still usually depend on tips from tourists.
Weeping tears away, he said, "We can't live like this for long. We have to move forward."
Related stories:
Celebrities Mourn Death of King Bhumibol
Crown Prince Leads King Bhumibol's Funeral Procession
Black Friday: Crowds Throng Palace For Final Glimpse of King (Photos)
Crowds Swell Along Route of King's Journey to Palace
Crown Prince Not Ready to Take Throne Yet, Prayuth Says
Mourners Remain at Siriraj, Some Hope For Miracle (Photos)
Prayuth Calls for Year of Mourning for King
Crown Prince Vajiralongkorn Proclaimed King Rama X
Grief Pours Out Home and Abroad for Death of King Bhumibol
King Bhumibol, Monarch and Father to Millions, 88
Military Regime To Return Control to TV Stations Tonight