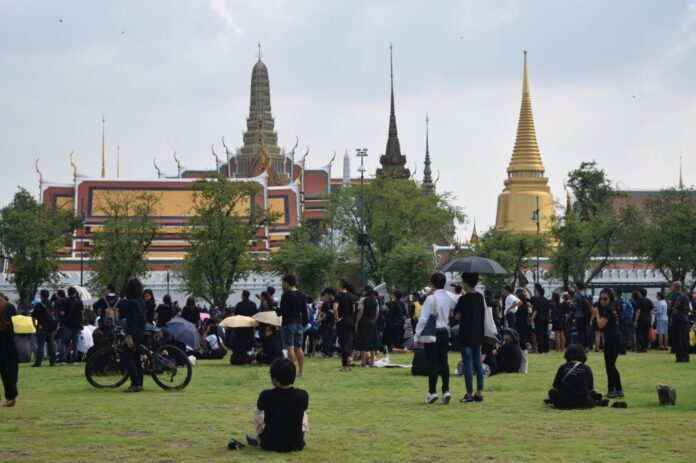 BANGKOK — In the thousands, they squatted Friday on plastic sheets that offered no protection from the searing asphalt and steamed under plastic umbrellas.
Thais from across the realm crowded near the Grand Palace along the route where they would see pass, perhaps for the first time, the man whose image was everywhere all their lives.
With the death of His Majesty King Bhumibol Adulyadej on Thursday initiating a year of mourning, every person along Ratchadamnoen Avenue was dressed in black, white or a uniform. Some wept; others sat listlessly with wet eyes. Almost all clutched portraits of the only king they have ever known.
They waited for his royal procession to pass after it left Siriraj Hospital on its way to Wat Phra Kaew, where funerary rites would be performed later this afternoon.
Laksami Sinpraset, 60, traveled alone from Chai Nat province as soon as she heard the news Thursday. She went straight to the palace Friday morning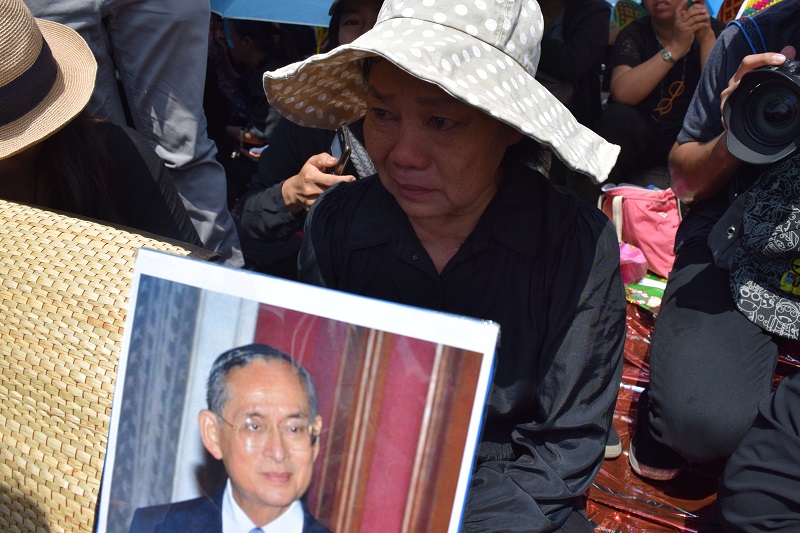 Laksami Sinpraset
"The feeling is completely indescribable. I can't compare it with anything I've ever felt in my entire life," Laksami said.
She choked up and shut her eyes for a moment before continuing.
"Let's not talk about the future today," she said, gesturing shakily toward the black bag packed with her clothes. "I can keep staying here."
Jidapa "Maprang" Junsun, 43, is a street cook near the palace in the Tha Prachan area along the river. She was frying up noodles she gave to mourners without charge.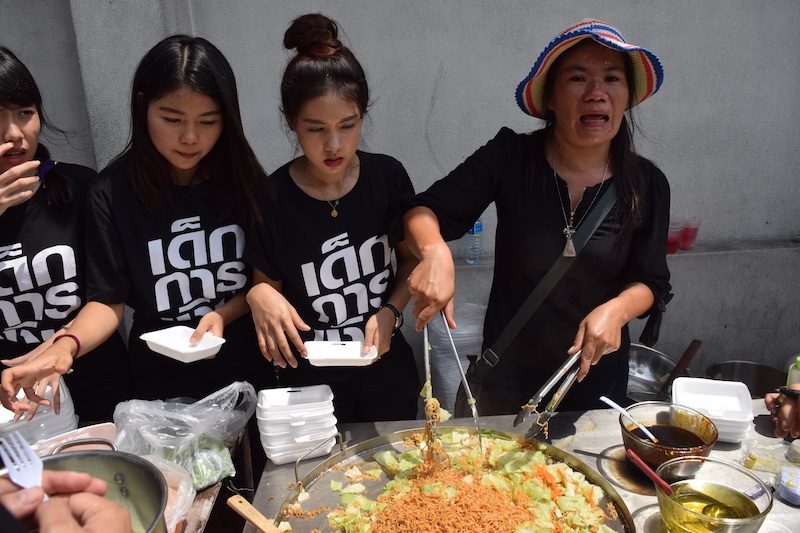 Jidapa "Maprang" Junsun (right)
"I want to do good deeds for our father," she said before getting emotional and turning away from a steaming pan full of mama pad. "He's not here anymore. I need to keep doing good deeds for him."
Since 10:30am, Maprang and a group of students from the Suan Dusit Rajabhat University have cooked up huge batches of fried mama noodles and Hale's Blue Boy red drinks to give to mourners.
"Usually, I go to every single event about the King and the Queen. I will continue to go to every single event about them, I can promise you that," she said. "I made my boyfriend stop working to come help me. My daughter's left hand is disabled, and I want merit [from helping out here today] to affect her too."
Tongmun Dontianpuang, 63, is a homemaker from western metro Bangkok who arrived to the palace at 9am with her family.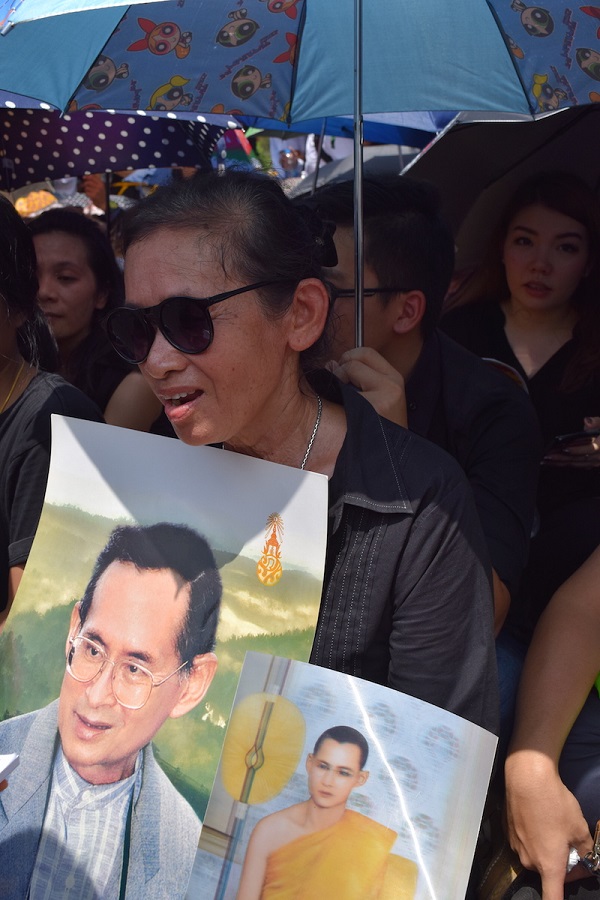 Tongmun Dontianpuang
"I haven't eaten. I cried and prayed all night for him," Tongmun said. "Still, I think the country will continue to be in good hands. The prime minister is a good leader, like the King."
Supasit Chinvinijkul, 23, was there with friends.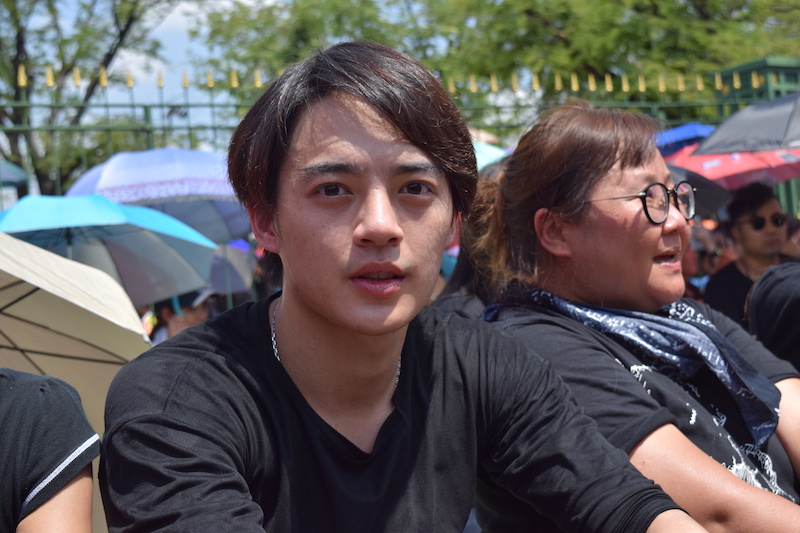 Supasit Chinvinijkul
"Since I found out yesterday through the official announcement, I've cried countless times. I haven't slept at all and came there this morning with my classmates for him."
A number of foreign nationals were also present to witness the historic moment.
"I have never seen so many people moved and mourning on this scale. I want to share in this emotional moment with Thai people," said 33-year-old Stanislas Détroyat, a French engineer. "For them the King was truly a historical character and personage of the Thai people."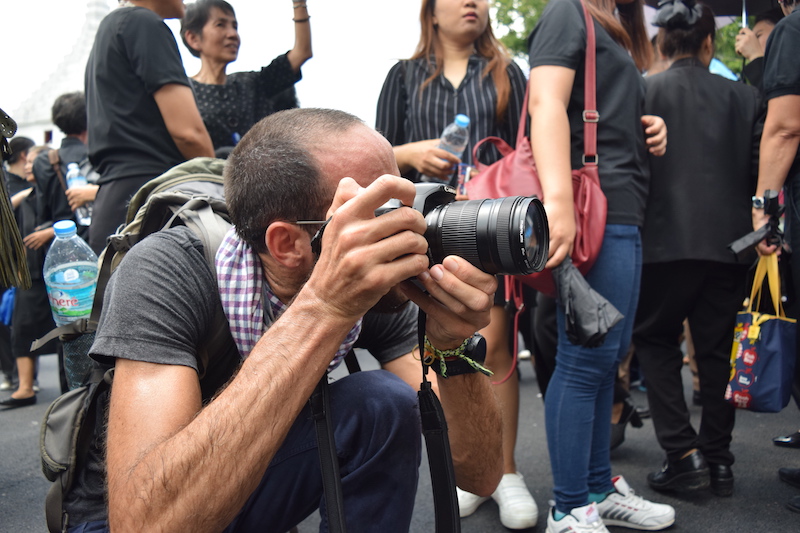 Stanislas Détroyat
Laksita "Ping" Suwachupetnoi, 8, was sitting in the sun next to her mother and sister.
"I came today to send the King. I usually see him on the TV and big signs. I cried last night until my eyes were puffy."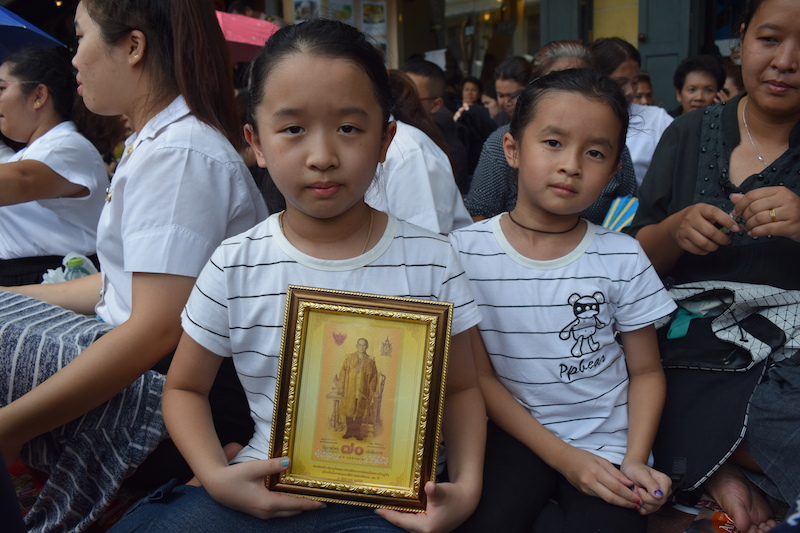 Laksita "Ping" Suwachupetnoi (left)
The procession was to leave Siriraj Hospital with his majesty's body at 1pm and arrive to the Grand Palace in time for 5pm funerary rites.

Related stories:
What's Canceled, Closed and Open in Bangkok During Mourning Period
Crowds Swell Along Route of King's Journey to Palace
Crown Prince Not Ready to Take Throne Yet, Prayuth Says
Mourners Remain at Siriraj, Some Hope For Miracle (Photos)
Prayuth Calls for Year of Mourning for King
Crown Prince Vajiralongkorn Proclaimed King Rama X
Grief Pours Out Home and Abroad for Death of King Bhumibol
King Bhumibol, Monarch and Father to Millions, 88