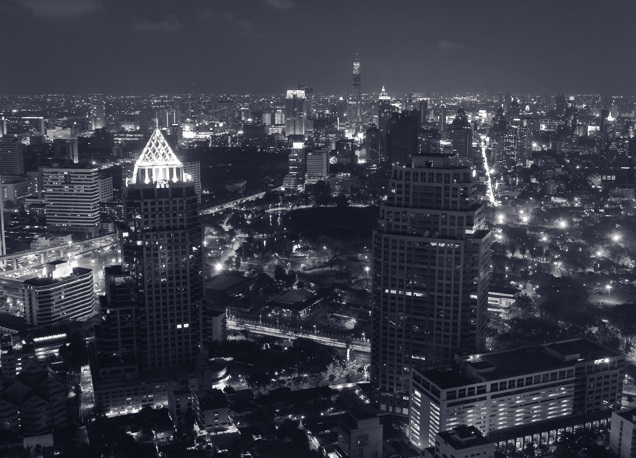 Updated 1pm, Oct 24
BANGKOK — In the wake of His Majesty King Bhumibol's death Oct. 13, the authorities have called for 30 days without entertainment.
Although officials have said venues can host entertainment events behind closed doors, many are voluntarily refraining for now. Most events have been canceled, and some venues are closed until further notice. Others will remain open as usual, only canceling special events.
What does this mean for people living in the capital? What will be open? What will be closed? We're continuing to put together what we know to expect so far. Check back for updates and as a general rule: Call ahead first.
Restaurants and Cafes
Most restaurants and cafes will open as usual, but patrons should check with any planned venue as some have announced they will close.
Movies
All movie theaters are operating normally but are not showing certain films such as comedies.
Alcohol
Alcohol is being sold during the usual hours of 11am-2pm, from 5pm-midnight.
Clubs
Some nightlife venues have gone dark, some not. Again, best to check ahead. Beam in Thonglor and Silom's Whiteline announced they were closed until further notice. Glow Nightclub said it has suspended all events.
Bars & Nightlife
Entertainment venues were given the green light to operate behind closed doors – but don't expect loud music. Most are closing at midnight.
TV
Apart from some censorship of foreign media, television is broadcasting normally except many channels have pulled entertainment programs from their schedule.
Concerts
Scorpions' 50th Anniversary World Tour set for Oct. 26 has been canceled. Full refunds are available at Thai Ticket Major until Oct. 30.
Korean concerts and fan meetings this month have been canceled including: Big Bang on Oct. 29-30, JYP on Nov. 5-6 and FT Island on Nov. 12.
The just-announced Gun N' Roses concert for Feb. 28 is still on schedule. The organizer will announce on its page if that changes.
Bryan Adams' concert on Jan. 14 has been postponed until further notice.

Festivals
Wonderfruit has rescheduled its four-day festival in December to Feb. 16-19, with most of the programming remaining intact.
The E-san Keaw Music Festival has been postponed until further notice.
The 14th World Film Festival of Bangkok set for November has been postponed to January.
Over 60 stage plays this year were called off with the annual performing arts festival. The Bangkok Theatre Festival posted Friday evening that refunds would be given.
The Urban Music Festival collab between Studio Lam, Trasher, Dudesweet and Tempo on Nov. 12 was canceled.
The Bangkok Street Show 2016 Dec. 10 to 12 has been canceled.
The annual royal Khon performance "The Allegiance of Phiphek" from Nov. 5 to Dec. 5 has been canceled.
Bangkok Underground Film Festival has been postponed until further notice.
Special Events
Halloween: Most events have been canceled. Check our list of canceled, postponed and undecided events around Bangkok.
The Bangkok Gourmet Festival, set to be held at Royal Paragon Hall on Nov. 4-6, is postponed indefinitely.
Chiang Mai's Yi Peng Festival, the annual sky lantern festival has been canceled for Nov. 6-15.
The Fullmoon Party on Koh Phangan set for Nov. 14, has been rescheduled for Nov. 15.
Bangkok Marathon set for Nov. 20 has been postponed to early 2017. The dates are yet to be specified.
Government services
The Grand Palace and Wat Phra Kaew have re-opened as of Nov. 1. Members of the public can sign messages of condolences for the late King at the Sahathai Samakom Pavilion, located in the Grand Palace, 8:30am to 4pm daily.
Immigration Bureau: All branches open as usual
Schools and universities are open without change to examination schedules.
Theatre
Rachadalai Theatre has canceled all October performances of "Lordlai Mangkorn The Musical," and will start its performance on Nov. 17 to Dec. 18. Tickets can be changed without fee at the theatre and Thai Ticket Major.

Happy New Year Mr. Smith has reschedule its last 5 shows to Nov. 19-23.
Additional reporting by Chayanit Itthipongmaetee, Lobsang Dundup Sherpa Subirana and Asaree Thaitrakulpanich

Related stories:
Crown Prince Not Ready to Take Throne Yet, Prayuth Says
Mourners Remain at Siriraj, Some Hope For Miracle (Photos)
Prayuth Calls for Year of Mourning for King
Crown Prince Vajiralongkorn Proclaimed King Rama X
Grief Pours Out Home and Abroad for Death of King Bhumibol
King Bhumibol, Monarch and Father to Millions, 88