BANGKOK — For the first time ever in Thailand, Axl and Slash and the rest of Gun N' Roses will welcome audiences to their jungle early next year, Viji Corp announced Thursday afternoon.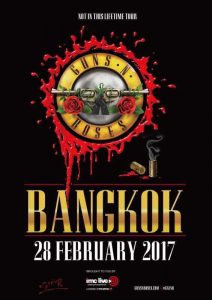 The concert promoter released a teaser poster in the afternoon announcing that Guns N' Roses would hit Bangkok on their "Not in This Lifetime" tour on Feb. 28. More details will be released later.
It's been 30 years since the band broke out from regular gigs on the Sunset Strip in Los Angeles and put out albums such as 1987's "Appetite for Destruction," and "Use Your Illusion I and II" in the early 90s.
Band members went their separate ways in 1993, but most of the original members reunited earlier this year at Coachella where die-hard fans were delighted at the sight of founding fathers Axl Rose, Slash and Duff McKagan on the same stage.
The "Not In This Lifetime" tour kicked off in April 2016 in North America.
Related stories:
Axl Rose Demands Google Take Down Unflattering Pictures