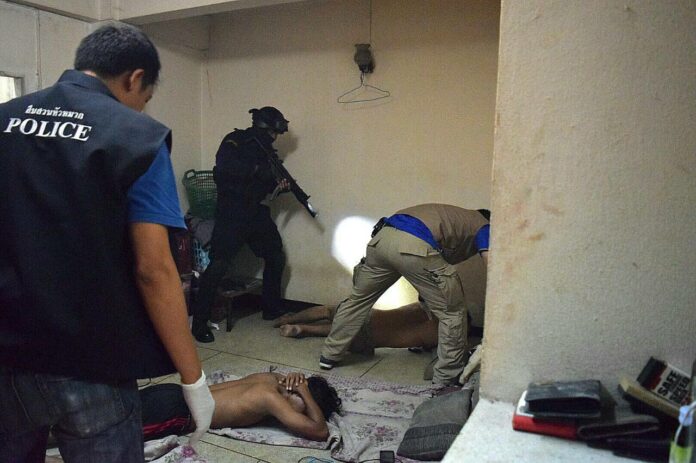 BANGKOK — A civil rights watchdog called on the military government Thursday to say how many people were arrested during a counterterrorism operation in the capital on Tuesday.
Police said Thursday that 10 people were being held by the military in connection with a plot to bomb Suvarnabhumi Airport and other landmarks, but a regional coordinator for Human Rights Watch said the number could be as high as 33.
Read: Police Memo Warns of Car Bomb Plot at Suvarnabhumi Airport
"There are concerns that the number of people in military custody is higher than what they said," activist Sunai Phasuk said by telephone. "If that is true, this is a case of arbitrary arrest and secret detention."
Sunai said his organization was told by Permas, a student federation based in the southern border provinces, that up to 33 people from there were arrested in Bangkok between Monday and Wednesday.
Lt. Gen. Decha Chauibunchum, the police official in charge of intelligence, declined to comment on the claim. He referred questions to deputy police chief Srivara Ransibrahmanakul.
Someone answering Srivara's phone said he was unavailable.
Lt. Gen. Srivara told reporters earlier Thursday of the 10 arrests, said to be during Tuesday raids on multiple locations in Bangkok. The operation followed an intelligence warning that unspecified militants were plotting the attacks.
He said all 10 suspects were in military custody but would not identify them or say where they were being held.
Sunai from Human Rights Watch said the authorities must be transparent about these arrests.
"The government must account for these people," Sunai said. "Where are they? What are their charges? And the government must give assurance that they will not receive ill treatment. The government can't simply say the military have them. That's not enough."
Under special authority granted by the junta, the military can detain individuals for interrogation at army bases up to seven days at a time without a warrant.
Related stories: