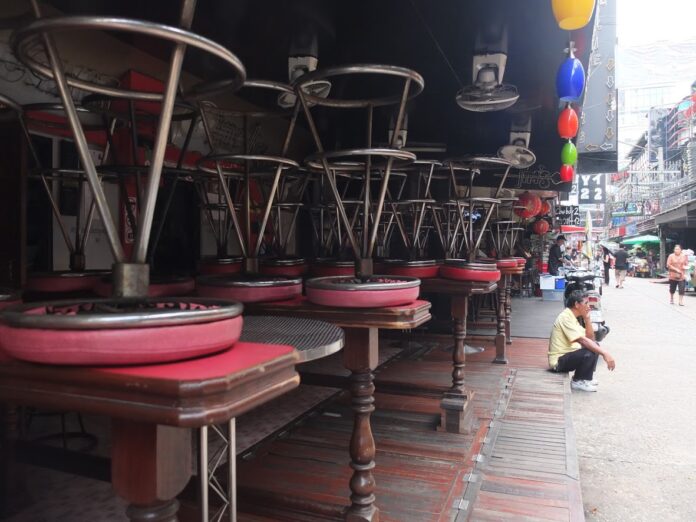 BANGKOK — Officials have clarified that entertainment in the private sector is free to continue if it takes place behind closed doors.
Entertainment businesses such as bars and nightclubs can operate normally so long as they are behind closed doors, according to a Sunday announcement by the Interior Ministry.
Fairs and ceremonies, such as weddings and ordinations, are permitted but advised to refrain from playing music and showcasing any form of entertainment, the bulletin said.
All kinds of concerts were asked to be postponed. No specific timeframe for their rescheduling was given.
Read: Bangkok, Famed Capital of Free-Wheeling Fun, Goes Dark Indefinitely (Photos)
However as first announced Thursday, a 30-day moratorium on all entertainment-related governmental events was reiterated.
The clarification came after concerns were raised regarding the entertainment sector, especially low-paid industry workers who would be strongly affected if their workplaces were ordered closed for a month.
The military government has attempted to maintain a balance between a mourning period expected to last a year and the private sector's dependence on trade and tourism.
Related stories:
Govt Deplores Foreign Media Coverage, BBC Coverage Blocked
Hotels Reconsider Lavish NYE Party Plans
Ultra-royalists Guilt-Shame People Who Don't Wear Mourning Black
Bangkok, Famed Capital of Free-Wheeling Fun, Goes Dark Indefinitely (Photos)
Celebrities Mourn Death of King Bhumibol
Crown Prince Leads King Bhumibol's Funeral Procession
Black Friday: Crowds Throng Palace For Final Glimpse of King (Photos)
Crown Prince Not Ready to Take Throne Yet, Prayuth Says
Prayuth Calls for Year of Mourning for King
Grief Pours Out Home and Abroad for Death of King Bhumibol