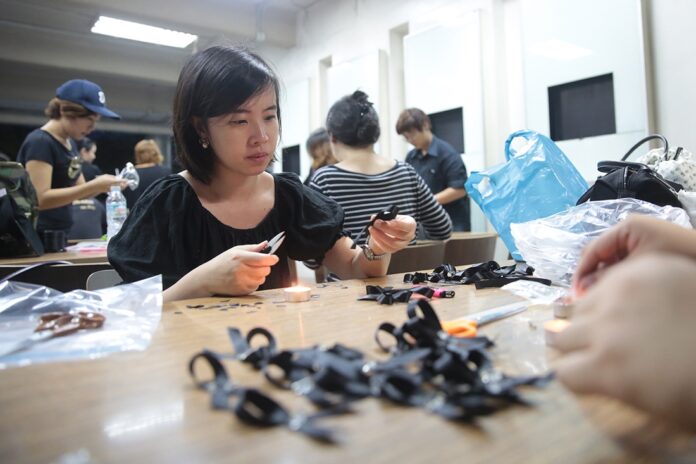 BANGKOK — The government on Sunday announced that wearing a small black ribbon is an acceptable way to mourn His Majesty the Late King in lieu of black clothing.
The announcement followed reports of hardline mourners harassing those not wearing black to show respect for King Bhumibol, who died at 88 on Thursday, launching the Kingdom into a year of national mourning. The authorities also said they're looking into complaints of price-gouging that supposedly prevented many from affording black apparel.
Ultra-Royalists Guilt-Shame People Who Don't Wear Mourning Black
"Many people may not be able to find black or white [another mourning color] outfits, which could be because of a shortage in the market or their economic disadvantage," government spokesman Sansern Kaewkamnerd said Sunday. "Please look at the intentions of those who join together to express their sorrows."
Lt. Gen. Sansern also called for tolerance and understanding.
"I'd like to ask the society not to actively find faults in one another," the spokesman said.
There were reports throughout the weekend that some people were being berated or harassed for their choice of clothes, leading one political scientist to describe the phenomenon as "competitive grief."
"It's like everybody is watching each other, whether you're sad enough, or your dress is black enough, whether you express your ideas sadly enough in social media," lecturer Pitch Pongsawat of Chulalongkorn University told The Telegraph. "It's a competitive grief."
Not everyone is on board with the guilt-tripping. Many on social media pushed back against the trend by calling for black ribbons to be used to mourn the late King, and some Facebook pages are teaching people how to tie the ribbons.
A group of students also handed out free black ribbons on Sunday to crowds of mourners at Sanam Luang.
"The first batch of 1,300 black ribbons were all gone less than 30 minutes after we started," group leader Somtida Boonmee wrote on her Facebook.
Deputy Prime Minister Somkid Jatusripitak said on Monday that he had asked business operators to produce more black shirts and sell them at a reasonable price. The Commerce Ministry of warned Sunday that vendors selling black shirts at exorbitant prices would be prosecuted.
The Finance Ministry also announced Monday it's planning to give out eight million black shirts to people with low incomes for free.
Related stories:
Bangkok, Famed Capital of Free-Wheeling Fun, Goes Dark Indefinitely (Photos)
Celebrities Mourn Death of King Bhumibol
Crown Prince Leads King Bhumibol's Funeral Procession
Black Friday: Crowds Throng Palace For Final Glimpse of King (Photos)
Crown Prince Not Ready to Take Throne Yet, Prayuth Says
Prayuth Calls for Year of Mourning for King
Grief Pours Out Home and Abroad for Death of King Bhumibol