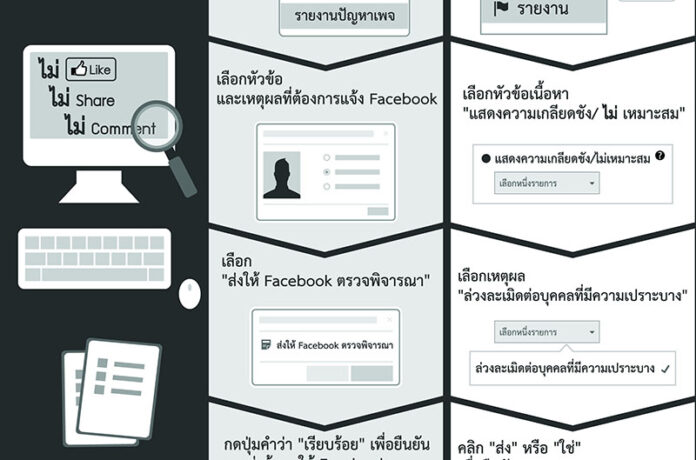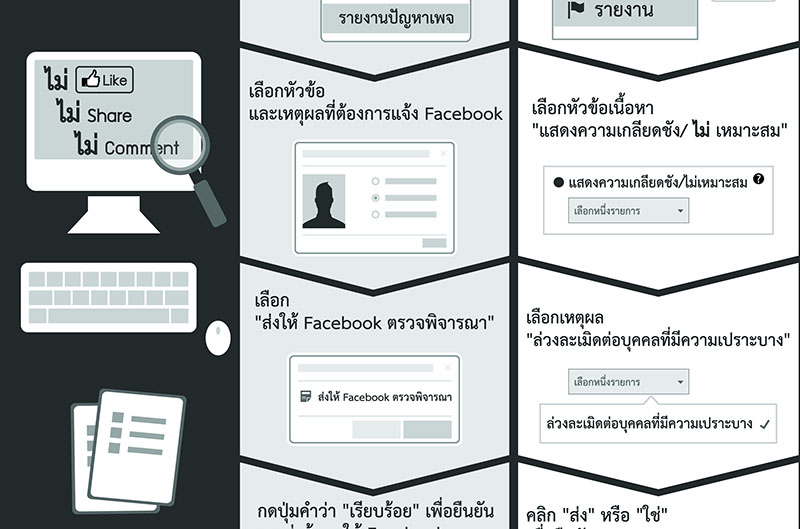 BANGKOK — The National Broadcasting and Telecommunications Commission has urged internet service providers and netizens to report "inappropriate content" on social media in the wake of the His Majesty the King's death.
On Sunday, all three major service providers – DTAC, AIS, and TrueMove – posted detailed instructions on how to report inappropriate content found on Facebook and YouTube, and asked people to email offending links to the commission.
The commission, which has increasingly shouldered censorship duties on behalf of the military regime, has threatened to prosecute the service providers for failing to comply. On Monday, it posted an infographic along with a note discouraging people from liking sharing, or commenting on content that might deemed offensive to the monarchy.
Read more: Mob Demands Woman Accused of Royal Defamation Kneel Before Portrait
However a legal advocacy group warns that following the instructions following the instructions may actually violate the lese majeste law itself.
A spokeswoman for Thai Lawyers for Human Rights said that under "normal circumstances," resharing litigious content is a violation of Article 112 of the Penal Code and the Computer Crime Act, no matter the intention.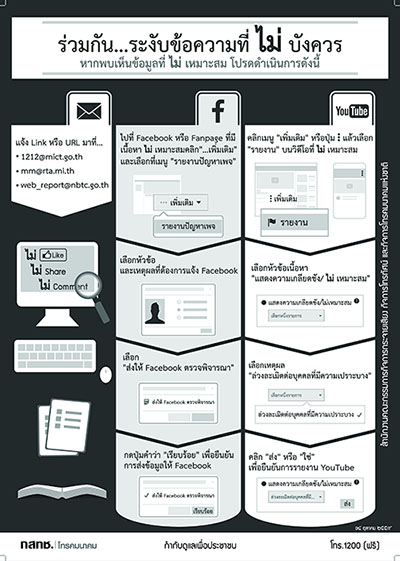 "Now that organizations are coming out and calling for people to report such content, this will foster an even more oppressive atmosphere of fear," said the spokeswoman who spoke on condition she not be named in the current climate of fear. "This will encourage people to be suspicious of each other online. Society right now is really losing its head."
On Friday, the commission instructed internet service providers to "monitor the internet" at all times and report inappropriate content found on social media such as Facebook, Twitter, YouTube, and Line. It said it would take legal action against any service providers who refused to take action, describing it as a "grave transgression."
Related stories: 
Phang Nga Mob Enraged by Alleged Royal Defamation Post
Phuket Mob Demands Arrest of Man For Alleged Royal Defamation