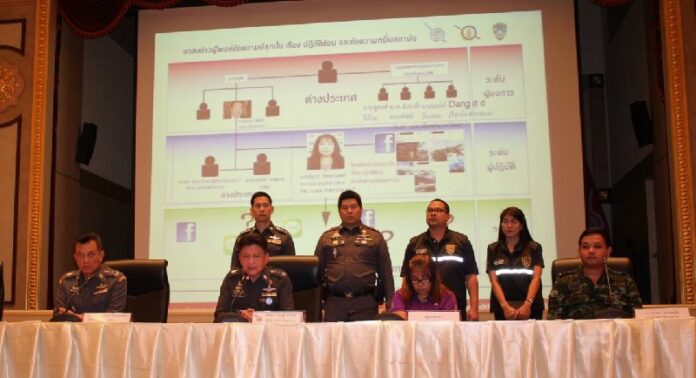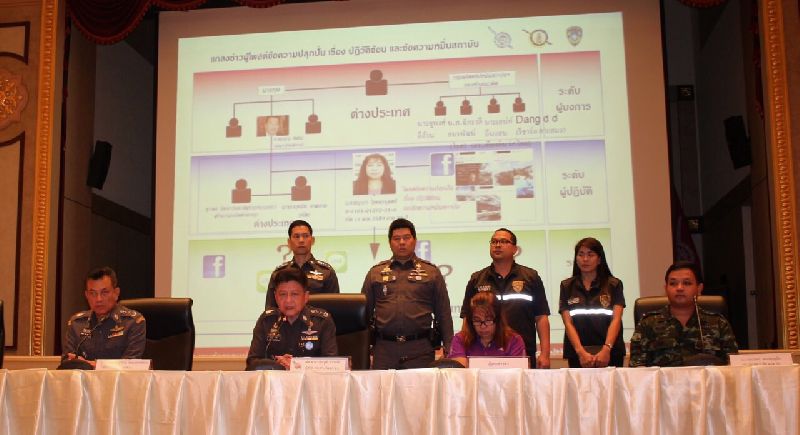 BANGKOK — She worked at a hotel and said she'd never heard of the lese majeste law before police arrested her. When they told her the quickest way back to her young daughters was confessing to being Facebook user Rungnapha Khamwichai, she did so, without ever speaking to a lawyer.
That was two years ago. For her confession, the military judges who convicted the single mom, identified only as Sasivimol, halved her sentence to 28 years for Facebook messages she says she didn't write. Her older daughter will be nearly 40 by the time she is released in 2042.
Yet it wasn't sophisticated government snooping or intrusive software that led to Sasivimol's arrest, but rather a group of private citizens who saw the messages online and reported them for insulting the monarchy.
It's part of a trend in which people are under watch by their own peers – possibly even friends and family – on social media. A recent report one year in the making by a London-based nonprofit found that Thailand's constitutional guarantees of privacy are threatened by so-called social surveillance, a practice encouraged through direct and indirect measures by the military regime.
"Social surveillance is a government relying on your friends, family and loved ones to spy on you," report author Eva Blum-Dumontet of Privacy International said.
Blum-Dumontet said it's serious enough that regular citizens need to rethink their online habits.
"They have to be aware they can be arrested any day," she said in a recent interview. "People have to realize the situation in Thailand has changed in terms of the amount of arrests and the violence of the government against its own people."
Government spokesman Sansern Kaewkamnerd said although he hadn't seen the report, the government needed updated tools to combat new threats such as drugs, human trafficking and the spread of false information.
"Government officers need to surveil and spread correct information in order to protect people from being victims of false information," he said. "We want it to be the duty of every Thai to help do the same."
He objected to the notion it was encouraging people to spy on each other.
"I don't want to use the word 'spy,' I don't want you to look at it in a pessimistic way," the major general said. "If somebody spreads distorted information which can harm society in the future, then we have to help notify the relevant government agencies."
He also disputed the government crossed any legal lines or infringed on privacy.
"There is a law, and the authorities can only inspect [communications] with a court warrant. If somebody posts pornograhic photos or photos that defame the nation, religion or the monarchy and we help prevent the damage, this is not called infringement."
When she began researching the topic, Blum-Dumontet said she first looked into whether the state had deployed direct measures, such as Italian-made intrusion software acquired by police and the military as disclosed last year by Wikileaks.
"My first instinct was to see what they were using," she said
As she interviewed people for her research, some told her the more one looks for sophisticated measures employed by the state, "the more wrong you will be."
The report, published one week ago, relies on interviews, media accounts and information from the Internet Law Reform Dialogue, or iLaw, to recount several cases in which social surveillance was used to prosecute civilians. Most cases involved charges of royal defamation, a criminal offense under Article 112 of the criminal code known as lese majeste.
One recounts the case of Pongsak Sriboonpeng, a Redshirt supporter who struck up an online friendship with a man who shared similar views and even sent him a phone to use. When he went to meet the man, Pongsak was arrested and learned his "friend" was a cop. In September 2015, Pongsak was sentenced to 30 years in prison.
The report also details regime efforts to encourage social surveillance by offering cash bounties for reporting online dissidents and organizing cadres of student "Cyber Scouts" to police the internet.
It also faults the military government for "stoking existing tensions" and grievances to cultivate a climate of fear.
"By condemning as lese-majeste a wide range of dissenting opinion, the Thai government has been instigating a climate of fear that has affected the right to privacy of citizens," the report said. "Individuals have been arrested for expressing their opinions on social media, a personal space many expect to be safe from government interference."
Sansern said the matter of royal defamation was a special case.
"If you see somebody post a photo that steps right on every Thai heart, what are you going to do?" he said.
In its report, Privacy called on Thai authorities to dismantle the Cyber Scouts program, discourage online informants and condemn the release of personal information to attack someone online.
While social surveillance may be unsophisticated, Blum-Dumontet said trampling of internet freedoms and privacy  are within reach of the government through its control of the national telecommunications infrastructure – and its telecoms. She said she is working on another report looking at "surveillance on the cheap" through control of ISPs and telecoms which aren't independent.
Though fear of social surveillance may have a chilling effect on expression, Blum-Dumontet said people need to be pragmatic and take it seriously.
"There has to be a point where you realize you are confronting a government that is not allowing you to express yourself, and people need to be extremely careful now in how they do things and use secure platforms," she said.
Privacy International is based in London. It's work in Thailand was supported by the Swedish International Development Cooperation Agency and began prior to the coup with the intention of making policy recommendations to the civilian government.
"At the time, it felt like a country where we could potentially have an impact on policy," Eva-Dumontet said of the project's inception.
Additional reporting Sasiwan Mokkhasen