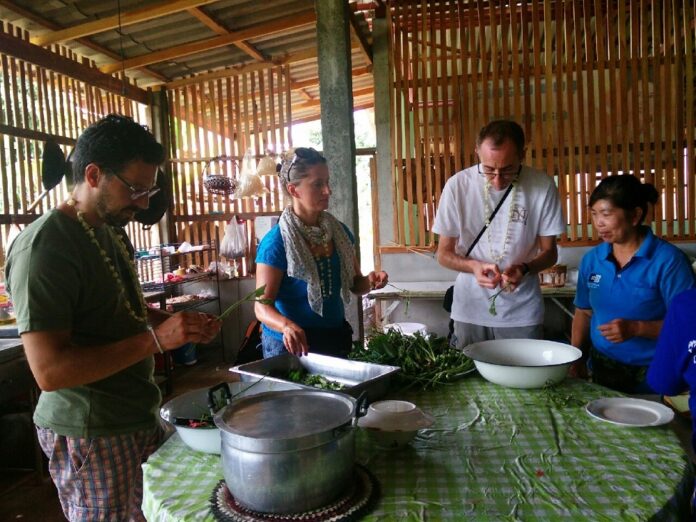 BANGKOK — A state agency has confirmed that homeowners who offer their rooms on Airbnb won't face legal repercussion as long as they notify local authorities, an official said Friday.
In a first recognition of the global vacation home rental platform, the Department of Provincial Authority told Airbnb reps in a Tuesday meeting that existing laws allow private properties to operate as small tourist accommodations – or homestays – interior affairs official Suttipong Juljarern said.
"People who enforce the law, the Department of Provincial Authority, said clearly: if it's your own home, it's not a hotel," Suttipong said at Friday news conference. "There's no legal burden on rural homeowners as long as they register themselves as homestays."
Read: Airbnb Teases Major 'Partnership' With Thai Gov't
To qualify for such legal protection, homeowners who wish to rent out their spare rooms on Airbnb must register with the Department of Local Administration, or DLA, officials in their areas, said Suttipong, who heads the agency.
Officials will then inspect the properties to ensure that they are clean and safe for tourists. There is no registration fee, Suttipong said, adding that his department is also training its officials to work with Airbnb and urge homeowners in beautiful rural areas to offer their places as homestays via the website.
"We are like cupids," Suttipong said. "Our role is to make people meet and fall in love. In this case, it's tourists meeting beautiful nature and friendly way of life."

The first workshop between Airbnb and the department officials was also launched Tuesday, per an earlier statement from Airbnb that they would unveil its first cooperation with a Thai state agency, according to company spokeswoman Mich Goh.
"Today we are very proud and happy to announce a partnership with the DLA to promote local entrepreneurship," Goh said. "This is the first official Airbnb partnership with Thai authorities."
The legal exemption only applies to owners of private homes, and not condominium rooms. The Tuesday meeting did not discuss the legality of the latter, Suttipong said.

Data provided by Airbnb says Thailand is home to more than 60,000 of its listings, generating a total of more than 4 billion baht in yearly revenue for the homeowners.
But its operation is frowned upon by some law enforcement officials, hotel owners and condominium juristic offices, who see them as a violation of a hotel law that bans private properties from offering daily and weekly rentals.
In January, a court in the southern resort town of Hua Hin found owners of two condominium guilty of violating the hotel law for leasing their rooms to tourists.
Although it was widely reported that the verdict was the first legal blowback to Airbnb, Goh said today that her firm was not mentioned anywhere in the court documents of that case.
In Friday's news conference, Suttipong said he hopes Airbnb will introduce more foreign tourists to hidden gems of the Thai countryside and its cultures.
"I'm unashamed to say I am exploiting Airbnb to promote our local businesses," he said. "We see that platforms such as Airbnb will be important in publicizing what's good in rural areas that people around the world don't know about yet."