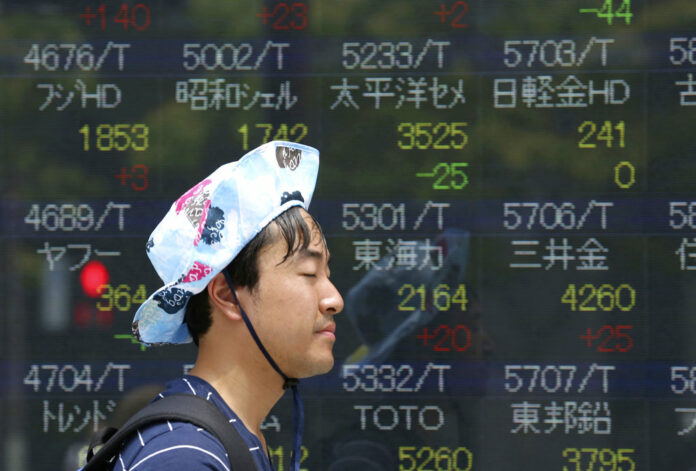 SINGAPORE — Asian markets were mostly lower on Tuesday following a mixed day on Wall Street, as tensions over U.S. tariffs overshadowed data suggesting global growth is still on track.
Keeping Score
Japan's benchmark Nikkei 225 bucked the regional trend, gaining 0.4 percent to 22,697.36 after reopening from Monday's public holiday. South Korea's Kospi lost 0.2 percent to 2,296.36 and Hong Kong's Hang Seng lost 1.3 percent to 28,166.16. The Shanghai Composite index shed 1.0 percent to 2,785.63. Australia's S&P/ASX 200 gave up 0.6 percent to 6,205.40. Shares fell in Taiwan, Indonesia and Thailand but rose in Singapore. Thailand's SET traded at 1,621.61 Tuesday afternoon, down 0.4 percent.
Wall Street
Most U.S indexes closed lower on Monday as investors bought banks but sold most other types of stocks, including health care and technology companies. The S&P 500 index fell 0.1 percent to 2,798.43. The Dow Jones Industrial Average added 0.2 percent to 25,064.36 as Goldman Sachs, JPMorgan Chase, and Boeing climbed. The Nasdaq composite lost 0.3 percent to 7,805.72. The Russell 2000 index of smaller-company stocks shed 0.5 percent to 1,678.54.
Tariff Callenges
On Monday, the Trump administration brought cases against China, the European Union, Canada, Mexico and Turkey at the World Trade Organization for retaliating against American tariffs on imported steel and aluminum. The U.S. has imposed tariffs of 25 percent on steel and 10 percent on aluminum on the grounds the imported metals pose a threat to its national security. In response, the countries have counterpunched with taxes on more than USD$24 billion worth of U.S. exports. Earlier in the day, China filed a WTO challenge to Trump's proposal for a tariff hike on $200 billion of Chinese goods.
Global Growth
The International Monetary Fund is keeping its forecast for global economic growth unchanged at 3.9 percent this year despite worries about rising trade tensions and higher oil prices. It still expects tax cuts to lift U.S. economic growth to 2.9 percent this year, up from 2.3 percent in 2017, but has downgraded the outlook for Europe and Japan. "IMF also joined the chorus warning that trade tension is the biggest risk to growth in near-term given its adverse impact on financial market, sentiment and investment," said Mizuho Bank.
Netflix
Netflix is adding subscribers at a slower pace than envisioned, renewing fears that its growth may sputter as the video streaming service tries to fend off fiercer competition. The company added 5.1 million subscribers in the April-June period, more than 1 million below what management had believed it could. Monday's numbers marked the first time in a more than a year that Netflix hadn't exceeded its subscriber growth projection. Its shares plunged 13.2 percent in aftermarket trading.
Analyst Viewpoint
"The thud was heard up and down Wall Street as Netflix fell off a cliff in late trading after posting dispiriting subscriber growth last quarter," Stephen Innes of OANDA said in a commentary. He added, "This negative Netflix result could spur more moves into to cash as investors may finally adopt a delayed sell in May and go away strategy."
Energy
Oil prices steadied after falling more than 4 percent on official suggestions that the U.S. will take a softer stance on countries that import oil from Iran once sanctions on its energy sector go back into effect in November. Benchmark U.S. crude fell 18 cents to $67.88 per barrel in electronic trading on the New York Mercantile Exchange. The contract fell 4.2 percent to $68.06 in New York on Monday. Brent crude, used to price international oils, gained 5 cents to $71.89 per barrel.
Currency
The dollar rose to 112.41 yen from 112.30 yen late Monday. The euro was nearly flat at $1.1713.