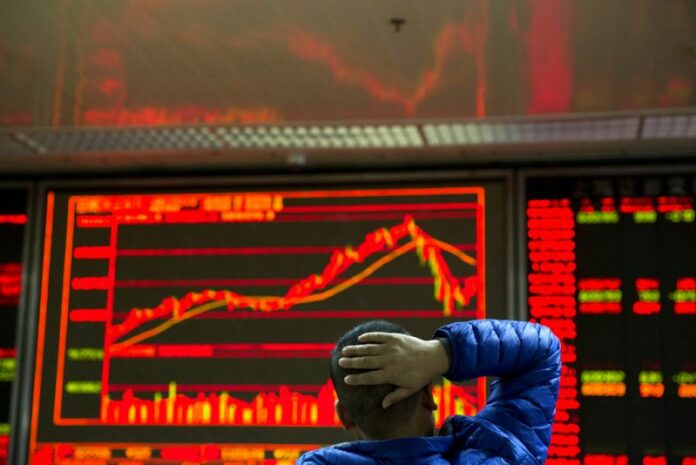 SINGAPORE — Asian markets are mostly lower on jitters over the simmering U.S. trade dispute with China.
Keeping Score
Japan's benchmark Nikkei 225 fell 0.8 percent to 24,088.63. Hong Kong's Hang Seng fell 0.4 percent to 27,017.75 after closing at a two-week low on Tuesday. Australia's S&P/ASX 200 gained 0.3 percent to 6,143.70. Stocks fell in Taiwan but rose in Singapore and Indonesia. Markets in South Korea and the Chinese mainland were closed for a national holiday. Thailand's SET was trading at 1,754.80 Wednesday afternoon, a 0.38 percent gain.
Wall Steet
Most indexes closed lower as retailers sank after Amazon said it will raise hourly wages for U.S. employees. But gains by several big industrial companies like Boeing, 3M and Caterpillar pushed the Dow Jones Industrial Average to a record high. The Dow added 0.5 percent to 26,773.94. The S&P 500 index dropped less than 0.1 percent to 2,923.43, and the Nasdaq composite gave up 0.5 percent to 7,999.55. The Russell 2000 index of smaller-company stocks tumbled 1.4 percent to 1,672.99, its worst loss since late June.
North American Deal
The North American trade agreement hammered out late Sunday between the United States and Canada following an earlier U.S.-Mexico deal shakes up – but likely won't revolutionize – the way businesses operate within the three-country trade bloc. Separately, Federal Reserve Chairman Jerome Powell said Tuesday that the U.S. has never experienced such an extended period of low, stable inflation and very low unemployment since 1950. Powell maintained the Fed's economic forecast and said he sees no need to drop the central bank's current gradual approach to raising interest rates.
Japan Services PMI
Japan's services industry grew at the slowest pace in two years in September, a private survey showed Wednesday. The Markit/Nikkei Japan services purchasing managers index came in at 50.2 in September, down from 51.5 in the previous month. Readings above 50 indicate expansion on the index's 100-point scale.
Energy
Benchmark U.S. crude was flat at USD$75.23 a barrel. Brent crude, used to price international oils, added 5 cents to $84.85 per barrel in London. It slipped 0.2 percent to $84.80 per barrel in London.
Currencies
The dollar was flat at 113.69. The euro strengthened to $1.1580 from $1.1545.
Story: Annabelle Liang