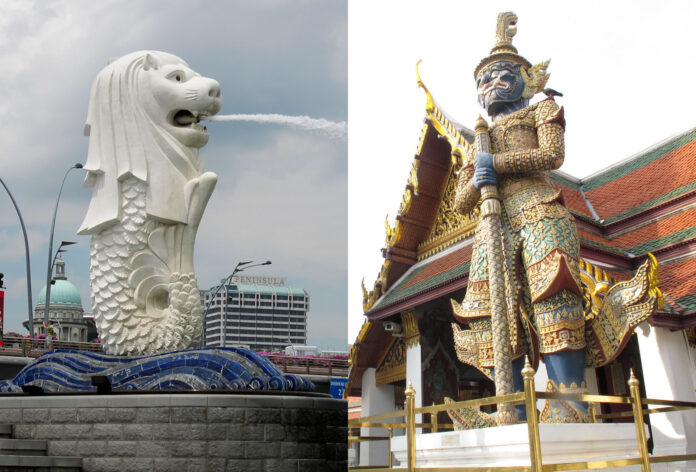 BANGKOK — Exchanging currency and carrying your wallet with you everywhere is now a thing of the past.
Thanks to a new mobile wallet technology unveiled yesterday, Thai tourists can now pay for goods and services in Singapore through an app. The same goes to Singaporean tourists visiting Thailand.
Unveiled under the name VIA by telecom giants AIS and Singtel Group, the system debuted on Wednesday as the first cross-border mobile payment alliance that connects the two countries together. At least 1.6 million vendors are included in the service, which operates via Line messaging application for Thais and Singtel for Singaporeans.
"This is a game changer for the Singtel Group and the region," said Arthur Lang, CEO of Singtel's International Group. "The VIA alliance is aimed at unifying Asia's fragmented
payments scene by connecting different mobile wallet systems across the region."
In 2017, there were more than 80 million tourist arrivals across the Singtel Group's
markets in Asia. Of this, over 1.5 million visitors travelled between Singapore and
Thailand.
AIS CEO Somchai Lertsutiwong said the company is committed to serving an ever growing demand for mobile payments.
"This partnership offers Thais a seamless digital payment experience at home and abroad, and adds a new dimension which will take the cashless society to the next level," Somchai said.
Here's how it works for Singaporean tourists visiting Thailand. They can use Singtel Dash for entertainment, buying food and beverage and goods at any shop displaying the VIA logo and Thai QR code.
These include popular shopping areas such as CentralWorld, Chatuchak Weekend Market,
MBK Center, and JJ Mall.
To make purchases, customers can simply scan the merchant's QR code or let merchants scan their unique QR code in the Dash app.
Thai tourists in Singapore need to download AIS Global Pay to use the e-wallet feature on their Rabbit Line Pay.
After that is done, they can pay for taxi rides, services or dining at thousands of merchant points, including Comfort Delgro, Singapore's largest taxi company, KFC, Pizza Hut, Breadtalk and 7-Eleven.
Yuen Kuan Moon, CEO of Singtel's Consumer Singapore, teased that VIA will soon expand to cover other countries in the region.
"We are extremely excited to give Dash customers the ability to use their wallets in Thailand and soon, even more countries in the region," Moon said. "Now, our customers not only stay connected with our mobile roaming service when overseas, they also have a roaming wallet which they can use to make purchases while abroad."
For more information, visit viaconnects.com