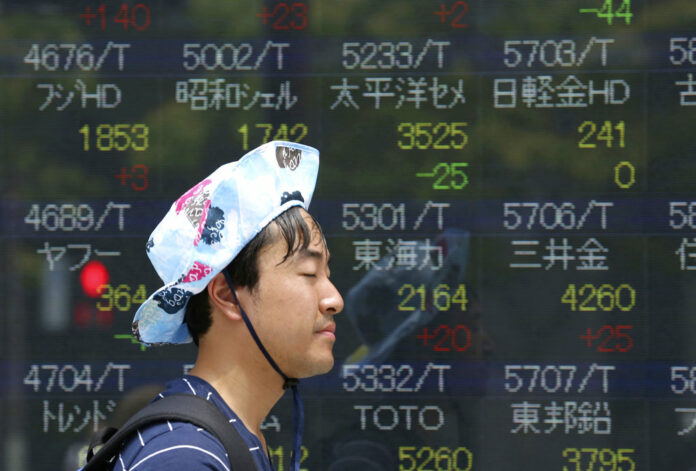 SINGAPORE — Asian shares were mostly higher on Tuesday as traders took the weaker yuan as a sign that Chinese exports can remain competitive even if a trade dispute with Washington heats up.
Keeping Score
Japan's Nikkei 225 index jumped 1.4 percent to 21,434.38 after official data showed that its unemployment rate eased to 2.3 percent in September, from 2.4 percent a month earlier. The Shanghai Composite index rebounded 1.2 percent to 2,573.33 and South Korea's Kospi picked up 1.3 percent to 2,021.82. Australia's S&P-ASX 200 gained 1.3 percent to 5,805.10. Hong Kong's Hang Seng bucked the trend, slipping 0.4 percent to 24,707.78. Shares were higher in Taiwan, Indonesia and Thailand but fell in Singapore.
Wall Street
A report the U.S. is preparing to impose tariffs on all imports from China weighed on sentiment. The S&P 500 index fell 0.7 percent to 2,641.25. The Dow Jones Industrial Average tumbled 1 percent to 24,442.92 and the Nasdaq composite gave up 1.6 percent to 7,050.29. The Russell 2000 index of smaller-company stocks dropped 0.4 percent to 1,447.31.
More Chinese Tariffs
On Monday, Bloomberg News reported that the Trump administration plans to announce a new wave of tariffs on Chinese goods in December, if upcoming talks between President Donald Trump and his Chinese counterpart Xi Jinping fail to substantially diffuse tensions. The report cited unnamed sources who said the tariffs could cover imports from China that have not already been hit by tariffs, amounting to up to USD$257 billion worth of imports. A weakening of the Chinese yuan, which can make exports more price competitive, lifted sentiment in Asia. The yuan had declined to 6.9644 per dollar by midday on Monday, the lowest level since May 2008. It fell to 6.9678 against the dollar on Tuesday afternoon.
Analyst's Take
The optimism may be misplaced, said Jingyi Pan of IG. "Even a 10 percent depreciation of the yuan does not measure up to the expected impact from a lift in tariffs," she said in a commentary. "This is not including the externalities … from damage to business confidence and upon the regional supply chain."
Energy
Benchmark U.S. crude added 6 cents to $67.10 per barrel in electronic trading on the New York Mercantile Exchange. The contract dropped 55 cents to settle at $67.04 a barrel in New York. Brent crude, used to price international oils, lost 19 cents to $77.18 per barrel. In the previous session, it dropped 29 cents to $77.37 a barrel.
Currencies
The dollar strengthened to 112.72 yen from 112.37 yen late Monday. The euro rose to $1.1377 from $1.1372.
Story: Annabelle Liang