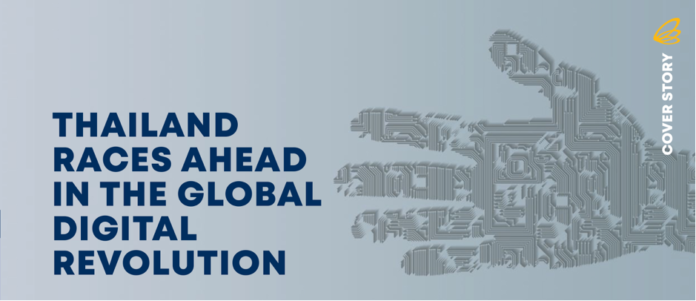 Facilitated by easier access to high-speed internet, the rise of Thailand's vibrant digital industry over recent years has been underpinned by the rich creativity and strong entrepreneurial spirit of Thailand's tech-savvy digital generation. At the forefront of this brave new digital world, Thailand has seen its economy consistently prove its readiness to embrace the new opportunities presented by the global digital revolution.
Supported by the country's active development of its ICT infrastructure, Thai business are increasingly adopting digital tools such as AI, cloud computing and next generation digital platforms to enhance their efficiency. Meanwhile, mobile and real-time digital activities such as e-commerce, fintech and online entertainment are readily embraced as part of Thai people's changing lifestyles.
The readiness of ICT facilities to support local and regional digital connections along with the country's steadfast development of its digital industry have enabled Thailand's startup community to flourish and drive its software and hardware industries. This trend along with the country's strategic geographical location at the centre of Southeast Asia have positioned the country as one of the world's top investment destinations.
Committed to driving investment in digital transformation, Thailand is pursuing six key strategies: 1) efficient digital infrastructure; 2) digital business promotion; 3) the creation of equitable access through digital technology; 4) digital government; 5) workforce development and 6) improved trust in digital business1.
Through efforts such as improving the efficiency of its ICT capacity, carrying out regulatory overhauls and offering e-government services, Thailand's competitiveness in terms of attracting investment in digital industries has increased, as is confirmed in various international rankings and indices. Thailand's ranking on the World Economic Forum's Global Competitiveness Index 4.02 in 2019 was 38th out of 140 countries, making it the 3rd highest ranked country from the 10-member Association of South East Asian Nations (ASEAN) behind Singapore and Malaysia. The country was also ranked a respectable 40th out of 63 countries on the International Institute of Management Development's World Digital Competitiveness Ranking, with grades of "outstanding" for mobile broadband subscribers, high-technology exports and financial services3. Meanwhile, Thailand's ranking on the United Nations' e-Government Development Index 2020 improved to 57th from its previous 68th out of 193 countries in 2019, again placing it as the 3rd highest ranked country in ASEAN after Singapore and Malaysia4.
5G and Friendly Regulations Advancing Digital Readiness
Thailand is firmly among the frontrunners in ASEAN in terms of adopting 5G technology, with auctions held in February 2020 having enhanced and accelerated the country's capacity for deep technology such as AI, cloud computing, machine learning and Big Data5.
In terms of connectivity, the country is constructing a new international submarine cable system, adding to the six submarine cable lines that are already operational. This will not only strengthen internet links between Thailand and the Asia Pacific but will also upgrade the internet capacity around border areas connecting Cambodia, Laos and Myanmar to boost Thailand's leading digital position in the region.
As part of the efforts to improve the investment climate for the digital industry, Thailand has revamped its regulatory framework related to digital activities during the past few years, such as through the Electronic Transactions Act, Personal Data Protection Act, Thailand Cybersecurity Act and Computer Crime Act.
As a result of proactive development of its ICT facilities and regulatory environment, Thailand currently has one of the world's largest consumer bases for e-commerce and fintech mobile banking. According to the Global Digital Report 2019 conducted by social media management platform Hootsuite and global agency WeAreSocial, Thailand has 92 million mobile subscribers, 133% penetration, and 55 million active mobile internet users. The country was ranked top globally for internet banking service access, at 74% of the population, and the fifth globally for e-commerce, with 80% of the country's total internet users shopping online. Only Indonesia, China, Germany and UK ranked higher.
Besides investing in hard infrastructure projects, the Thai government is pursuing a plan to provide a vibrant digital business ecosystem that supports entrepreneurship and SMEs in the digital economy. Located in the EECd zone6 of the Eastern Economic Corridor (EEC) at Chon Buri Province and managed by the Digital Economy and Promotion Agency (DEPA), the Digital Park houses a state-of-the-art data centre, digital innovation testbed and IoT Institute, all aimed at serving digital global players and digital biz innovators. Another initiative is True Digital Park, which serves a centre for digital innovations and startup operations. Managed by the National Innovation Agency (NIA) and the corporate sector, True Digital Park is considered the largest startup park in Southeast Asia.
Flourishing Market for Startups
To accelerate the digital transformation of Thailand's financial sector, the Bank of Thailand has pursued a multi-pronged approach to drive the adoption of digital platforms at consumer, corporate and international levels. The central bank's e-payment platform, called "PromptPay", which ties user accounts to their ID or phone number, was created in 2017 and has 55 million user IDs registered and 20 million transactions recorded per day at peak. E-commerce and mobile banking have grown significantly during the COVID-19 pandemic as people have increasingly adopted cashless transactions in keeping with social distancing practices. The use of digital technologies in banking services has also incorporated biometrics and facial recognition systems for identification.
At the business level, the central bank and the Ministry of Finance launched a peer-to-peer (P-2-P) lending platform in early 2020 which allows individual lenders to be matched with individual borrowers. This fintech solution is aimed at strengthening startups and the small and medium-sized enterprise (SME) sector.
The central bank is also developing its infrastructure to support e-banking and fintech in the future. This includes the introduction of the new financial transaction reporting standard of ISO 20022 which will facilitate e-invoicing and e-factoring along with helping businesses to make better use of customers' financial transaction data.
Further supporting the burgeoning digital technology and the strong Thai entrepreneur environment, the Thai government has rolled out numerous measures to create a vibrant startup ecosystem, through funding, incubating and accelerator programs along with tax and non-tax incentives. The NIA aims to propel Thailand into the world's top 20 startup nations by 2021 with a target of becoming an established startup hub in Southeast Asia by boosting the scale of startup investment to US$10-100 million per deal and increasing the government market for startups to US$ 850 million per year. The Thai government is pushing ahead with its legislation process of accommodative laws, including the Startup Act to facilitate the founding of local and international startups through tax incentives and foreign shareholders, and the Regulatory Sandbox Act7 to allow safe experimentation of innovative pilot ideas.
BOI Promoting Investment Across Digital Industry
To further strengthen the ecosystem of the digital industry, Thailand's Board of Investment (BOI) is currently promoting the digital industry with a focus on four groups, namely software, infrastructure, technology development, and startups. In providing different incentive packages as well as facilitating the registration of startups for the incentives, the BOI is supporting these four groups through the following measures:
• Software development and digital services such as software applications, games, IoT, Big Data and AI through a Corporate Income Tax exemption of 5-8 years.
• Digital Infrastructure such as cloud services, submarine cables, data centres, Maker Space, fabrication centres, and digital parks through Corporate Income Tax exemption of 5-8 years. Co-working spaces will receive non-tax incentives.
• Digital Technology Development for the development of targeted technology transfers in cooperation with academic researchers and development institutions through a ten-year Corporate Income Tax exemption. Projects located in promoted zones are entitled to an additional two-year tax exemption and those located in the Eastern Economic Corridor will be entitled to an additional 1- to 3-year exemption but no more than 13 years.
• E-commerce companies will be entitled to only non-tax incentives. However, smart distribution centres will be entitled to up to eight years of Corporate Income Tax exemption on revenue derived from the distribution of goods.
1 https://www.onde.go.th/view/1/home/EN-US
2 http://www3.weforum.org/docs/WEF_TheGlobalCompetitivenessReport2019.pdf
3 https://www.imd.org/wcc/world-competitiveness-center-rankings/world-digital-competitiveness-rankings-2019
4 https://publicadministration.un.org/egovkb/Portals/egovkb/Documents/un/2020-Survey/2020%20UN%20E-Government%20Survey%20(Full%20Report).pdf
5 https://www.bangkokpost.com/thailand/pr/1989231/thailand-mdes-depa-huawei-open-5g-ecosystem-innovation-center-to-boost-digital-transformation
6 https://eeco.or.th/en/promotional-zone